The police said, in the raid, the police officials seized e-cigarettes and tobacco worth around Rs. 2.37 lakh including e-cigarettes worth over Rs. 2.24 lakh and flavored tobacco worth Rs. 12,000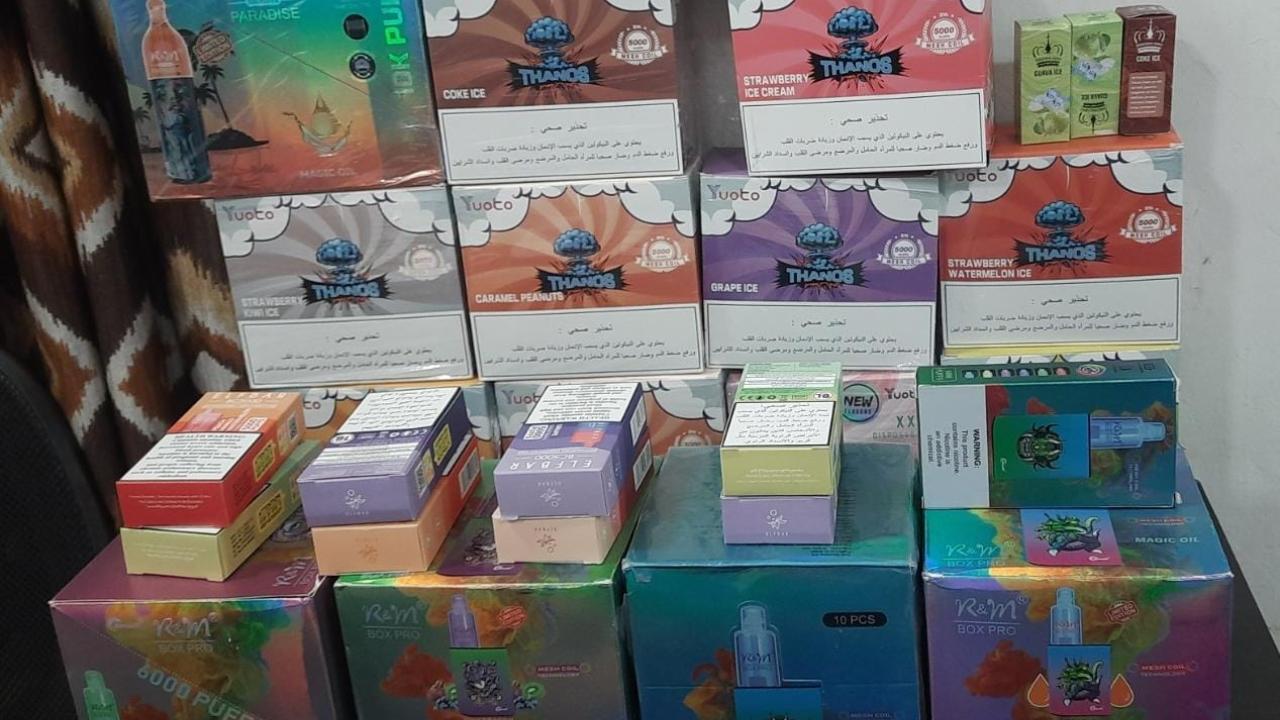 The seized material. Pic/Mumbai Police
Mumbai Police on Wednesday raided a shop at Crawford market in south Mumbai after receiving a tip-off on sale of huge quantities of flavoured tobacco and as many e-cigarettes, the police said.
Vapes and e-cigarettes have been a contentious issue in India since the Central government announced a ban on these products in 2019. Despite the ban, these were being made available in the market, the police said.
ADVERTISEMENT
According to the police, Police Inspector Manoj Sutar of the Mumbai Crime Branch had received a tip off, following which a team of officials was formed. The team on Wednesday raided the shop and seized a huge amount of e-cigarettes and flavored tobacco.
The police said, in the raid, the police officials seized e-cigarettes and tobacco worth around Rs. 2.37 lakh including e-cigarettes worth over Rs. 2.24 lakh and flavored tobacco worth Rs. 12,000.
"A 55-year-old man was held by the police. He was identified as Ashok Katara. He was handed over to MRA Marg Police for further legal action," an official said.
Also Read: Mumbai Police conducts special 'all out operation' in city, several held
A case under relevant sections banning the sale and manufacturing was registered at the MRA Marg Police station," the official added.
In another case, last year, The Crime Branch (CB) Control of Mumbai Police's Economic Offences Wing (EOW) had conducted multiple raids across the city in July 2022. It was a major action against the sale of e-cigarettes. The police had then seized huge quantities of flavoured tobacco and as many as 2030 e-cigarettes. The police had also arrested 11 people for allegedly selling e-cigarettes. The sale of e-cigarettes is illegal, the police said.
The police had then said that the CB Control had received information regarding sale of e-cigarettes and vapes illegally in the city following which 12 teams were formed that had conducted raids in areas including Cuffe Parade, Khar, Tardeo, Lokhandwala and Malad and seized around 120 kg of flavored tobacco, 2,030 vapes and e-cigarettes and other material valuing Rs 14.6 lakhs. Will the newly created special police commissioner post help Mumbai with better policing?