After meter room catches fire, residents switch off power, gas connections, throw sand on fire to douse it; some residents admitted to hospital for smoke inhalation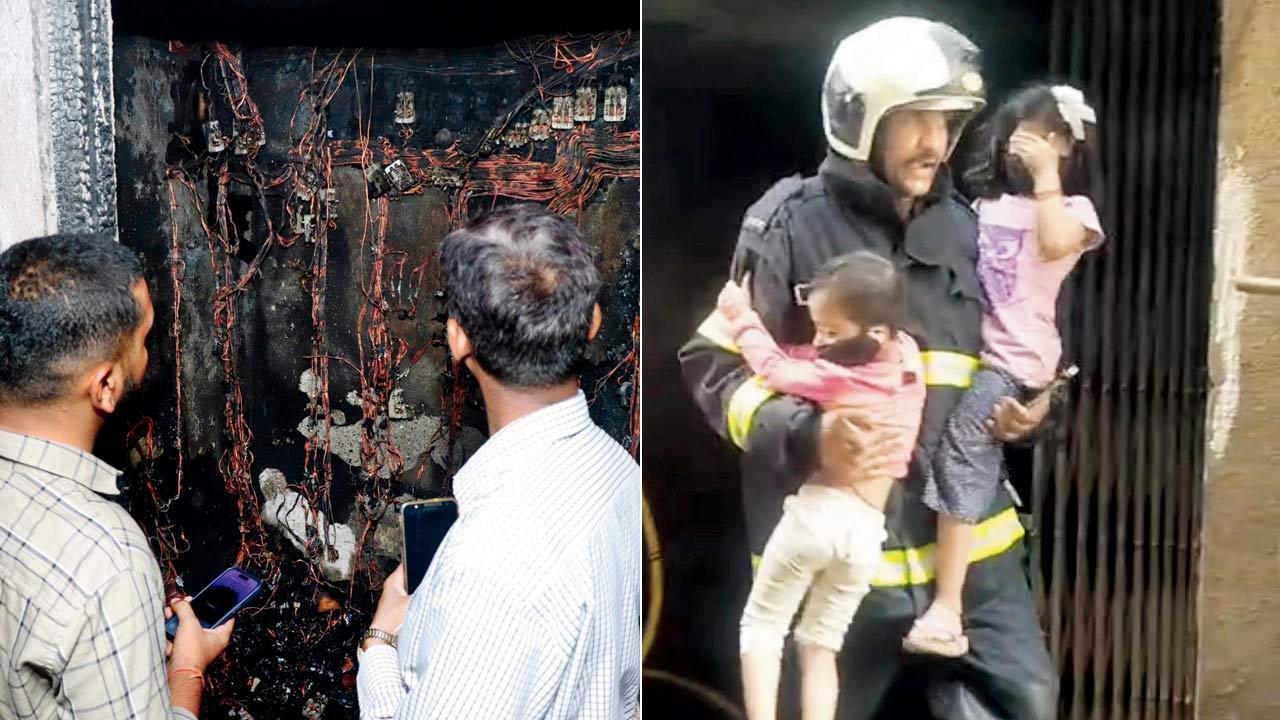 The completely charred meter room; (right) a fireman rescues children from the smoke. Pics/Sameer Surve
Eight people were rescued from the seven-storey Jagruti Society in Mulund West after a fire broke out in the electric meter cabin on the ground floor. Ten people have been admitted to the civic-run M T Agarwal hospital, including a four-year-old boy. According to the doctor, all patients are in stable condition. The fire did not spread because residents threw sand on the fire, averting a major disaster.
The building watchman Bhima Singh first noticed an electric spark in the meter cabin and started shouting to alert the residents. "I heard his cries first as I live on the first floor," said Mangesh Ziman. "I came down and saw the fire in the meter room. I called the disaster control room of BMC's T ward. The other residents and I then started throwing sand on the fire," Ziman added. 
ADVERTISEMENT
Also Read: Mumbai: Copper thieves put 1,000 MTNL phones out of order
Pravin Wanmore, another resident, said, "We were aware that this is an electric fire and we can't use water. We took sand from the construction site, which is next to our building. The fire did not spread because of the sand. However, there was smoke due to the burning wires and it spread throughout the building." 
Residents soon started feeling suffocated and ran to the terrace of the building, from where they were later brought down, another resident said.
According to the civic disaster management control room report, "A fire broke out around 2.55 pm in the electric meter cabin. Fire was confined to the electric wiring, cables, meters and switches. Ten people were found in unconscious state on the staircase and were sent to Hospital."
 
"The fire was extinguished after cutting off electric supply and PNG gas supply and using one high pressure first aid line of a motor pump," the report stated.