Minister for Education Vinod Tawde wants to give an incentive to students, never mind the parking issues faced in Mumbai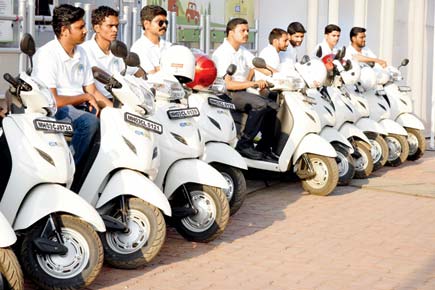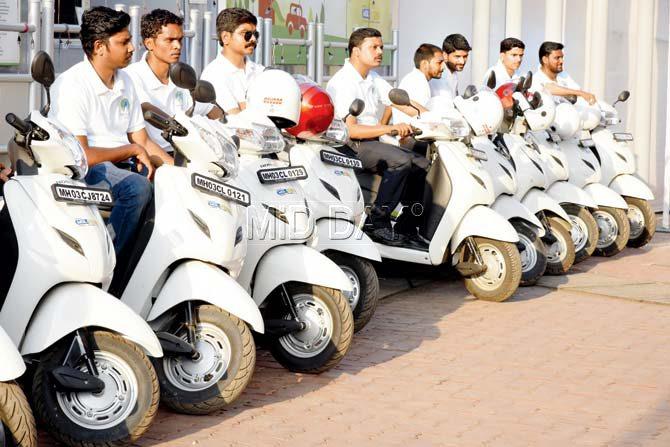 The CNG cylinder fitted scooters at Bandra Kurla Complex during the launch. Pic/Shadab Khan
Among many things that mar Mumbai and its crumbling infrastructure, are parking spaces. And despite the circumstances, Maharashtra's Minister for Education, Youth, Sports and Cultural Affairs, Vinod Tawde, has announced that college students will be awarded extra marks if they install CNG tanks in their scooters. Transport Department officials feel this will only increase the sale of two-wheelers.
"The Education Department shall give extra marks to college students who replace regular scooters with those fitted with CNG tanks. It will be like an incentive for students who contribute towards the protection of environment," said Vinod Tawde at the launch of the scooters fitted with CNG tanks by an agency, Lovato, at Bandra Kurla Complex yesterday. The agency will provide the kits to 40 centres in the city where they can be installed in two-wheelers.
The minister claimed that parents can get the scooters retrofitted with these CNG kits that cost Rs 16,000. As of March 2016, as per statistics collated by the state Transport department, there are 16.28 lakh two-wheelers on Mumbai roads. Out of these there are 5.69 lakh scooters which can be retrofitted with CNG kits.
This shows the density of two-wheelers in Mumbai which form nearly 65 percent of the total vehicles in Mumbai.
Sources in the RTO said that with this announcement, there are chances people, whose children are in schools and colleges, will buy scooters only to procure few additional marks in examinations.
Parking problems
The city's roads are reeling under tremendous pressure as the number of vehicles is constantly rising but there are few parking spots. Despite parking spots made available which also include elevated parking lots and those near railway stations; double and triple parking is a common sight. "This announcement could mean that more people will go for two-wheelers which are known for haphazard parking on roads," said an official from Transport department.
They feel the only good point of the announcement is that environmental pollution will be reduced due to the scooters.