State Forest Minister Sudhir Mungantiwar inaugurated the taxidermy centre that has two tigers, three leopards, two lions and other mammals and birds. The centre will help students learn more about natural history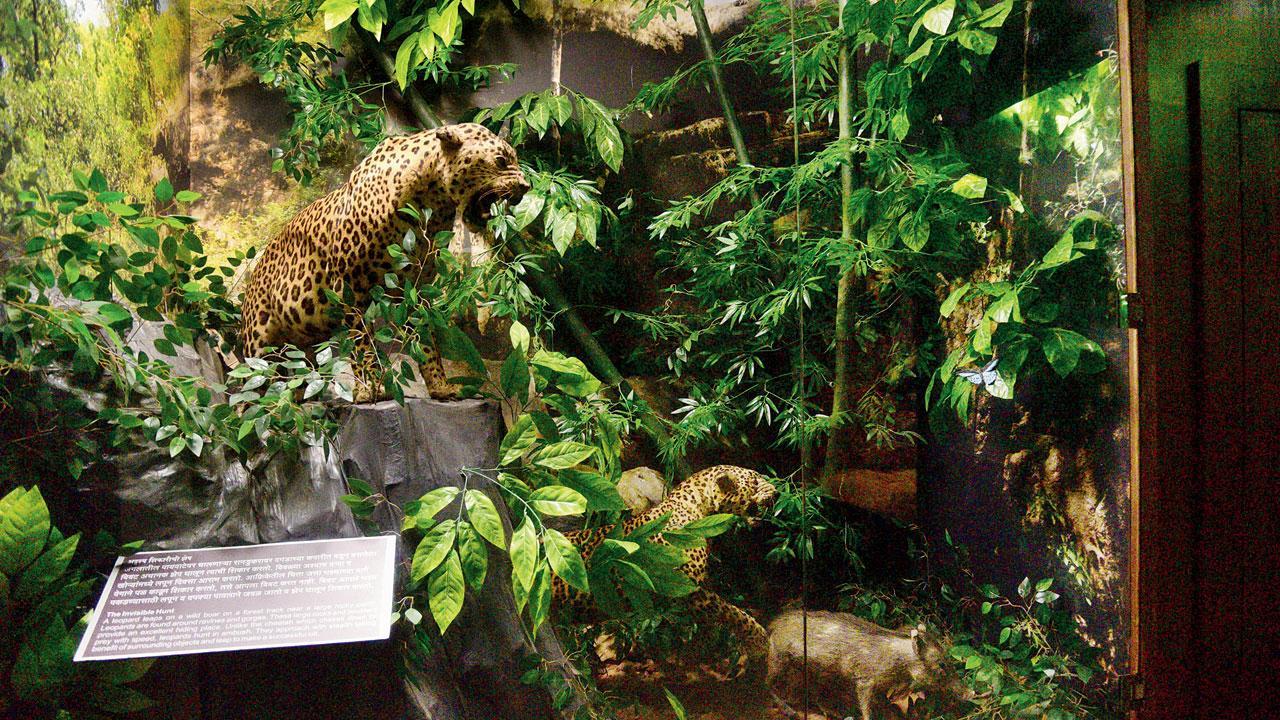 A preserved leopard and wild boar at the taxidermy centre. Pic/Pradeep Dhivar
India's first taxidermy centre was inaugurated on the premises of the Sanjay Gandhi National Park on Wednesday. The facility, which was to open in March, also has a cat orientation centre. This apart, SGNP has also got a wildlife hospital.
State Forest Minister Sudhir Mungantiwar inaugurated the taxidermy centre that has two tigers, three leopards, two lions and other mammals and birds. The centre will help students learn more about natural history. 
Taxidermy is the art of preparing, stuffing, and mounting the skins of animals (especially vertebrates) for display (as hunting trophies) or other sources of study. Taxidermy can be done on all vertebrate species of animals, including mammals, birds, fish, reptiles, and amphibians.
Also read: Mumbai: No fresh meat for animals in SGNP, Mumbai zoo amid Lumpy Skin Disease
The inauguration ceremony began with tree worship. Actor Raveena Tandon, who was announced as the wildlife goodwill ambassador by the Maharashtra government, said, "Wildlife related issues have always been close to my heart."
Officials said the cat orientation centre will portray information in an attractive and palatable manner for visitors. It will dole out interesting nuggets about snow leopards, marble cats, leopards, and other felines. It will be a one-stop point for research for students, they said.
The event also saw handing over of wildlife rescue vehicles to coastal forest divisions. These vehicles are sponsored by the Mangrove Cell of the forest department. A report on Valuation of Ecosystem Services of SGNP by IIT-B was also released.
"The choice of economy or ecology is a thing of the past," said Erik Solheim, former UN environment executive director and ex-Norwegian politician. "Let us be kinder to the animals."