Sustained coverage in this paper and crowdfunding efforts help child with rare muscular atrophy get multi-crore imported treatment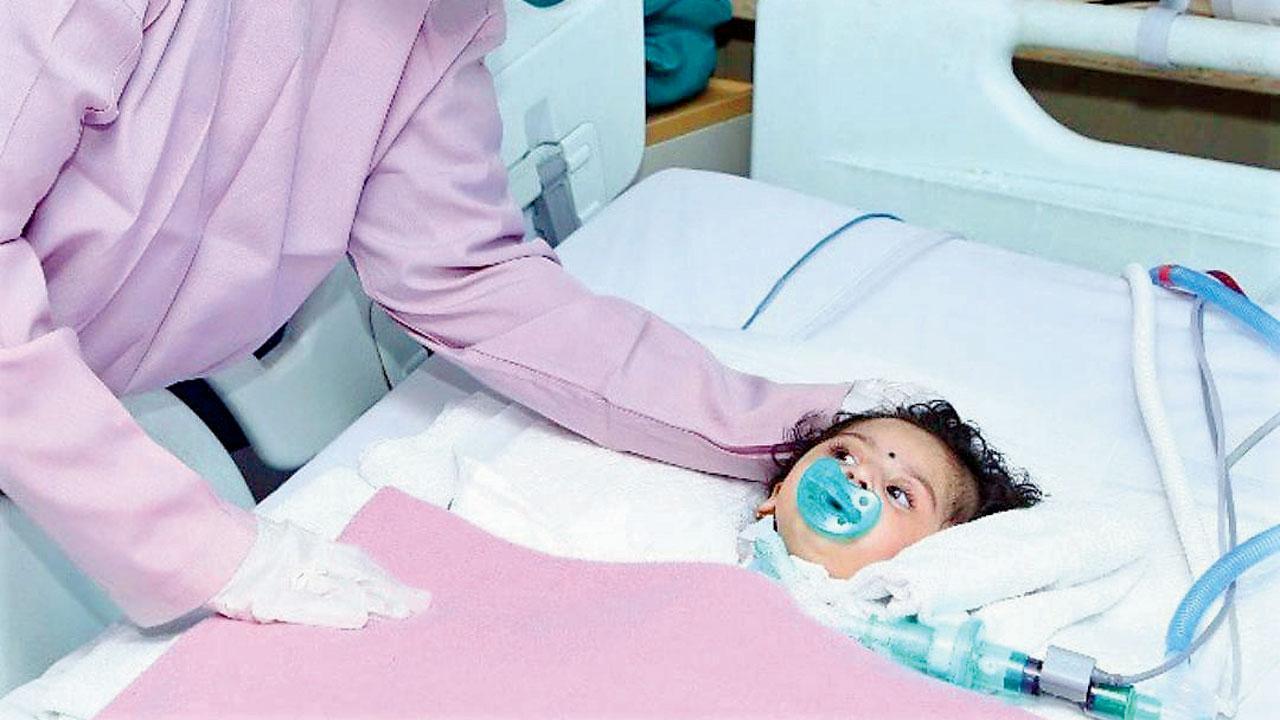 Baby Teera was administered the gene therapy at Hinduja hospital on Friday
Six-month-old Teera was administered a lifesaving imported gene therapy at Hinduja hospital, making her one of the 10 infants with spinal muscular atrophy type 1 in the country to have got the drug Zolgensma, which costs Rs 16 crore, in the past year. While the other kids with SMA got the therapy on compassionate grounds through a global lottery, Teera's parents redefined perseverance in raising money through crowdfunding. The government also waived taxes of Rs 5 crore to facilitate the import.
Despite winning the lottery, a few children were not lucky. The rare muscle-wasting disease either claimed their lives before they got the therapy or they were rejected due to infections. The lifesaving shot for Teera has once highlighted the need to make the treatment affordable for kids with SMA type 1. 
Alpana Sharma, Co-Founder and Director Patient Advocacy, CureSMA Foundation of India, said, "There are many Teeras in our country and they deserve a chance to live. Many children in India have received this injection even before the Teera, and the tax on it has also been waived.  This is not the first case.  But children get these drugs by lottery.  There is no consensus on what the government process will be. All these processes should be changed at the organizational level and all children should benefit from it."
Sharma said the government should take the initiative as no pharma company will bring it to India at an affordable price on its own. "It's the need of the hour to make some lasting, institutional, policy changes," she said, adding that not all parents can mount a campaign to raise funds seen in Teera's case.
SMA is a genetic disorder that weakens muscles and is often fatal for kids. Such babies struggle to walk, sit, eat and even breathe on their own. "We now have around 525-plus patients registered with us from all over India. We dream of an SMA-free world and a barrier-free universal healthcare for all," said Sharma.
'First girl in 3 generations'
Pune banker Dhawal Keshari and his family were ecstatic when they got their first girl child in three generations. The happiness turned into sorrow when the infant, Hiya, was diagnosed with SMA type 1. "Our whole world changed. We googled every possible information which stated she won't survive beyond her second birthday," said Keshari. The family managed to get a drug that costs about Rs 1 crore three months later. While she showed some signs of improvement, she still struggled to swallow and breathe. They then enrolled for the lottery for one-shot Zolgensma and were lucky. But the pandemic added to their anxiety as the drug, which has a short shelf life, got delayed. She finally received it around her first birthday in June 2020 and became the first recipient of the drug in India.
"Few months post dosing, she started rolling over, her first milestone. Followed by a lot of physiotherapy and dietician consultation, she even gained some weight. She can now sit with little assistance and is more vocal. With such positive signs, we are hopeful to have her a better quality of life," said Keshari. He feels the government should make screening for SMA compulsory during pregnancy and make the drug cheaper.
16-month-old Kiaan too got the therapy
Delhi couple Chandani and Aman Vig got their first child, Kiaan, after 8 years of marriage. They learnt about his SMA after about 11 months. Chandni said it was God's grace that Kiaan's name got shortlisted in the lottery.