At 5,610, Mumbai is just over 300 active cases away from the lowest point of the first wave on February 9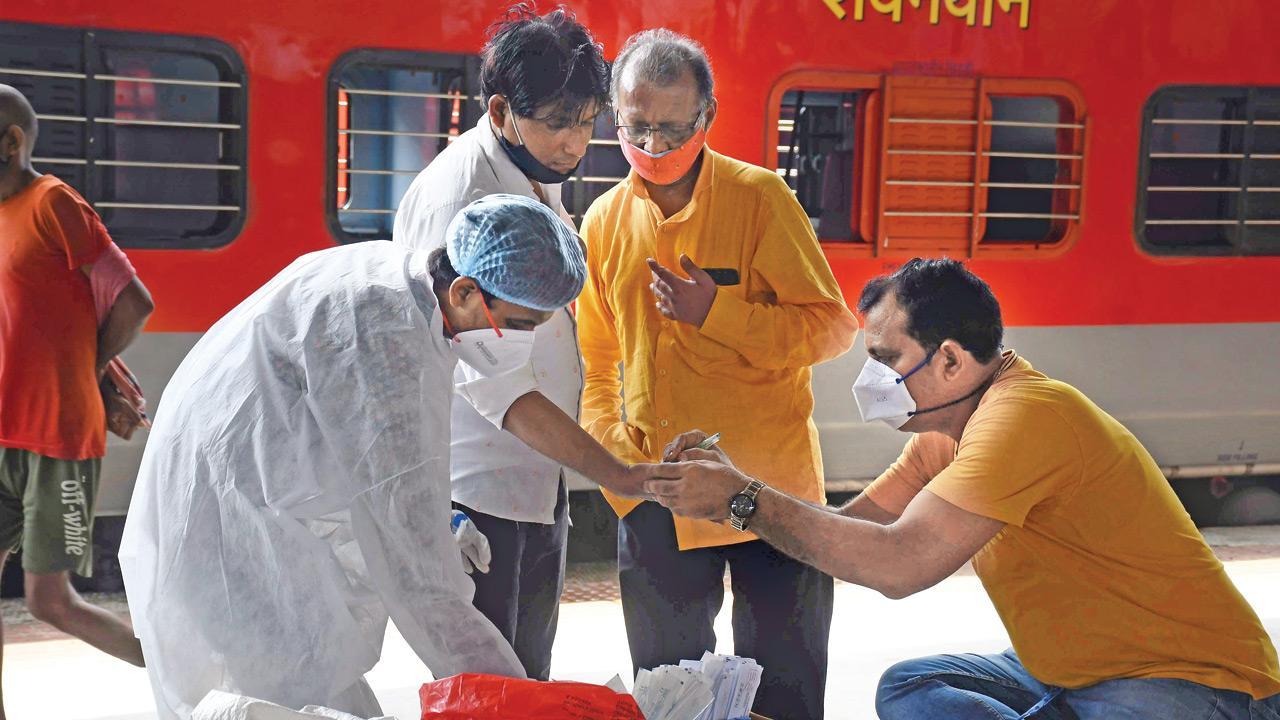 Passengers who arrived on a long-distance train complete paperwork for Covid testing at Dadar on Sunday. Pic/Ashish Raje
With minimum daily Covid-19 cases and a situation similar to that of February 9 when there were least active patients, the city can be said to be at the end of the second wave. The upward curve of Covid-19 had started on February 10. On July 24, there were 5,610 active patients and on February 9, the number was 5,292.
There has been a steady fall in the TPR since May 5 when it was 10.96 per cent. The doubling rate improved on Sunday and stood at 1,299.
ADVERTISEMENT
Of the 10 deaths, eight patients had comorbidities, eight were in the age group of 60 years and above, while one death was reported in the 40-60 years age group.
The city's recovery rate remained constant at 97 per cent as 539 people recovered and were discharged on Sunday. 
The state's new Covid-19 cases saw a marginal rise as 6,843 cases were reported on Sunday. The fatalities saw a marginal drop at 123.

A man gets tested for Covid-19 at Dadar station on Sunday. Pic/Ashish Raje
The state's fatality rate remained constant at 2.09 per cent as 5,212 people recovered and got discharged. Currently, the state has 94,985 active cases.
The Mumbai Metropolitan Region (MMR) reported a marginal rise at 1,184 cases on Sunday, including the ones reported in Mumbai. Apart from Mumbai, Panvel with 126 and Raigad with 225 reported the maximum new cases in the MMR.
Also read: Increase Covid-19 vaccination, says expert panel
Thane reported 45 new cases while Navi Mumbai saw 115 cases and Vasai-Virar reported 68 new cases. 
The MMR, excluding Mumbai, registered 28 Covid-19 fatalities on Sunday. Raigad reported nine deaths, the highest in MMR after Mumbai, followed by Vasai-Virar and Kalyan-Dombivli at six deaths each. Thane reported three deaths and Mira-Bhayandar and Panvel had one death each. 
62,64,922
Total No. of cases in Maharashtra
820
Total no. of cases reported in MMR in the last 24 hours
10
No. of deaths in city on Sunday (Eight patients had comorbidities, eight were in the age group of 60 years and above, while one death was reported in the 40-60 years age group)
539
Patients recovered and discharged in city on Sunday