Brave Aarey resident narrates how he went after a leopard that had dragged away his nephew in the fourth such incident in a month; local authorities meet to plan emergency measures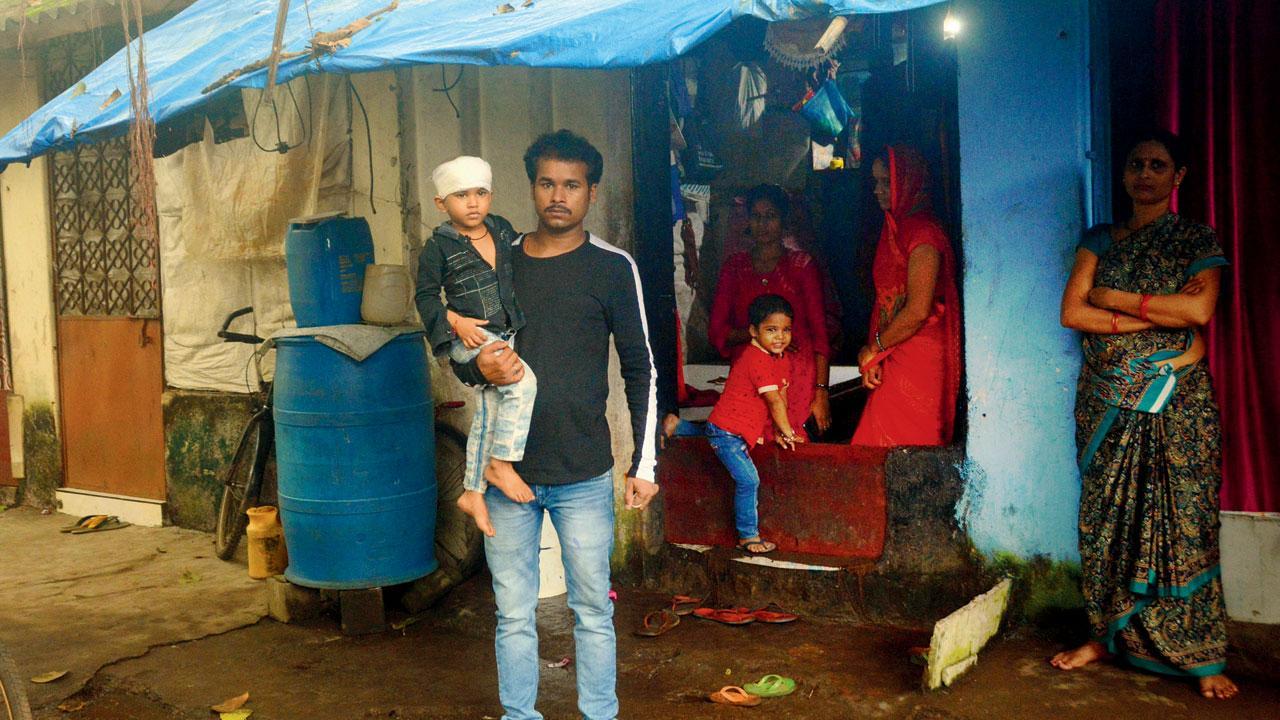 Vinod Kumar Yadav with his injured nephew, Ayush
A leopard attacked a four-year-old boy inside Aarey Milk Colony and dragged the child for about 30 feet in front of  his family. The big cat backed off after the boy's gutsy uncle kept screaming and ran after it. While the child has sustained injuries to the head and neck, locals said there has been a spate of leopard attacks inside Aarey in the past month.
Around 8 pm on September 26, the boy was playing outside his home at Unit-3 when a leopard pounced on him. His uncle Vinod Kumar Yadav told mid-day, "I was standing at the door as my nephew Ayush was playing outside. Suddenly a leopard came towards Ayush and within seconds grabbed him by his head and started running towards the bushes. I started shouting and ran behind the big cat."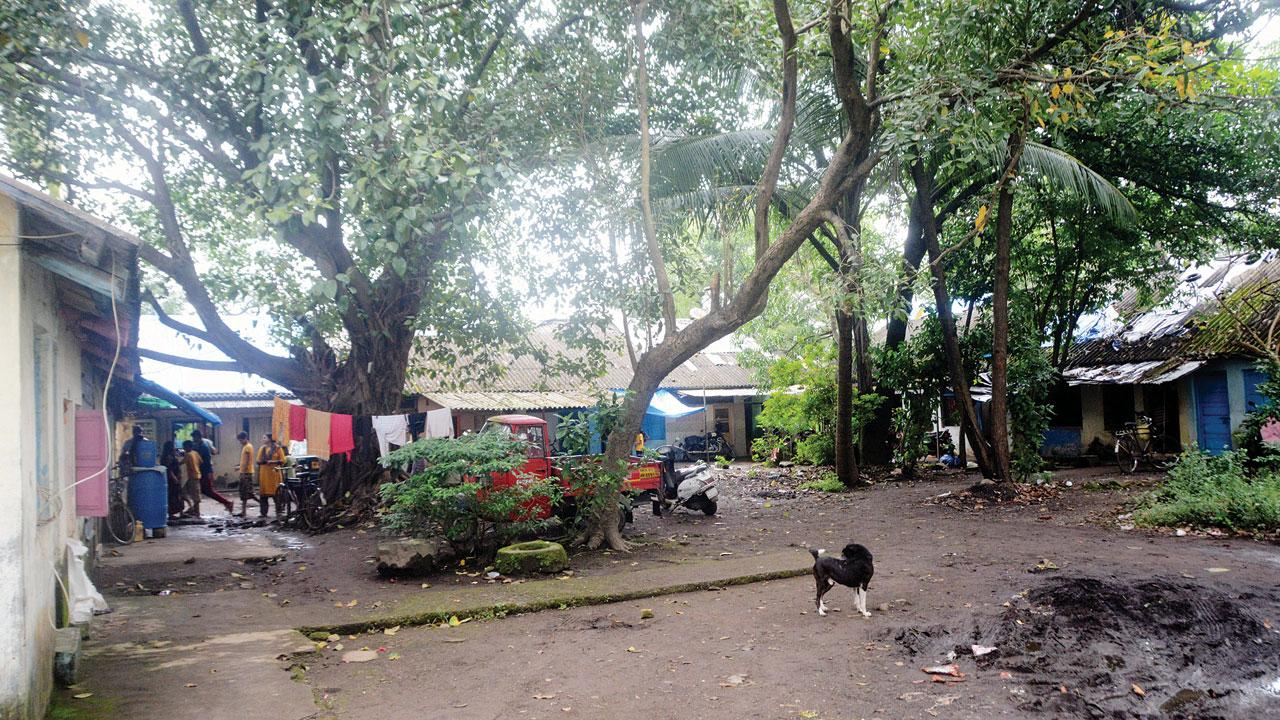 The area where the child was playing when the big cat grabbed his head. Pics/Satej Shinde
Yadav said he chased the leopard for about 30 feet. "The leopard must have got scared and it dropped Ayush. I just jumped into the bush to cover my nephew under my body to protect him. I saw the leopard looking at me. Fortunately, it ran away and disappeared," he said.
Ayush was taken to a nearby hospital where doctors sutured his wounds and discharged him. He is the fourth victim of leopard attacks to have sustained injuries in the past month. There have also been three instances where locals claimed big cats had charged at them.
Ayush's mother Aarti Yadav said, "I'm thankful to God that my boy is safe. Had my brother not run after the leopard, I don't know what would have happened. Ayush got eight stitches. I hope the authorities do something about this. At least the garbage should be cleared and street lights be installed."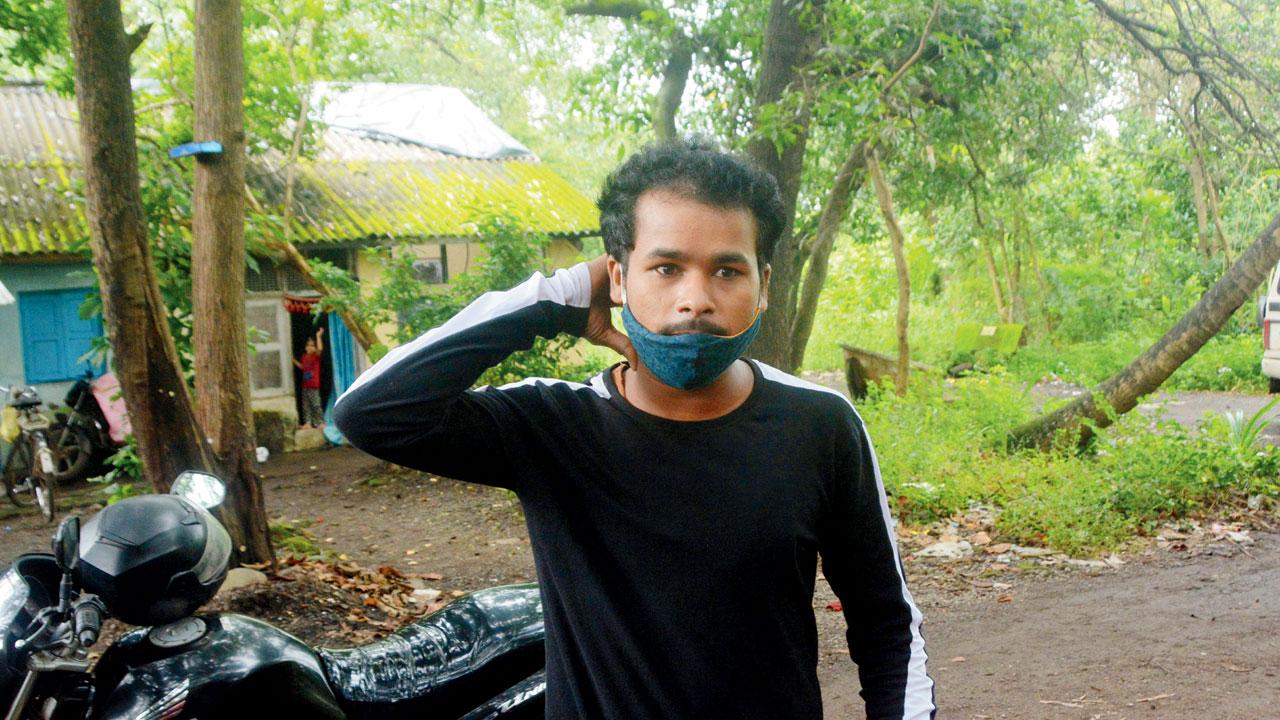 The boy's uncle Vinod Kumar Yadav who ran after the leopard screaming, forcing it to back off
Locals said there is not even a single street lamp near the spot where the leopard attacked Ayush. They said they have to walk on the dark and deserted roads after sunset. "We are also demanding that the local authorities and public representatives seriously look into the matter before someone is killed."
Officials discuss issues
On Monday, MLA Ravindra Waikar, local Shiv Sena leader Sandeep Gadhave, Assistant Conservator of Forest Girija Desai and ward officials met at Aarey police station to discuss streetlights, clearing of garbage and water supply to Aarey locals. He said, "I have asked officials to ensure that the street lights on the main and internal roads are fixed at the earliest. Instructions have been given to clear the garbage from the area and the foliage on the roadside using grass cutters. We have also requested the forest department to take measures to prevent further incidents of human-animal conflict."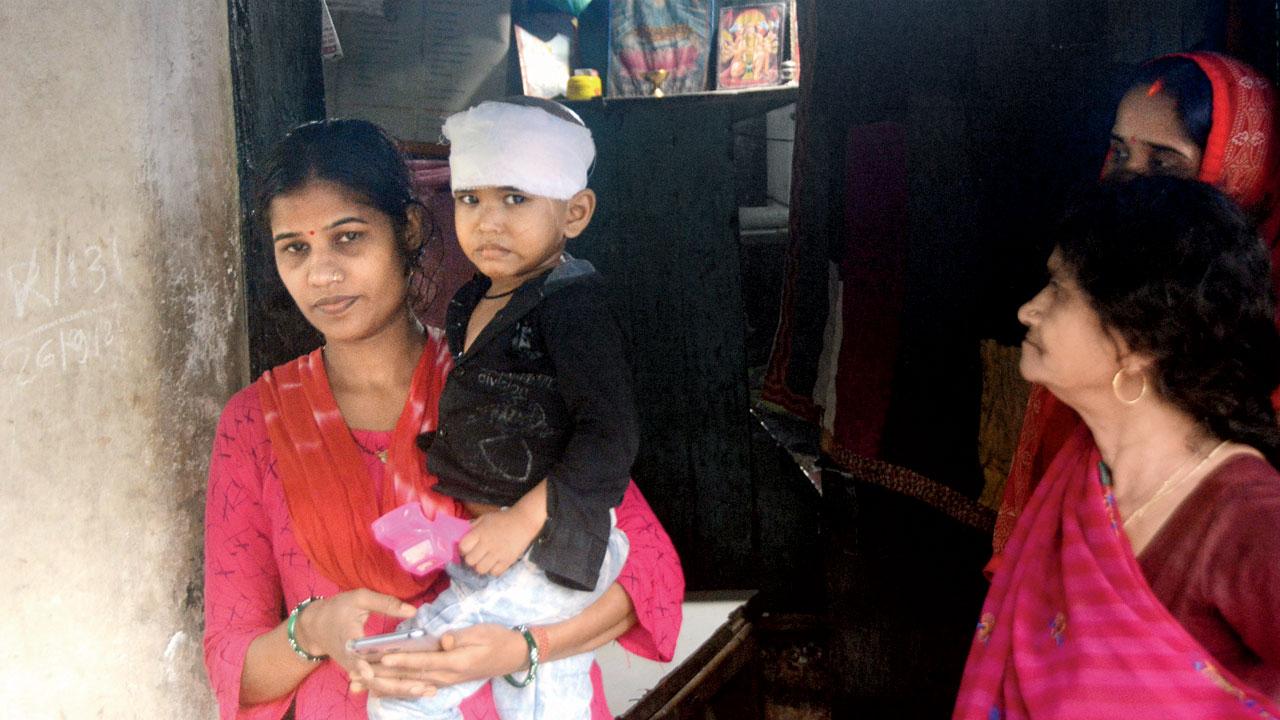 Ayush Yadav, the injured boy, with his family
4 attacks in the past month
>> Unit 31 resident Lakshmi Umbersade claims she was attacked by a leopard when she was returning home around 10 pm on Aug 31
>> Pintu Pandit, a man in his thirties, suffers injuries in a hand after a leopard attack near Unit 32 in the last week of August
>> A big cat pounces on Rohit Tilak Bahadur, 10, when he was returning home around 7.30 pm in the third week of August
>> Leopard attacks Ayush Yadav, 4, on September 26
Sept 26
Day the child was attacked by the leopard