The film begins with 'Raavan' wearing his footwear, as he steps out of the house. A voice cautions, as he gets on to a bike: sambhal ke (be careful) and Raavan looks up reassuringly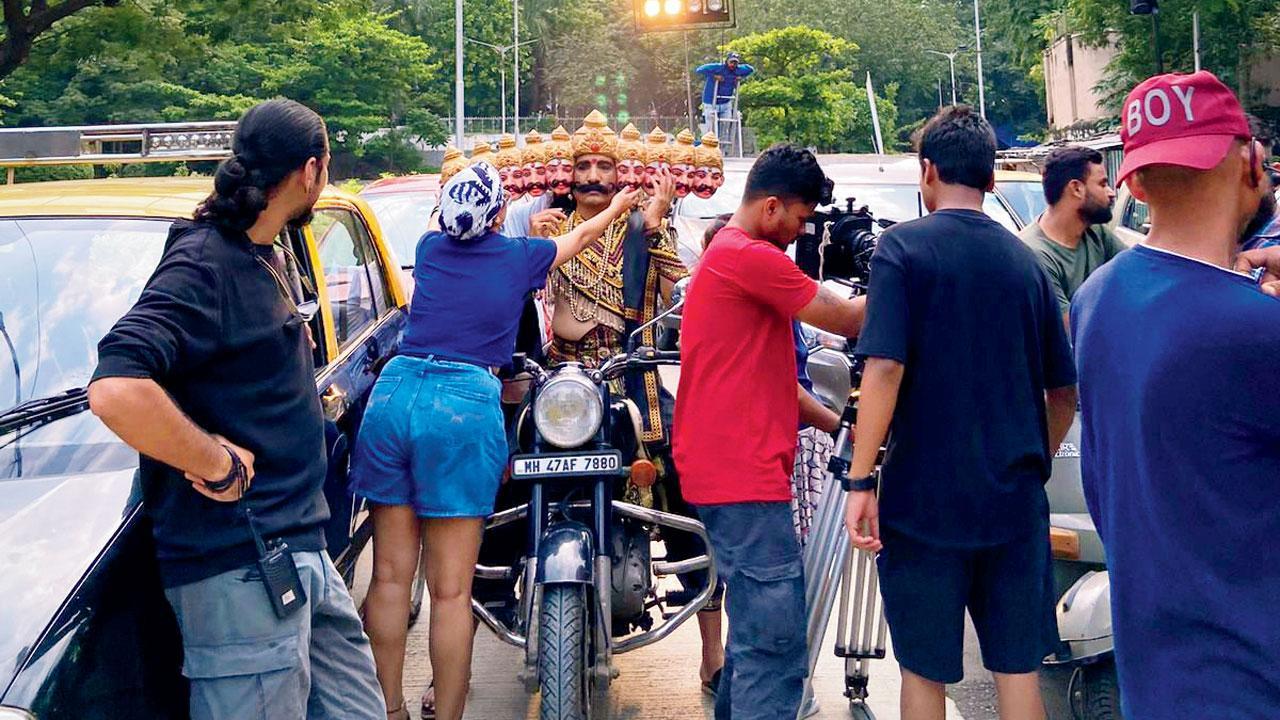 The film being shot in Worli
It is heads and tales as Mumbai traffic cops are using Dussehra and the Raavan motif to espouse the message: wear a helmet. Today, Dussehra day, will see the launch of a 56-second film designed for social media, simply called #JustOneHead.
The movie
The film begins with 'Raavan' wearing his footwear, as he steps out of the house. A voice cautions, as he gets on to a bike: sambhal ke (be careful) and Raavan looks up reassuringly. Raavan, with his 10 heads, is astride a mo' bike at a traffic signal when he encounters a man riding a scooter. This rider is not wearing a helmet, though the helmet is latched on near the pillion seat. Raavan looks at the rider and then at the helmet, as if asking why he has not worn it. The helmetless man replies with a wink. Raavan then says, chastising the man, "Arre murkh humare dus hain, aur tumhare? (Idiot, I have 10 heads, how many do you have?)". Raavan laughs ominously, and rides off, leaving the man blinking in realisation. The film closes with the public announcement: 'You have only one head. Wear a helmet.'
"Raavan has 10 heads, you have only one: this, essentially, is the message of this film," said Pranav Krishnan, head, culture and communications, Schbang. The film is made in public interest, a collaboration between cops and Schbang, a creative and technology transformation company.
Head said
The top cops, who recently extended the 'wear a helmet while riding' drive to pillions, too, are using an apt, zany way to get the message across. Rajvardhan S, joint commissioner of police (traffic), said, "The film is a call to action for people of the city, state and even the country to wear helmets. While Raavan has 10 heads, the aam aadmi has only one. The idea is to increase awareness." Mumbai CP Vivek Phansalkar added, "Helmets are mandatory for riders. On behalf of the Mumbai police, I appeal to all the riders to use helmets and follow other traffic rules."
Also Read: Mumbai: Old FOB at North end of Charni Road station to remain closed from Oct 5
Cheeky tone
This "film for Dussehra hits the nail on the head (pun intended) on a very human truth," said Harshil Karia, founder, Schbang. He explained, "Most of us act like we are Raavan and we have 10 heads, hence we do not wear a helmet. It is so critical to wear a helmet for safety. I am grateful to the Mumbai police for attention to this aspect and supporting us in shooting this film. I hope Mumbaikars and even those across the country enjoy the film. More than that, I hope it reminds them to wear a helmet." 
Mohammed Sadriwala, senior creative strategist, said, "Dussehra is a festival of the triumph of good over evil. It must also be interpreted as doing the right thing to save ourselves from danger, and that is what the film focuses on." 
Aditya Mehendale, national creative director, Schbang, said, "Getting people to wear helmets is an exhausting exercise. So, we thought that where punishments and fines don't work, humour packed with a power-punched message hopefully does. Our film delivers a poignant message in the celebrated cheeky tone of the Mumbai police. Contextual to the one time in the year where people remember Raavan the most, the spot rewrites his image just this once as a harbinger of good." The film is set to launch on social media handles and YouTube today.