The booking sessions will be created and released after 6 pm every day.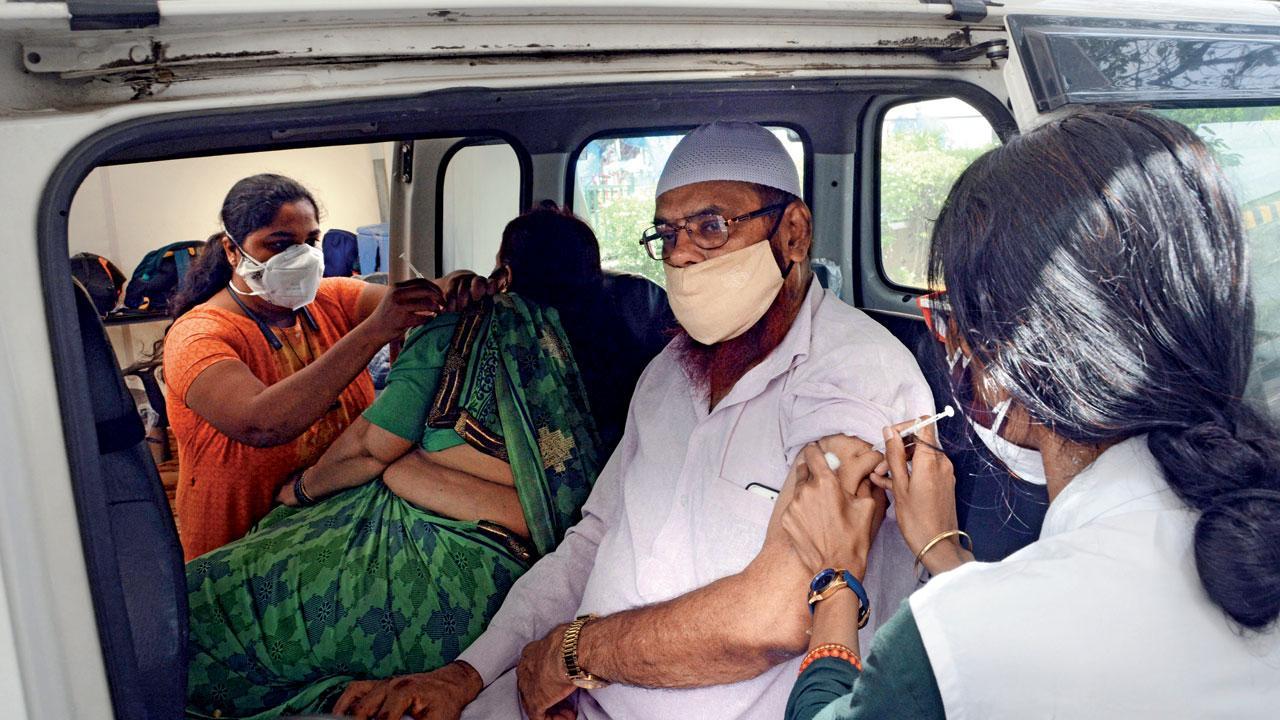 A beneficiary gets a Covid-19 shot at the drive-in vaccination centre at Growel's 101 Mall on Akurli road, in Kandivli, on Thursday. Pic/Satej Shinde
Online registration for vaccination is mandatory again for senior citizens who got a brief relief for three days after the BMC opened walk-ins.
The BMC has announced that on Friday and Saturday, 80 per cent of the slots will be reserved only for first dose and the remaining 20 per cent for second dose recipients aged 45 years and above. The booking sessions will be created and released after 6 pm every day.
Initially, the civic corporation had announced the walk-in facility from Monday to Wednesday, but had to extend by a day due to the cyclone. On Thursday, the last day of walk-in registrations, 9,369 senior citizens were vaccinated, and 7,694 of them took their first dose of anti-Coronavirus vaccine.
Also Read: Disappointed with insensitivity, rethink policy on door-to-door vaccination: Bombay HC to Centre
A total of 19,361 doses were administered on Thursday, and 5,006 of them were given by five private vaccination centres. And at these centres, 4,210 of the vaccine recipients were in the age group of 18 to 44 years. Among others who were vaccinated on Thursday, 5,010 were aged between 45 and 59 years.
At civic-run centres, Covaxin was given to only those waiting for their second shot, but private centres administered 548 Covaxin to beneficiaries who had come for their first dose. Out of the 19,361 recipients, 3,074 received Covaxin and the rest took Covishield.