Thousands of slum dwellers from Mumbai gathered outside BMC headquarters to present civic body chief Ajoy Mehta with the noxious drink they have been gulping down as water for the last 40 years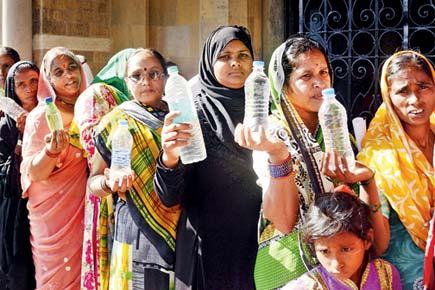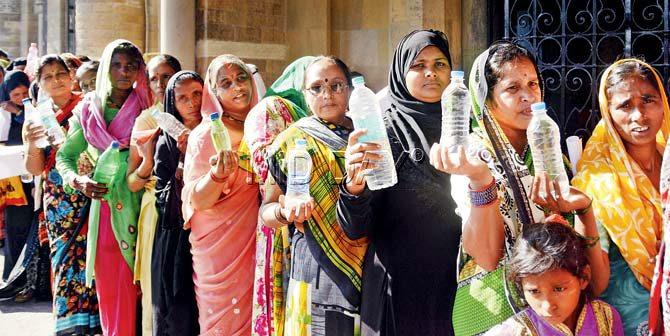 The slumdwellers who gathered outside BMC headquarters claimed they still haven't got access to clean drinking water. Pics/Sneha Kharabe
Intending to give the BMC a 'taste' of their own water, thousands of slum dwellers from slum pockets in Reay Road, Sion, Dadar, Matunga and Mahim gathered outside its headquarters to present civic body chief Ajoy Mehta with the noxious drink they have been gulping down as water for the last 40 years.
The slum dwellers are demanding that BMC provide them with clean drinking water as the civic body has taken way longer than it needed to do so.
Also Read: Mumbai: Municipal lab confirms presence of E-coli in water in Kalbadevi buildings
According to the Bombay high court's landmark December 2014 ruling, "Right to get water is an integral part of right to life under Article 21 of the Constitution of India…" After this ruling, BMC got two months to make a report, which includes a plan on executing the order. However, since the last two years, the process has been stuck.
Two years for a sanction?
"BMC says that they need sanction from the Assembly to go ahead with the process, which we don't even think is required when you have an order from the high court. If it is so important, how does it take two years to get the sanction?" said Sitaram Shelar, from the Pani Haq Samiti.
It's not just legal norms within the country that require BMC to provide clean water. India is a signatory of the 2010 UN declaration, which promises access to safe and clean drinking water as a basic human right. Not following this in principle is unethical, believe activists and NGOs present at the protest.
Local hypocrisy
"In 1996, when Shiv Sena was in power, it made a rule saying only certain areas have access to 'legal' drinking water, this gave rise to the Water Mafias," said Avinash Neelkanth Kadam, from Pani Haq Samiti.
Read Story: Drinking water from our taps smells like gutter water: South Mumbai building residents
"For every 1,000 litres of drinking water, the common man pays Rs 5, whereas the poor pay Rs 600. If India signs [resolutions] in the UN, but doesn't follow them back home, it is hypocrisy," Kadam added. Several other NGOs like
YUVA, CORO, Humara Sheher and Stri Pragati Mahila Bachat Gatat were also present to support the agitation.
The silver lining
The slumdwellers' protest did bear fruit after all. The BMC has given its final approval to its 2014 report.
Sitaram said, "The agitation created pressure on the officials, and now the Water Department will start implement the report. A meeting regarding the training for the slum community [on how to fill forms to get access to water and other technicalities] is scheduled for next week. I'm elated with the response."