Bona fide residents lumped with illegals; civic authorities cite safety concerns as waves lash structures during this season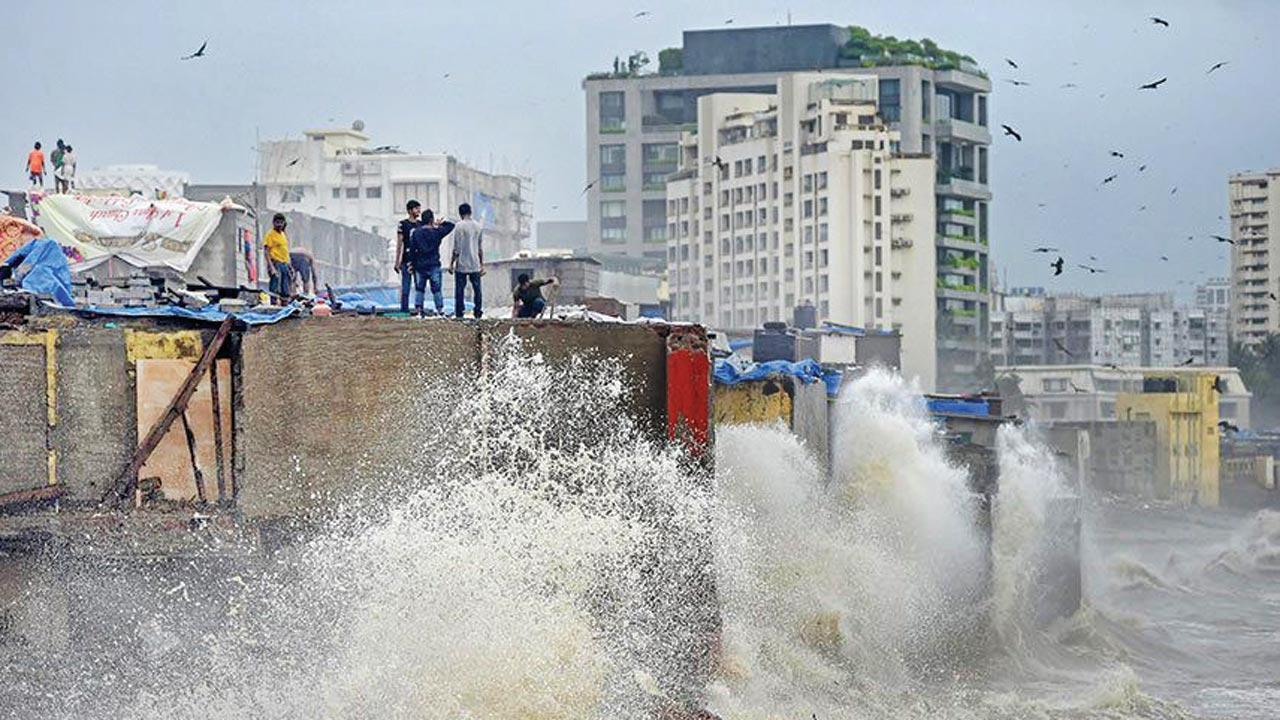 Waves lash structures along the coast at Worli during high-tide
Residents of Worli Koliwada, who had been vigilant about the illegal constructions in their area, are now themselves facing the threat of losing their homes. The BMC, in the wake of the demolition of the unauthorised structures in one corner of Worli Seaface, has sent notices to many legal residents as well, some of whom have been living there since 1995. 
They are now rushing to the civic ward office to prove that their houses were built legally. mid-day had, on July 23, reported about the locals raising an alarm about 
mushrooming illegal huts along the boundary of the Golphadevi SRAhousing society.
Locals with documents proving their legal residency, outside the BMC office, in Prabhadevi on Friday
On Thursday evening, in the wake of demolition of the unauthorised structures near the mouth of Bandra Worli Sea Link, the G South ward issued notices to legal/authorised huts as well. Many locals say they have been residing here since 1995, and that they are now rushing to prove that they are living here legally. The residents submitted their documents to the G South ward office on Friday morning. They held a meeting in the afternoon, stating that they have proof that they are legal. The locals asked why they were even issued demolition notices.
Have proof
The residents said they had replied to the notices and attached documents like: Annexure 2 (containing a list of names of legal residents), voting cards and electricity bill issued before 2000. 
They said, "In our responses to the notice, we stated that there has been illegal and unauthorised construction of huts/structures by some anti-social elements near the sea shore. However, our huts/structures do not fall under the same. Our huts/structures are shown as protected in Annexure 2 issued by the deputy collector (encroachment/removal)." They have made a request to withdraw the notices.
Sharad Koli, chief promoter of the Golphadevi SRA society, said, "We have submitted documents, which proves the legality, at the BMC's G South office. Approximately 20 people have been served notices, and we hear that more will get one soon. Illegal residents are being mixed up with those living here legally. Why should the genuine residents suffer?"
Living here since 1995
He added, "We have also been told that any structure should not extend beyond the wall of a garden in the area. The wall should be considered as a border. But, the garden wall was built in 2005-2006, while many of these homes have been standing since 1995. So, how can that wall become a defining border? We wanted action against the illegal structures, not us. We have been made to run around trying to prove that we are legal residents."
BMC's R Mohite said some locals had come to meet him, "but our prime concern is safety. We have seen strong monsoon waves lashing at huts. The boundary wall has been made for their safety and we want all structures to be within that. We are going to look at the answers and documents submitted by locals responding to the 
notices. This is to reaffirm that safety is priority in this season and we want to guard against loss of property but most importantly, any threat to life."
20
No. of legal residents who have got demolition notice so far