One of the largest slums in Asia has seen 37 days of zero infections since the second wave, against four days in 2020; vaccination, strong immunity and efforts by NGOs attributed to the record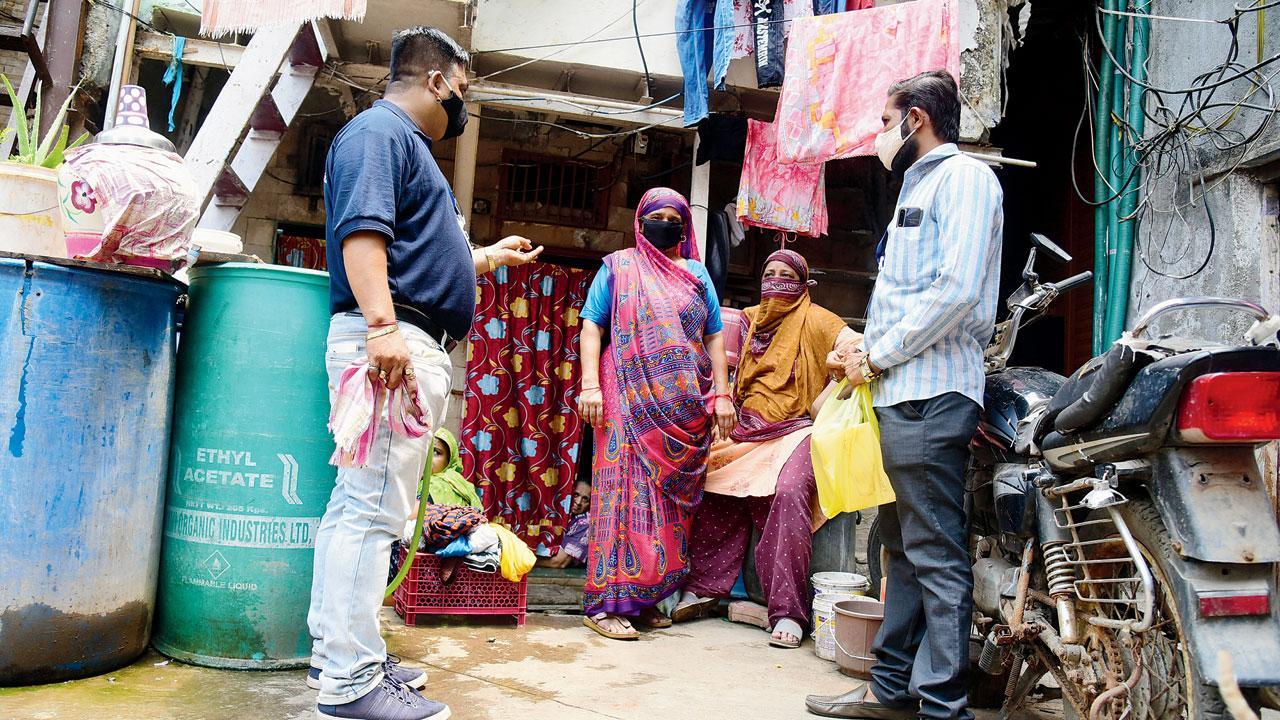 A civilian (left) creates awareness about Covid-19 safety measures, at Dharavi, on April 29. Pic/Shadab Khan
Dharavi shines. Since the spread of novel Coronavirus over a year and a half, Dharavi, the place of global records, has had 41 days with zero COVID-19 cases, and most of them were after the second wave. In 2020, there were four days when Dharavi reported not a single infection, while since January 2021, it reported 37 days of zero cases, with Saturday being the latest. The area currently has just 10 active cases.
While the area has so far recorded more than 7,000 cases of Covid-19, it has also vaccinated over 4.4 lakh of its eligible adult population. Several NGOs and private organisations played a key role in bringing down the number of infections during the first wave. After the second wave, vaccination and stronger immunity also helped the spread stay under control.
First case in April 2020
Dharavi reported its first Covid-19 case on April 1, 2020, and the BMC has been on its toes since then to ensure that the spread stays under control in one of the largest slums in Asia. On April 8, 2021, it had reported the highest number of single-day cases at 99. Thereafter, the figure fluctuated while staying above 60, and dipped below 50 in early May. By the end of May, the daily cases dropped further and were mostly below 20, barring three to four days.
However, it was the first week of June that brought some hope, as the active cases started declining and the daily cases dropped significantly with many days of zero infections. A civic official said, "All our efforts are in place for ensuring the numbers stay in control and our emphasis is on vaccinating the eligible population of the area so that we can add more zeros to the Dharavi figures."