Oxygen awareness during outbreak ensures brisk sapling and big tree sale at Sanjay Gandhi National Park (SGNP)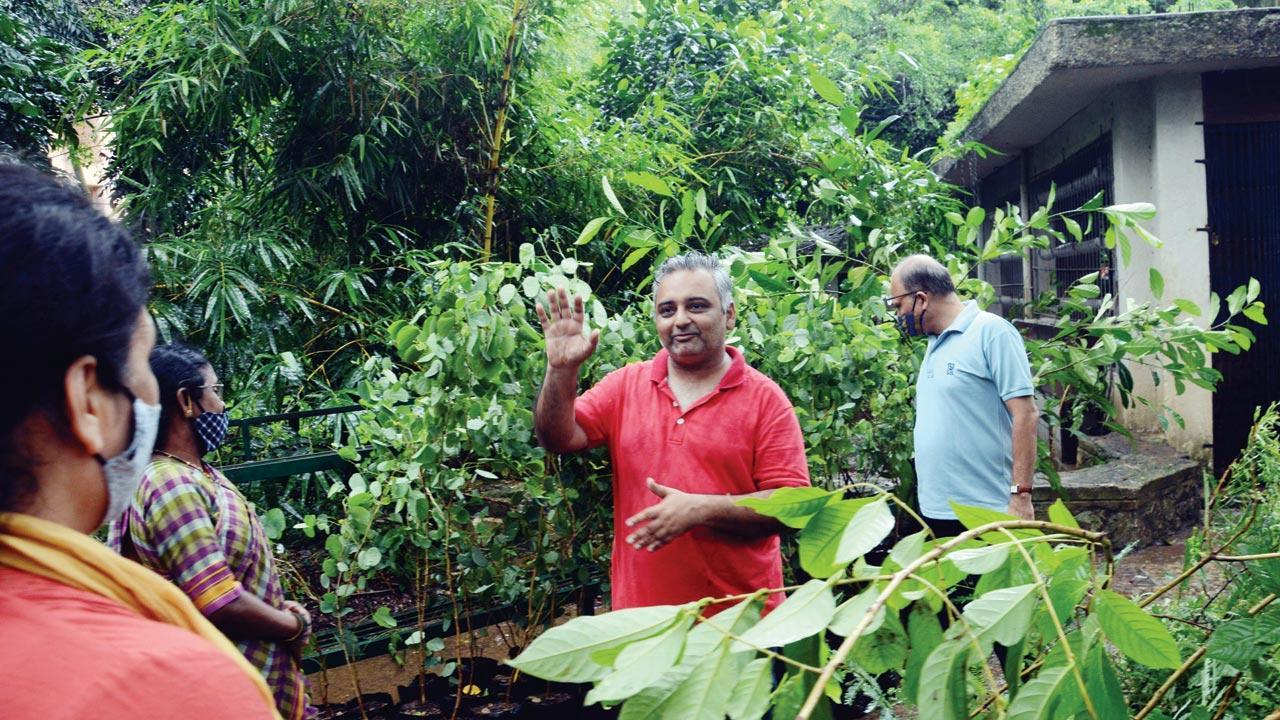 How green is this valley: Subhajit Mukherjee at the nursery as interested buyers trickle in. Pic/Satej Shinde
Fitting a banyan tree in Mumbai's bonsai-sized homes may be daunting if not impossible, but the tree is part of the sale at the Sanjay Gandhi National Park's (SGNP) Majhi Vasundhara Abhiyan's Van Mahotsav 2021. The festival of trees where people can come in and buy saplings is month-long, ending in July. Though the park is open from 5 am to 9 am daily according to government guidelines, these stalls with trees are stationed at the gate and people can buy these from morning to evening.
Said Subhajit Mukherjee, founder Mission Green Mumbai, also at the forefront of the SGNP effort, "Some of the trees will grow to six feet and more but the prices are sapling size! A tree that costs Rs 500 outside is being sold for R50. We are also accessible compared to several big nurseries which are located on the outskirts of the city." On Friday, the nursery had sold a whopping 4,000 neem trees in one day. They were priced at Rs 20 each.
ADVERTISEMENT
Mukherjee said they have trees like the peepal and banyan too. "The banyan is an endangered species. You will witness during the Vat Savitri pooja when women pray at the banyan tree, there will be a huge group of women surrounding one tree. That is a pointer to the paucity of these trees," he said. "The peepal tree is feared by some. Many believe it will grow huge and ungainly then break through walls as it lodges inside," he added.
"Ideally, authorities everywhere should be planting more massive trees in public spaces. We have police stations and fire brigades, certain parks where these trees can be planted and then of course, tended to. Yet, there are some people in power who believe in breathing in carbon dioxide or nitrogen, these are our stylish people," said Mukherjee sarcastically. Jackfruit trees, drumstick trees, custard apple and mango trees, the nursery has stocked all these.
Community engagement
Dev Barot, trustee, of Learning Space Foundation, an NGO which has held plantation drives in the past said, "Several people want to plant trees, but are intimidated at the prospect of nurturing them. This can be learnt through experts, talking to those in the green space and some research. Plantation drives are sustainable when the community gets involved. For instance, through our NGO, we may hold a drive in a school. Then, we tell the school: the responsibility to look after the plants is yours. That is how you weave in the community and engage them in the effort."
Regular SGNP morning walker Dr Hema Dave, part of the Kandivli Medical Association's Public Awareness Cell, said, "It is so heartening to see the massive response, indicative of an awakening. The lockdown has meant people have discovered their green thumb, even if it tending to just a plant or two."
Said SGNP Director G Mallikarjuna, "The outbreak has upped awareness about the need for oxygen. It is no longer just trendy to be talking about green causes, people now believe it is life-saving to act on the go green philosophy." Mallikarjuna stated that the Forest Department and the Social Forestry Department are setting up stalls, too, at the SGNP initiative. Many are buying the 5-ft banyan too, and some tempos are needed to cart away big trees for buyers, who are acknowledging that nature's very own oxygen cylinder is infinitely better than the one in medical stores and hospitals.