Metropolitan commissioner wants project completed before the declared delayed date of 2024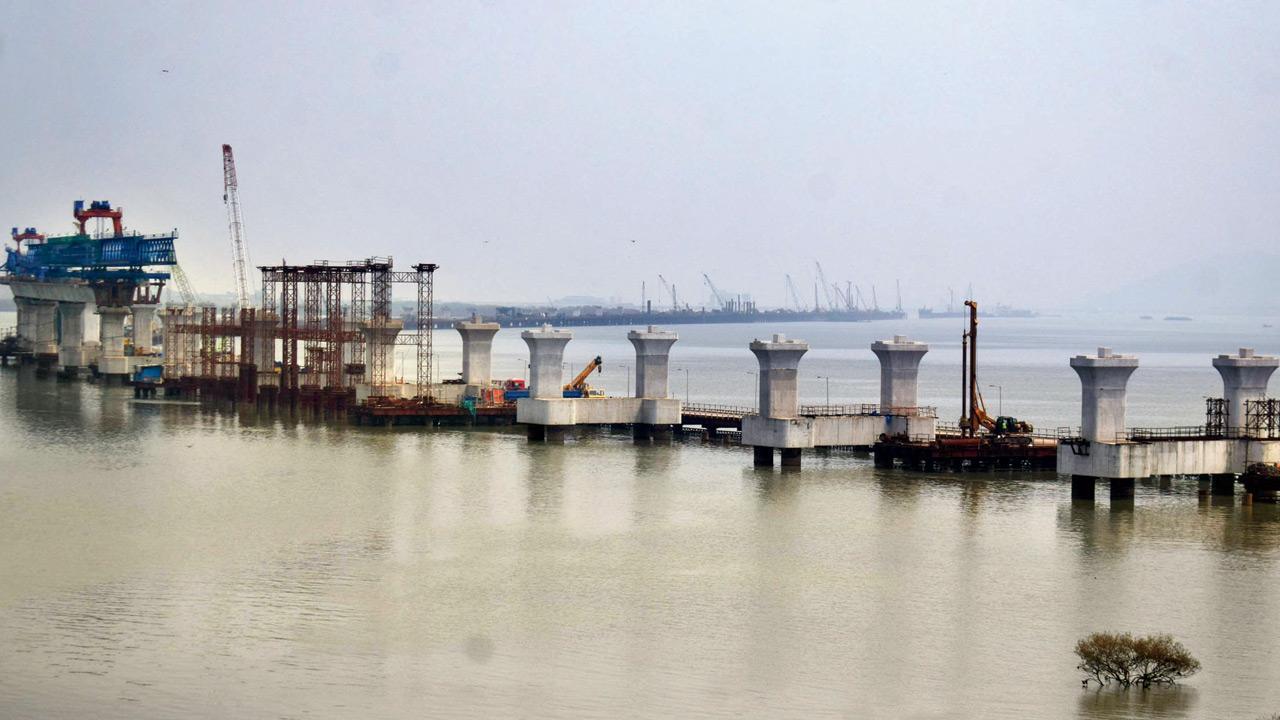 As many as 70,000 vehicles (both ways) are estimated to utilise the bridge on a daily basis. File pic/Ashish Raje
If everything goes according to plan, Mumbaikars will be able to travel by the Mumbai Trans Harbour Link (MTHL) from 2023. At a meeting that took place at the MMRDA headquarters last week, the Metropolitan commissioner instructed the project consultants and officials to set 2023 as the target for finishing the project against the declared delayed date of 2024.

S V R Srinivas, metropolitan commissioner, MMRDA, recently extensively reviewed the progress of the MTHL project
A few days back,  S V R Srinivas, metropolitan commissioner, MMRDA, had extensively reviewed the progress of the MTHL project being constructed at R17,843-crore and emphasised its importance to Mumbaikars for years to come.
MMRDA had tweeted about it, saying, "At this meeting, the Metropolitan Commissioner instructed the project consultants & officials to target for commissioning the MTHL project in 2023 as against the delayed date of 2024."
Srinivas also addressed matters from the last review meeting in which speedy resolution of land acquisition, labour mobilisation and anti-crash barrier were discussed.
"The commissioner evaluated the project cost and also ensured timely utilisation of segments. He instructed officials to look into the height of the crash barrier to maintain the overall project aesthetics," tweeted MMRDA.
According to MMRDA, work on the bridge is over 30 per cent complete. The 22-km MTHL project, out of which 15.5 km will run over the sea connecting Sewri to Nhava Sheva, will be a six-lane bridge across the Mumbai Harbour. The ambitious project will help solve the traffic congestion in the island city by improving connectivity between Mumbai and Navi Mumbai.
Once constructed, as many as 70,000 vehicles (both ways) are estimated to utilise the bridge on a daily basis and will cut travel time from more than two hours to just over half an hour. The sea bridge will have two interchanges, one at Shivaji Nagar at the Sewri end and another at Chirle village near NH-4B.
The sea corridor will also have noise and vision barriers installed on a 6-km stretch, first to block the view of the sensitive BARC nuclear complex and the other to protect the movement of flamingos and other migratory birds at the Sewri mudflats.