Heavy rainfall in the south and isolated pre-monsoon showers in parts of city bring down overall air pollution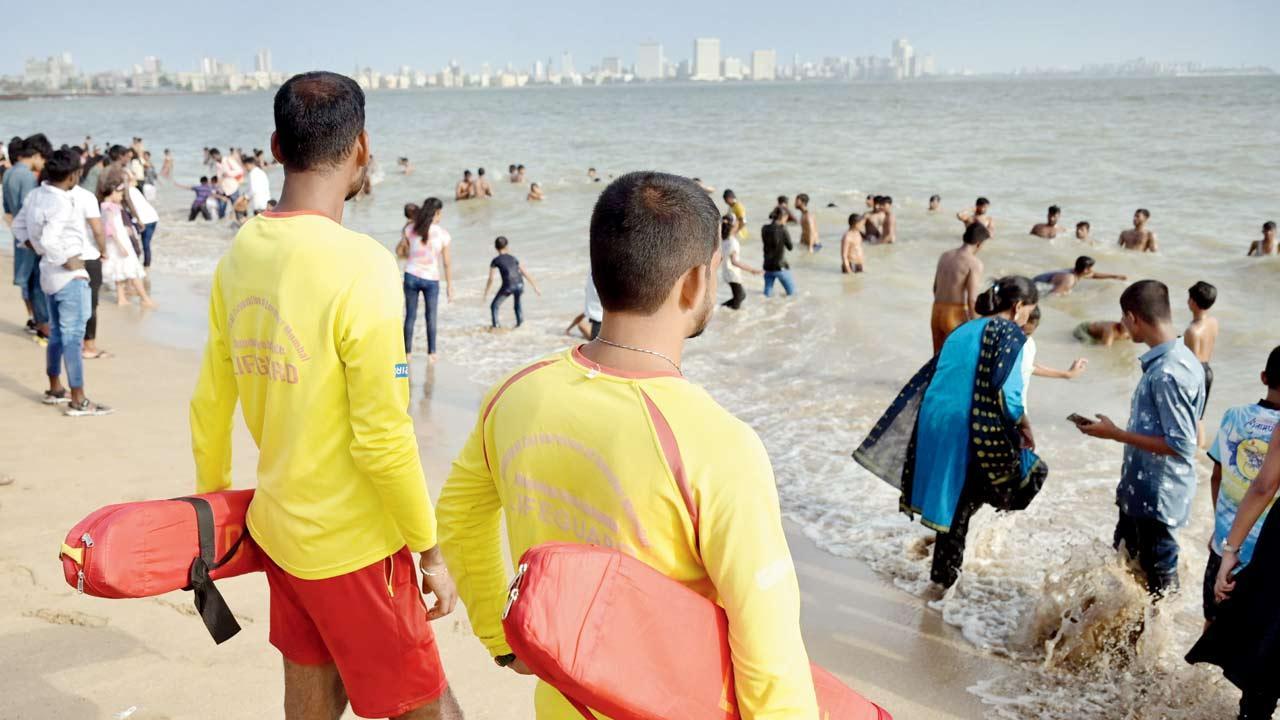 People cool off at Girgaon Chowpatty amid the heat. Pic/Bipin Kokate
After experiencing almost a week of poor air, Mumbai's pollution levels dropped and air quality improved on Monday. Except for Malad in the western suburbs, all the remaining nine automatic weather stations in the city recorded between good and moderate Air Quality Index (AQI).
The System of Air Quality Weather Forecasting And Research (SAFAR) recorded an AQI of 97 (satisfactory) for the overall city, a drop from 309, 286 and 197 recorded on Thursday,  Friday and Saturday, respectively. Malad, the only station which recorded an AQI of 371, was the most polluted in the city and recorded red category pollution levels on Monday. 
An AQI between 100 and 199 is considered 'moderate', 50 and 99 'satisfactory' and below 50 'good'. In 2020-21, the share of good air quality days was 32 per cent while no very poor or severe air quality days were recorded across the state. An AQI over 200 is considered 'poor', above 300 'very poor', above 400 'severe' and above 500 'severe +'. As per the forecast issued by SAFAR, the AQI for the overall city will improve further from Tuesday. As per the forecast for Tuesday, the AQI in Malad will improve slightly in the next two days but will remain in the 'very poor' category.
Experts said that the rise in pollution levels last week was due to two extreme weather conditions and the dust storm in the north-western region of the country. Explaining the phenomenon, Dr Gufran Beig, founder and project director of SAFAR, said, "The wind carrying dust from the Thar region was unable to cross the low-pressure area along the Mumbai coast, increasing pollution levels in both Mumbai and Pune. The northern sphere has a high temperature, while the southern sphere has a lower temperature after pre-monsoon showers."
Talking about improving AQI in the city and adjoining areas, Beig said, "Due to heavy rain in south India and pre-monsoon drizzle in the city, moisture has entered and spread across, leading to dust settling down. These conditions will further improve the AQI." Beig attributed very poor AQI in Malad to localised pollution such as construction work and vehicle emissions.
Meanwhile, pre-monsoon showers provided a brief reprieve from the heat in parts of Mumbai on Saturday and Sunday. Many isolated parts of Mumbai experienced light rain late Saturday night and early Sunday morning. Rain fell in Dadar, Sewri, Matunga, Parel, and surrounding areas such as Navi Mumbai. The city continued to record cloudy skies on Monday. The temperature was  34.7 degrees Celsius and 34.2 degrees Celsius at Santacruz and Colaba observatory, respectively. 
The maximum temperature in the city will hover around 35 degrees in the next 24 to 48 hours, India Meteorological Department's Regional Meteorological Centre, Mumbai has predicted. AQI is a single value that represents particulate matter (PM2.5 and PM10), ozone (O3), nitrogen dioxide (NO2), sulphur dioxide (SO2), and carbon monoxide (CO) emissions. SAFAR (under the Ministry of Earth Sciences) records it by combining air quality measurements with weather forecasts.
Air quality levels
Bhandup: 98 (satisfactory)
Malad: 371 (very poor)
Mazgaon: 78 (satisfactory)
Worli: 47 (good)
Borivali: 87 (satisfactory)
Bandra-Kurla Complex : 113 (moderate)
Chembur : 64 (satisfactory)
Andheri: 173 (moderate)
Navi Mumbai: 55 (satisfactory)