Yash Paradise sets up centre in community hall with 16 oxygen, 10 ICU beds; residents to get preference, outsiders will be allowed when beds are vacant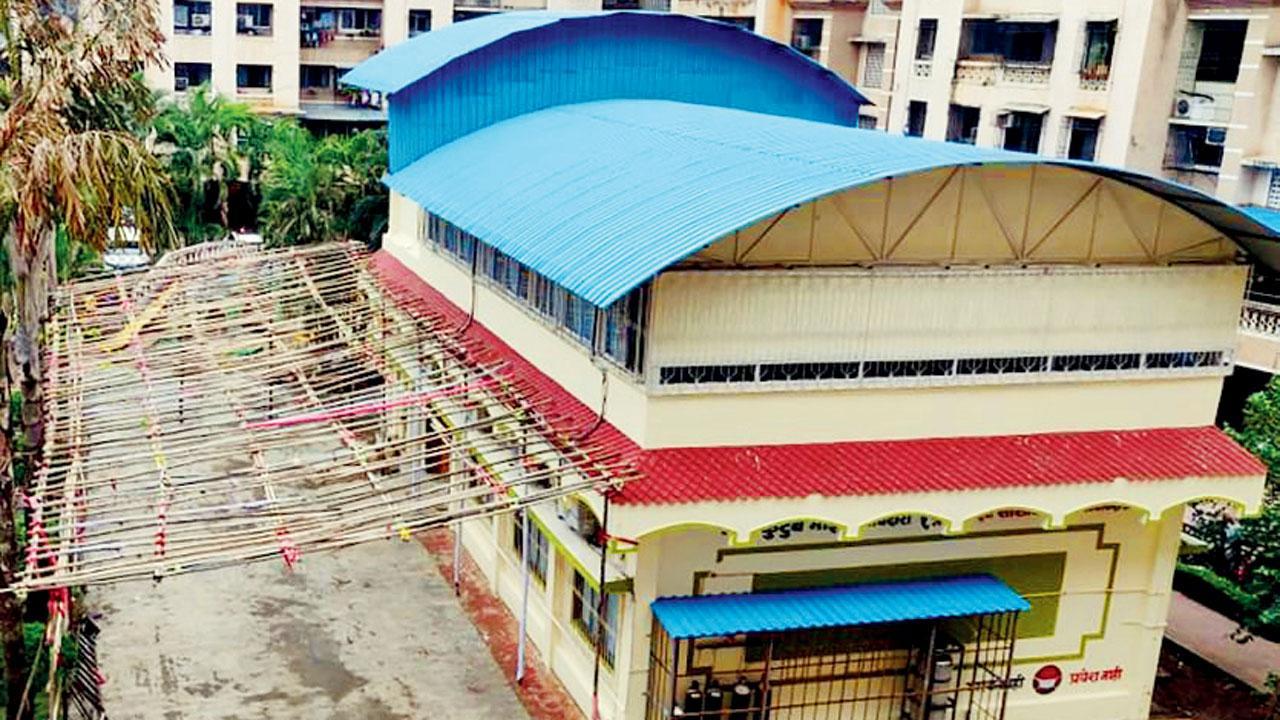 Yash Paradise's community hall where the Covid-19 Care Centre has been set up. Pic/Rajesh Gupta
Yash Paradise, a housing complex at Airoli, has set up a 26-bed Covid-19 Care Centre (CCC) in its community hall, a first in Navi Mumbai. The society has tied up with Apple Hospital for doctors and nurses who would attend to the patients at the facility.
According to the society president, Vijay Choughule who is also a Shiv Sena leader, Yash Paradise has probably become the first society in the state to set up a CCC on its premises. The decision was taken on May 3 at the Annual General Meeting of the society, which has more than 2,000 residents.
Within a fortnight, the society sought clearance from the Navi Mumbai Municipal Corporation and set up the facility with 16 oxygen and 10 ICU beds, including 1 ventilator and four semi-ventilator beds. The society spent about Rs 60 lakh on the set-up, and the cost of admission would be similar to what private hospitals charge.
Six doctors and 16 nurses will attend to the patients at the centre, and a vacant flat has been assigned to them for use of restroom and other purposes. The centre will give preference to the residents, but when beds are vacant, outsiders will be admitted with consent of the housing society.
Also Read: Covid-19 vaccination gives real ammo to Thane, Navi Mumbai policemen
Yash Paradise, a housing society registered in 2004 and spread over about 3 acres of land, has 477 flats and 64 shops. Since the beginning of the pandemic, it followed strict Covid-19 protocols, which helped keep the spread to just a couple of cases during the first wave. However, the second wave hit the society hard, as it reported over 80 cases including four deaths of residents.
"We are all saddened by Covid-19 deaths in our society. A couple of them died as they got ICU beds late. During our meeting, the matter was discussed and we decided to do something about it. We finally decided to set up Covid-19 Care Centre," said Shivaji Patil, secretary of the housing society. On Tuesday, Cabinet minister Eknath Shinde inaugurated the centre in the society.
"Chief Minister Uddhav Thackreay has urged the citizens to take care of their families through 'Maze Kutumb, Mazi Jababdari'. The residents have adopted that theme and set up the Covid-19 Care Centre" said Choughule. 
"The second wave was really tough on all, as we struggled to find beds for our loved ones. As the NMMC is gearing up for the third wave, we want to contribute in some way," he added.
Rs 60L
Amount spent by society to set up the CCC