It also withheld student's leaving certificate leading to a loss of four crucial academic years, gave same treatment to her sister who was in class V over non-payment of fees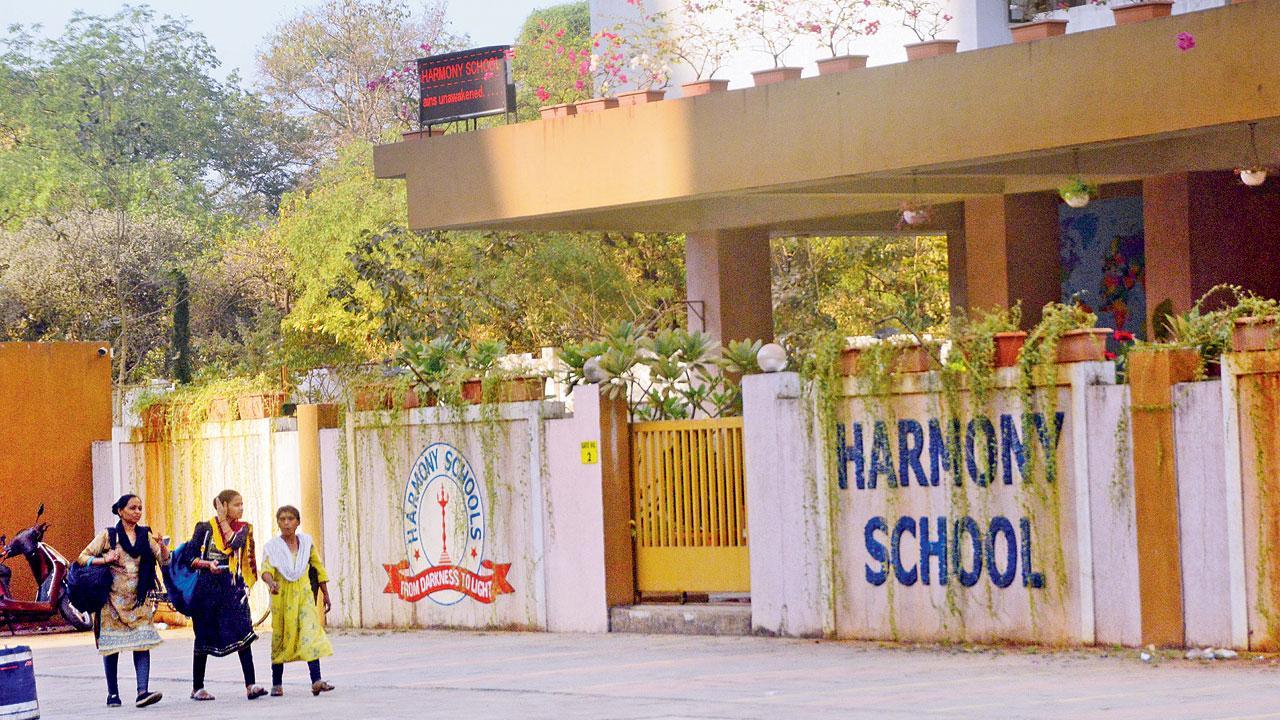 Officials of Harmony School refused to comment on the show-cause notice. Pic/Satej Shinde
The Maharashtra State Commission for Protection of Child Rights (MSCPCR) has issued a show-cause notice to a Kharghar-based school after it barred a female student from appearing for the SSC board exam in 2018-19 over non-payment of school fees.  The school allegedly withheld the student's leaving certificate too, resulting in a loss of four academic years.
The Harmony School, located in Kharghar's Sector 36, allegedly meted out the same treatment to the student's younger sister, who was in class V at the time. The commission has given the school management seven days to reply to the notice and has asked the education officer to conduct a probe into the matter.
ADVERTISEMENT
The incident
Kiran Kadam, the girls' father, lost his marketing job after the company he was working with shut down in July 2014. He paid his daughters' school fees up to 2017, after which things got more challenging.
"In 2018-19, my elder daughter was in class X, and the younger one was in class V. I sought some time from the school management to make the payments in instalments. Before the SSC board exams, both my daughters were restricted from entering the school. I begged them to let my daughters appear for the exams and withhold their mark sheets and certificates till I clear the arrears. But the school did not agree, and my elder daughter missed her SSC board exam that year," said Kadam.
Also Read: Taps run dry at girl's hostel, as tanker crisis hits Mumbai University's Kalina campus
He added, "Her tuition teacher came forward to help and said we could register privately to appear for the SSC board exam. However, the school did not issue her a leaving certificate. Due to this, my daughter has missed four academic years."
Nitin Dalvi, a Maharashtra State Student-Parent Teacher Federation representative and educational activist, said, "This is but one instance. There are numerous cases where pupils are traumatised by ridicule or prohibited from taking the exam. In this case, I am assisting the parent in obtaining justice. Due to the school management's decision, the two kids missed a significant academic year. We approached the State Commission for Protection of Child Rights, and they sent the school a show-cause notice. We will fight till the end."
Probe ordered
In a separate letter issued to the education officer of Zilla Parishad Alibaug, Raigad, the MSCPCR stated that both girls missed four crucial academic years. The commission has directed the education officer to initiate a probe and ensure that the girls get back to their studies.
Harmony School's director, Beena Thampi, could not be reached. Radha Pandey, administrator of the school, said, "The management will decide the matter. Also, we are not available to talk as these are not the working hours of the school," she stated, refusing to speak any further on the matter.
07
No of days given to school to respond to show-cause notice