Project gets police cover amid compensation dispute between villagers and CIDCO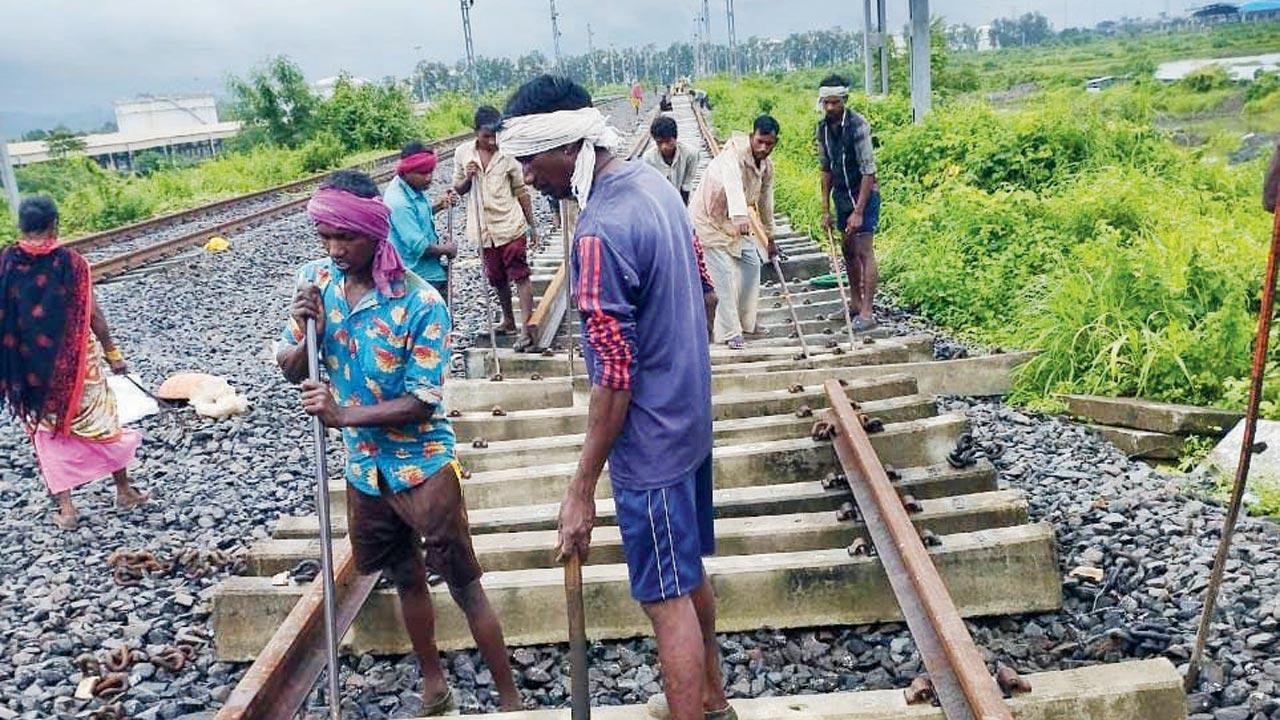 Workers lay the track for the Uran suburban railway line
Work on the much-delayed suburban train line near the new airport at Uran is gathering speed under cop cover. It is expected to come up by the new year.
With opposition from local villagers not ceasing due to a dispute with the local body City and Industrial Development Corporation (CIDCO), the Central Railway (CR) has decided to seek police protection and take the project forward, and now engineers have begun track-laying work on the section.
ADVERTISEMENT
"Engineering work had stopped in June 2022 and was restarted in October after we sought police cover," CR Chief Public Relations Officer Shivaji Sutar said.
Another official said work is on near a proposed station called Gavhan and work on a bridge needs to be completed. "In the sections where land has been acquired and where work has been done on foundations and levelling, we have started the process of track laying," the official said.
Villagers and farmers have been protesting against CIDCO for not providing promised compensation for project land. When asked about the issue, officials said that negotiations were going on and that the dispute would be resolved soon. The railway project is being carried out by railways and CIDCO which are sharing the cost on a 67:33 basis. The new line will connect with the existing harbour line at two points. One arm will join with Nerul and the other with Belapur.
Also Read: Mumbai: Central Railway identifies seven more locations to open 'Restaurant on Wheels'
Both arms will converge at a junction point called Kile about 3 km from Nerul and Belapur and the straight double line will continue till Uran. Once the line is ready, it should be able to take commuters from Chhatrapati Shivaji Maharaj Terminus (CSMT) to Uran in about one hour and 45 minutes. The existing freight line to Uran is about 95.10 km from CSMT and the new line will pass through a shorter route and cut the distance by nearly half.
Of the 27-km stretch, about 12 km of tracks, up to Kharkopar, have already been built and suburban trains operate on it. Phase two of the project from Kharkopar to Uran had a number of issues, including land acquisition and forest clearances, which are now being handled jointly by CR and the CIDCO. The stretch of Kharkopar-Uran will have five stations, two major bridges, 41 minor bridges, two road underbridges and four road overbridges.
Major construction activities that are in progress are the work on a cover-over-platform at Rajanpada station, foundation and sub-structure work at Nhava-Sheva, Dronagiri and Uran stations, sub-way work at Uran, and bridge foundation work, stressing and lowering of girders at bridge 7982.
27
The total length of the railway line in kilometres