But the BMC will continue giving first dose vaccines even after November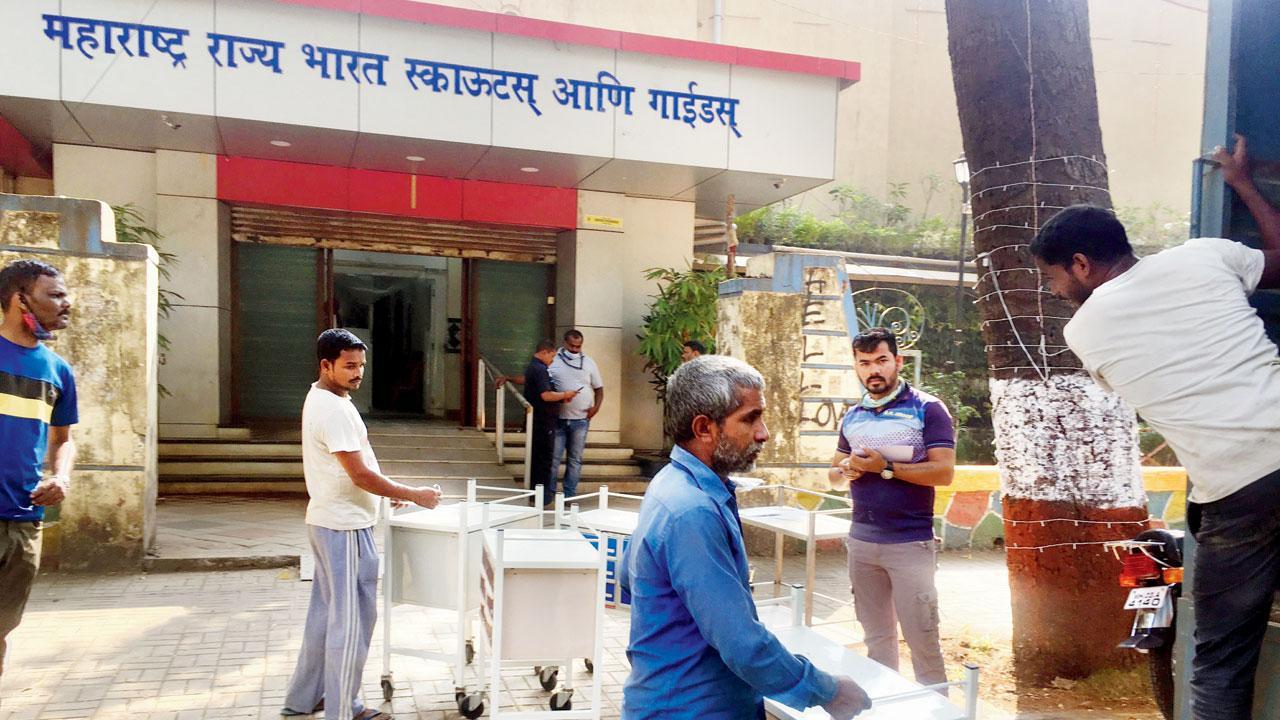 BMC workers at Bharat Scouts and Guide Hall in Dadar pack up after city records low number of COVID-19 cases on Saturday. Pic/Atul Kamble
Mumbai achieved its 100 per cent first dose vaccination target against Covid-19 on Saturday. Even though the state government asked all the districts to complete 100 per cent first dose vaccination by November end, there will be no restrictions, no criteria for taking the first dose after that in the city. As of Saturday, 92.53 lakh citizens received the first dose since the start of the inoculation drive. The target was 92.36 lakh. Vaccination began on January 19, and according to the census, the state government had set the target, which Mumbai has reached. However, there are many citizens who haven't taken their first dose, and so, vaccinations will remain available to them.
As per the last census carried out in 2011, there are around 90 lakh adults in the city. With the estimated growth, the state government set the overall target of vaccinating 92.36 lakh people. Out of these, around 11 lakh people were senior citizens, 19 lakh were between 45 and 59 years and 60 lakh were between 18 and 45 years. As of November 12, 11.8 lakh seniors and 20.5 lakh people aged between 45 and 59 years have taken the first dose of the vaccine. Vaccination for those above 18 years of age started late in June and the numbers are still within limits (53.7 lakh). As per the current scenario at vaccination centres, the number in this age group may also exceed. So even after achieving 100 per cent, the corporation expects many citizens to come forward for their first shots.
ADVERTISEMENT
"Anyone can take their first dose even after November. There will be no restrictions to take the vaccines as our aim is to cover the whole population," said Suresh Kakani, additional commissioner of the BMC. According to the census, about 92,36,500 eligible citizens were to be vaccinated (both doses) within Mumbai Municipal Corporation limits. Out of these, 92,53,624 citizens have taken the first dose.
92.53
Number of citizens in lakhs who have got their first dose