Court strikes down Common Entrance Test plan, says admissions should be completed within six weeks based on Std X results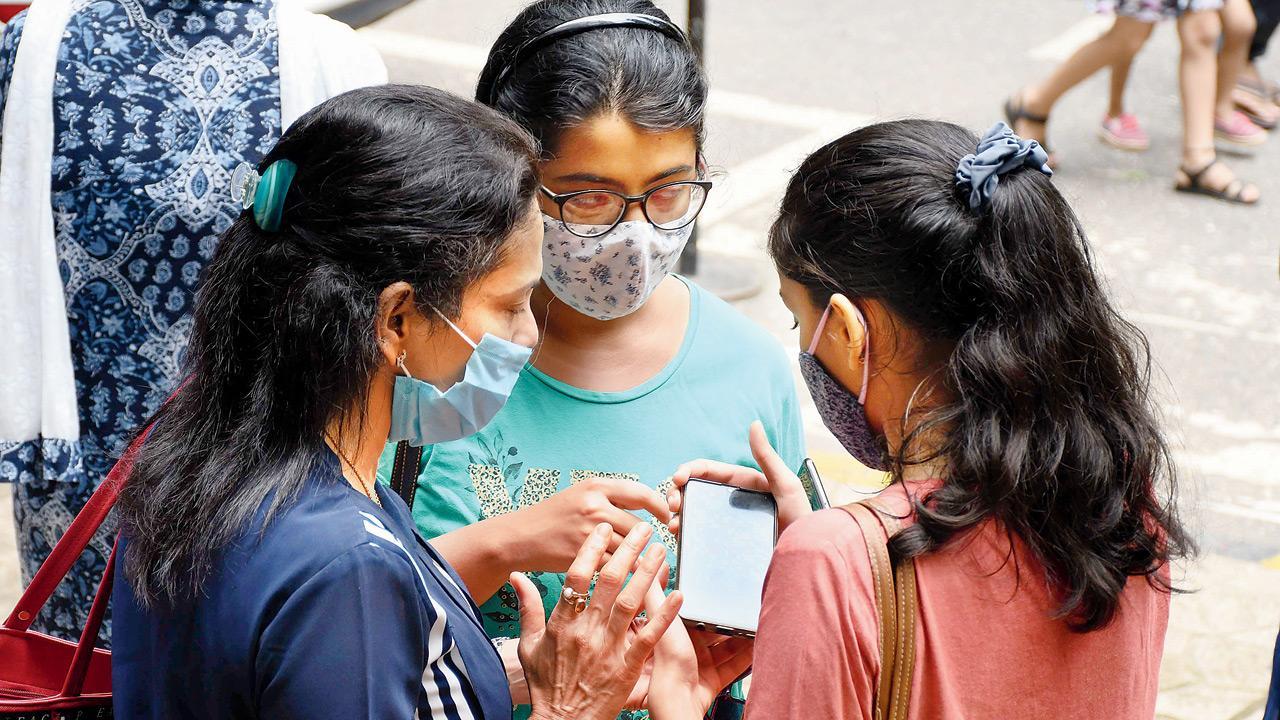 Students check their SSC results which were declared without exams this time. File pic/Ashish Raje
There will be no Common Entrance Test for first year junior college admissions, the Bombay High Court ruled on Tuesday. The court has directed that the FYJC admission process be completed within six weeks. The offline CET was to be held on August 21. The entrance test, introduced for the first time since Std X results were declared without exams, had drawn much criticism, with students and parents questioning its format and timing amid pandemic conditions.
Non-State boards had informed the HC in earlier hearings that they would not be able to provide a new set of questions for the test that could be attempted by their students. Moreover, there was a growing demand for FYJC admissions based on Std X scores.
"The state government is directed to issue an appropriate order in this regard, cancelling the proposed CET examination for the benefit of the students and other stakeholders within 48 hours from today [Tuesday]. Complete the process of admission for Std XI to various junior colleges in the state of Maharashtra on the basis of marks secured by the students in Std X by evaluation method/internal assessment within a period of maximum six weeks from today," said the high court.
Also read: Parents say no to 'super-spreader' Common Entrance Test for First Year Junior College


SSC students check their results outside Balmohan Vidyamandir at Shivaji Park last month. File pic
"It is a great decision. No state is conducting CET for Std XI admission. There was a lot of uncertainty and confusion among parents and students from other boards. Students were not in favour of CET even though it was optional yet students had opted for it as they had no choice. The academic session in Maharashtra was also getting delayed because of it," said Anubha Shrivastava, India Wide Parents Association, who was among those opposed to the offline exam.
There was great relief among students, too. "There was uncertainty over the Std X results as these were decided under unprecedented conditions and without an exam. But now that the results are declared, we feel why not conduct admissions based on those marks," shared Mandar Kamat, a student.
Francis Joseph, president of SLN Global Network, a non-profit entity working in the field of education, welcomed the verdict. 
"This is possibly for the first time that all the four education boards took a common stand requesting the Maharashtra government to cancel the CET and School Education Minister Varsha Gaikwad was also empathetic. For the coming years, the boards should collaborate to develop an inclusive CET in advance to avoid such a situation," he said. 

Francis Joseph, president of SLN Global Network
Speaking from the college's perspective, Dr Marie Fernandes, principal of the St Andrew's College, said, "If degree admissions are happening on Std XII scores, why not FYJC admissions? It would have been unfair for students from non-state boards to appear for the exam. It is a relief to know that admissions can begin now, there has been much delay already."