Five years on, Parsi woman's fight continues for membership of son after five changes of dates for hearing in three months at the SC; Dadar Parsee Colony Gymkhana allegedly rejected it over his non-Parsi status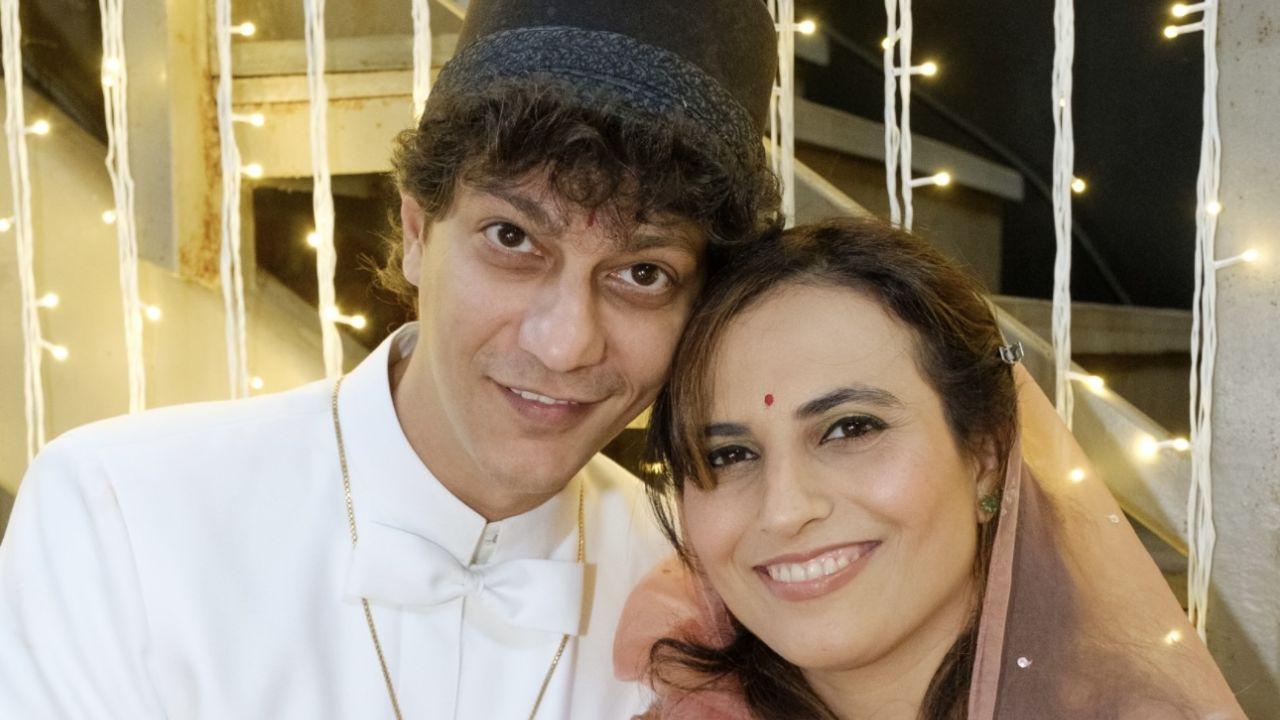 Sanaya Dalal with husband Rishi Kishnani who is part-Parsi, at their son's Navjote ceremony
It has been five years since Sanaya Dalal and her part-Parsi husband, Rishi Kishnani, have waged a war against the 'orthodox' Dadar Parsee Colony Gymkhana, over membership for their son. In 2021, Dalal moved the Supreme Court, after her son's membership was allegedly rejected over his non-Parsi status. They now find themselves ensnared in a prolonged series of court dates.
"My son is almost 10 years old now, but the matter is still stuck where it was. We are getting automated dates for the case, but the case is not being listed," said Dadar Parsi Colony (DPC) resident Dalal.
ADVERTISEMENT
Sanaya and Rishi are raising their son as a Zoroastrian and even had a Navjote ceremony (a ritual through which individuals are inducted into the religion) for their son with much fanfare.
"In 2019 we began our ground work and research on the issue. Finally in February 2021, we moved the Supreme Court. In May 2023 a brief hearing happened, after that we are getting automated dates. In August dates changed three times, thereafter we got a date for September 23 which has now been changed to October 4. But the case has not been listed yet," Dalal said.
'Rules amended'
Dalal, a former journalist, highlighted that in recent times, the "orthodox" Parsis, who control the religious and social institutions, have 'amended the rules and principles' in response to an uproar in the Parsi community provoked by incidents which were especially despicable and bigoted. She also argued that in reality, no religious script or tenet of the Zoroastrian religion which justifies discrimination on grounds of race, ethnicity, parentage, or gender and such discrimination is part of the religious faith.
Dalal said, "I applied for my son's games membership in January 2019, just a month later they told us that the process has been stopped. It was only when we moved court they submitted the real reason for not allowing membership to my child. In these five years we sought intervention from the National Human Rights Commission (NHRC), Charity Commissioner, Women and Child Welfare Commission but nobody seems to want to do anything in our case. People openly speak on social media using derogatory terms such as soda lemon water, bhelpuri children... meaning diluted ones. These are shameful, outdated and immoral views. This kind of discrimination has been going on for generations now. The Indian judiciary needs to strike down these unconstitutional practices."
'Also gender discrimination'
She added, "My mother-in-law is a Parsi, and my husband is not recognised as a Parsi as his father is a Sindhi. Had my father-in-law been a Parsi and mother-in-law a non Parsi, my husband would have been recognised as Parsi and would have been allowed into community-run institutions. This is also gender discrimination. We have not exposed our son to all this, he is unaware about the case."
Rishi, a National Content Director of a FM radio channel, said, "Discrimination is encouraged and racism is normalised amid a section of Parsis. The Dadar Parsee Colony Gymkhana is a prime example of discrimination and sexism. As a child I have stood outside the fire temple where my friends used to go. I have had to stand outside and not pay my last respects to my father-in-law after his death. I have not been allowed to take part in several games and I have been told that is because my Parsi mother did not marry a Parsi. I was 16, and batting while playing cricket with my friends at the Gymkhana, when I was asked to leave."
Parsis speak
Dalal's case sparked controversy within the community, pitting conservative members in favour of the rule against progressive members. "A members' meeting was convened in September 2019, wherein a proposal to change rules to permit non-Parsi spouses as guests all year through was discussed. This is a virtual back door entry to non-Parsis. It is unfair. The Parsis will undoubtedly find a means to preserve their heritage and legacy," said a member of the community from DPC.
Another member said in favour of Dalal, "We are a community, which is declining. Ex-communicating children of women who marry non-Parsis is also one of the factors and a major one. This is the stage that we need to be more inclusive instead of discriminating."
Zenobia Unwalla, president and trustee of Dadar Parsee Colony Gymkhana, said, "The matter is in the Supreme Court and so it will be inappropriate to comment about it."
A change in Pune
In 2017, more than 100 "reformist" Parsis came together to inaugurate a fire temple in Pune's Kondhwa, called Asha Vahishta Agiary. This temple takes a progressive approach by recognizing the legitimacy of children born to Parsis who marry outside the community and by granting access to non-Parsi individuals. Vispy Wadia, founding trustee of Asha Vahishta Agiary and a Mumbai-based businessman, explained that the initiative aimed to combat the discrimination faced by intermarried Parsi women and their children within the Parsi community.
Top lawyer Fali Nariman, former advocate general Darius Khambata, and industrialist Anu Aga have contributed as donors to this temple, operating under the banner of the 'Association for Revival of Zoroastrianism.'
Wadia, who is also the president of the Association of Inter-Married Parsis, highlighted the gender-based discrimination present in the community. He pointed out that when a Parsi woman marries outside the community, she and her children are denied entry into the sacred fire temple. In contrast, when a Parsi man marries outside the community, his children are permitted to enter the fire temple. Talking to mid-day Wadia said, "Asha Vahishta is a universal agiary, anybody and everybody can come visit not just intermarried Parsis.  Anjumans, temples, nowhere in the world have such restrictions. Even in Iran which is the birthplace of our religion, there is no such discrimination no restrictions on non-Parsis. This is  only in India. We are totally against this gender discrimination. Nowhere in our holy scriptures is such discrimination mentioned."
He added, "This issue has today become a struggle between the so-called purity advocating orthodox group of Parsis and the new generation fearing extinction and a dwindling number of Parsis. These orthodox groups are talking about purity, there is no such thing. It is a myth. There was a reason why DNA tests were conducted on Parsis. It showed we are closer to Gujaratis than our Iranian ancestors. What does this point out?"
"Exciting news! Mid-day is now on WhatsApp Channels

Subscribe today by clicking the link and stay updated with the latest news!"
Click here! Did you like the Bangtan Bomb of Jin in Argentina?