Youth for Aarey even sends a list of suggestions on what can be done instead to protect the flora and fauna at Powai lake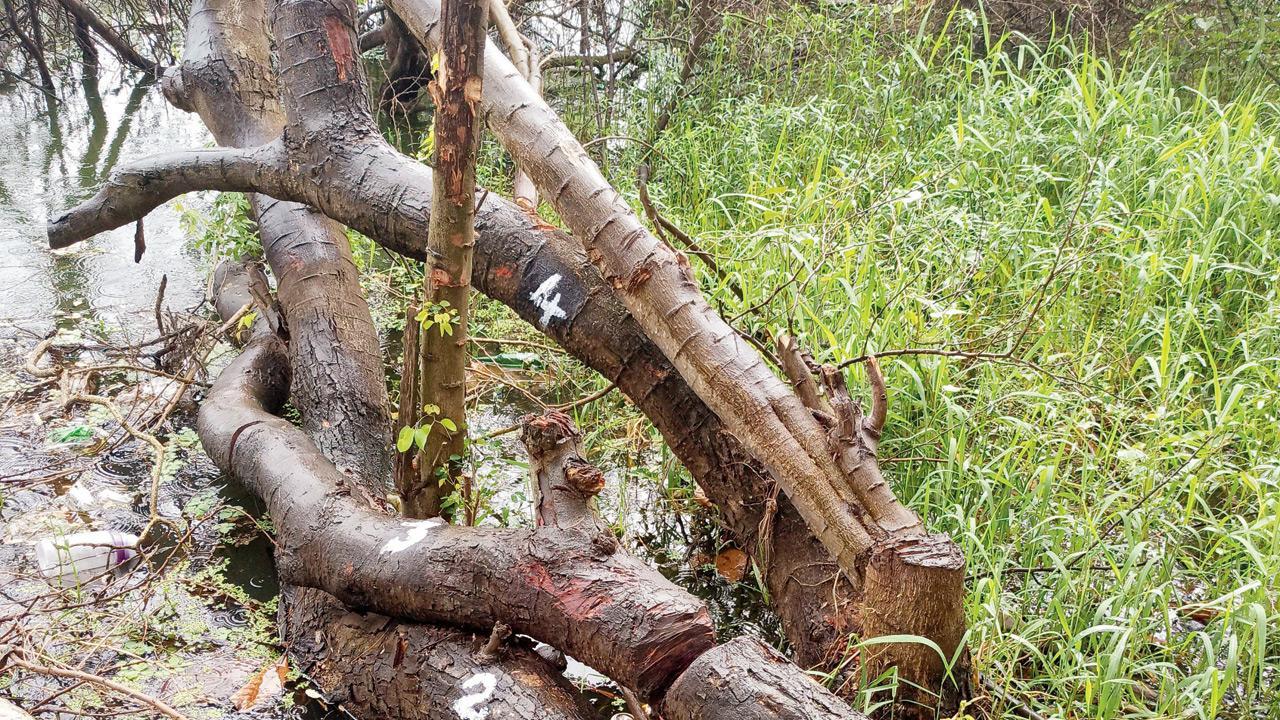 Some of the chopped and numbered trees at the Powai lake
After environmentalists and nature lovers, now Youth for Aarey, a group actively involved in Aarey Milk Colony, has opposed the cycling track project at Powai lake and sent their objections with certain suggestions to BMC.
Youth for Aarey, an NGO which works to protect Mumbai's green spaces, has written to the municipal commissioner, the additional municipal commissioner (Projects), the deputy municipal commissioner — environment, the assistant commissioner — S Ward and also the principal secretary, environment.

The letter says it seems as if the track is being made literally inside the lake by putting lot of rocks and rubble
The letter states that crocodiles of the Powai Lake are also a Schedule I species and are highly protected, similar to tigers. "Our volunteers have found out that the cycle track/road has been literally made inside the lake by putting lot of rocks and rubble. It seems like more than a 1 km stretch has been planned to be reclaimed," says the letter. The group has given reasons to the Brihamumbai Municipal Corporation (BMC) as to why they are objecting to the project.
Trees will be cut
"The project involves cutting or trimming of more than 200 trees. We have checked the numbering. Mumbai has just 1 tree for 5 people as per BMC and the ideal ratio is 7 trees for 1 person as per the Indian Institute of Science. It's a natural habitat for the highly protected species like crocodiles, leopards as well as other immensely valuable wildlife of Mumbai," says the letter.
The letter states that making a cycle track in the lake will also call for incidents of man-wildlife conflict. It states that the group does not have any objection for a jogging and cycling track along the Tansa water pipeline if security for the pipeline with the help of the best technology is maintained.
Need underpasses
The group has appealed that due to further fragmentation of wildlife corridors in Mumbai underpasses should be made every 200 metres for a 3km stretch of this cycle track, including underpasses for crocodile movement to and fro Powai and Vihar lakes. The letter states that it will also help in mitigating man-wildlife conflict as the crocodiles will not over populate in one lake finishing all the prey there and then look for other 'not so natural' sources for food.
After mid-day's report highlighting the issue and a complaint about it, the MOEF&CC had asked the Principal Secretary, (Forests) of the Maharashtra Forest Department to immediately look into the matter. Following this, BMC officials have prepared a report about the cycle track and sent it to the principal secretary.