Screenings of films were held at many old age homes in the city ahead of Independence Day, but inmates enjoyed reminiscing about August 15, 1947 more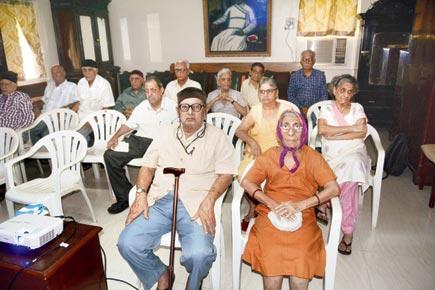 As the screen was set and the chairs came to be occupied at Anand Niketan, an old age home in Mahalaxmi, there was excitement in the air.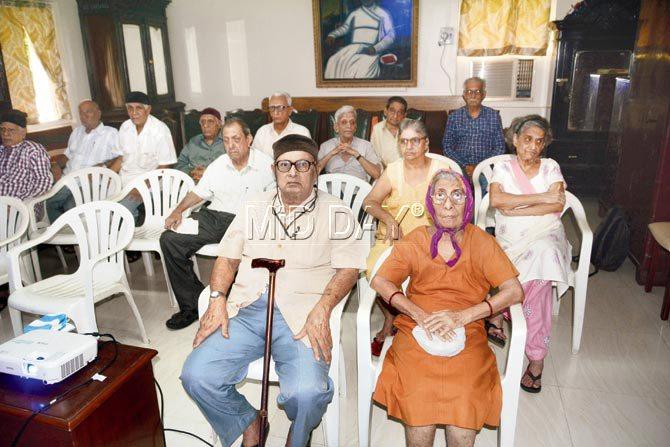 Film screenings were held at old age homes across Mumbai for senior citizens by Book A Smile to celebrate Independence Day. Pics/Bipin Kokate
The inmates were getting set on Friday evening to watch the film 'Oh! My God'. But more than the film, with the Independence Day soon, the young at heart 70, 80 and 90-year-olds were talking about August 15, 1947.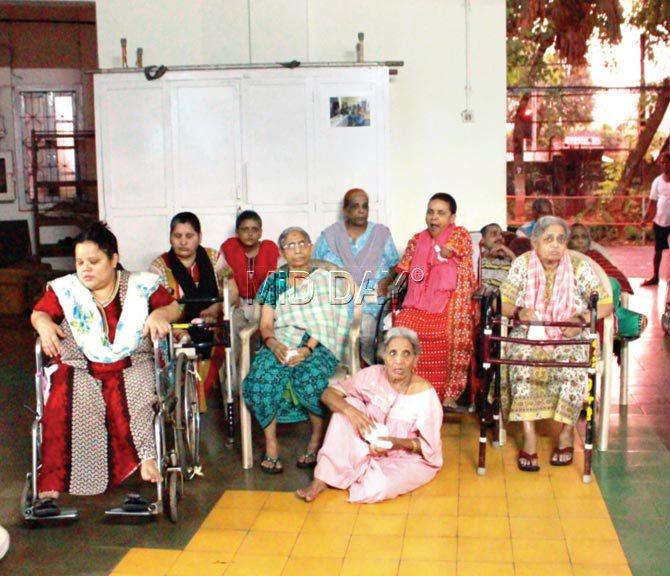 Snacks and refreshments were served as a theatre feel was given to the events by the NGO
The mood was the same on Saturday afternoon at JJ Dharamshala, Nagpada and Parukh Dharamshala near Babulnath Temple where the films 'Tare Zameen Par' and the old 'Khatta Meetha' were screened.
At Parukh Dharmashala, where majority of the inmates are Parsi, the second film chosen was apt for the audience.
Bomi Maneck, one of the inmates said, "Parsi New Year is also coming soon, which will be double celebration with Independence Day. On August 15, 1947 I had gone to see the parade in New Delhi. It was as though I was present at the moment India became free. Frenny Madan, another inmate who was an orphan said she liked the British Raj better.
"It was disciplined and well organised," she says.
For Rusi Mehernomji who was 6 years old at the time of Independence, the memories of August 15, 1947 are of a good time with happiness all around.
"Today things have changed a lot. The expenses have risen and what was hoped for by our freedom fighters and parents does not seem to have happened. The services are substandard which is a sad state of affairs," he said.
At JJ Dharamshala,
Isaac D, an inmate who has completed 100 years said, "Many might disagree but I've seen most of the stages, India has been through over the years. Even though we get to say that we are an independent nation, it doesn't imply that it is in a positive sense because the corruption that is there in this day and age wasn't before 1947. Even though we weren't independent, people got justice and the people who did wrong got punished."
His fellow inmate Mangla P shared her experience saying, "I can never forget that day, even though I was young, I still remember people were crying and were in a state of panic. There was the Partition happening, freedom fighters donning the politician hat. But, as the days went by the feeling sunk in and by the grace of god we became an independent nation."
Farzana Cama Balpande from Book A Smile, a charity initiative by Book My Show that organised the screenings said, "We wanted the people who actually saw India gain her independence 69 years ago to have a special time. The screenings were of films that they selected. We organised screens to give them a theatre feel with an interval, snacks and all the benefits that a theatre would give."