The Central government's 'Covid-19 Vaccination Amrit Mahotsav' with free booster jabs had a low response; expert cites declining cases and seriousness of disease as reasons for this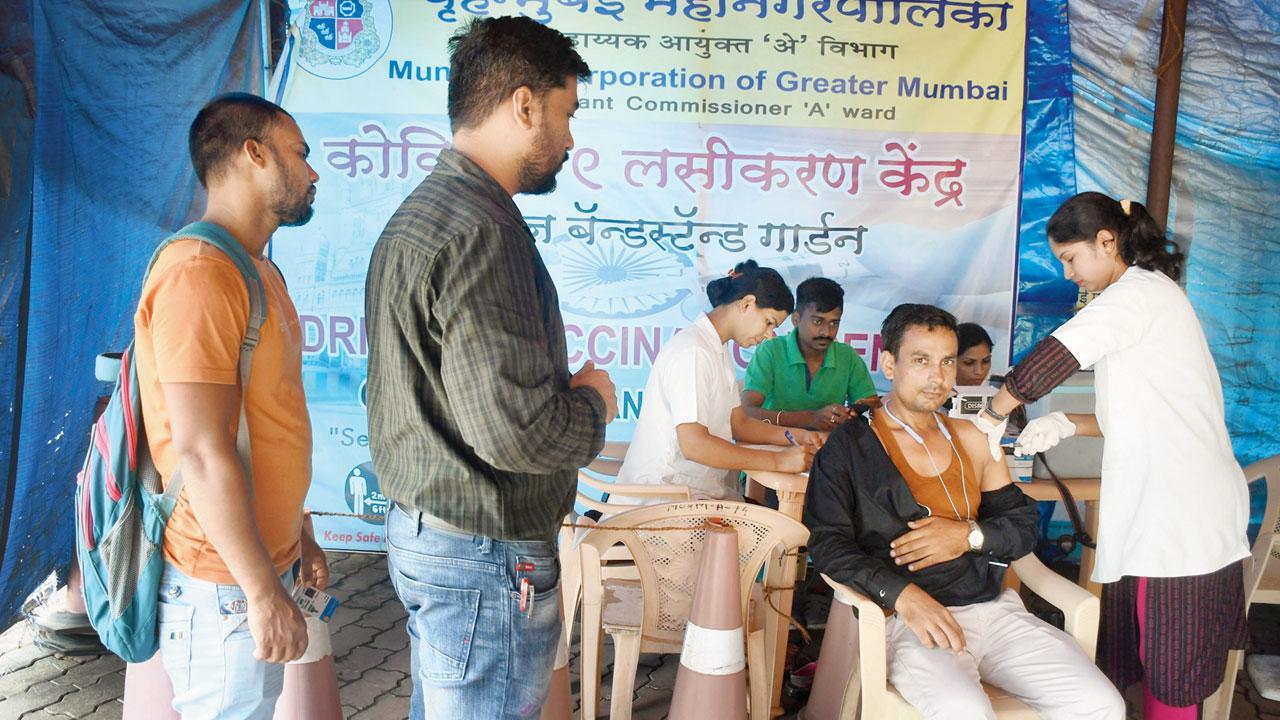 A person gets a booster dose in Cooperage Bandstand Garden, Colaba. File pic/Ashish Raje
The Central government's 75 days of 'Covid-19 Vaccination Amrit Mahotsav,' through which adults could get a free booster vaccine, saw very little response until it ended on Friday. It was found that only 5.26 per cent of Mumbaikars took booster jabs under it till September 29. An expert cited that this could be due to the declining cases of Covid-19 and seriousness of the disease.
Before Amrit Mahotsav, booster jabs were free for frontline workers, healthcare workers, and for senior citizens. But there was very little response to the vaccination drive. Hence the government of India started free boosters to all adults under Amrit Mahotsav. It was a 75-day programme which started on July 15.
Till July 14, around 9,95,504 Mumbaikars had taken the booster jab, and in the past 74 days the figure reached 14,27,534. That means only 4,32,030 took the booster. Around 78 lakh people are eligible for the booster dose in the city. A ward health officer said, "Despite taking all efforts people have not responded well to the booster jab. There is no scarcity of vaccines, there are 77 vaccination centres. There is no crowd too but people's response was low."
Dr Hemlata Arora, senior consultant, Infectious Diseases and Internal Medicine, Nanavati hospital, said, "At the beginning of the pandemic, the strain had serious consequences on the health of those who were infected. The current strain of Omicron doesn't affect much and behaves like normal flu and patients recover in few days at home. So nobody feels it is dangerous anymore. I think it isn't that important to take a booster dose now because the whole clinical profile has shifted. We don't see severe infections in lungs, or blood clots, etc. which were seen before."
"Now people have also realised that Covid vaccines were made in a hurry unlike the other vaccines which were brought after years of study and trials. I think in the current scenario the vaccine risk versus benefit ratio is not favourable," she added.
Dr Gautam Bhansali, physician, Bombay Hospital, said, "Covid-19 has almost gone, so people are wondering why they should take the vaccine. However, as doctors, we always recommend eligible people including the elderly and those whose immunity is compromised take the booster jab."
4,32,030
No of people who took the booster under Amrit Mahotsav