Pro-hijab rally was organised by Jamiat Ulama-i-Hind; police book organisers, say no prior permission was sought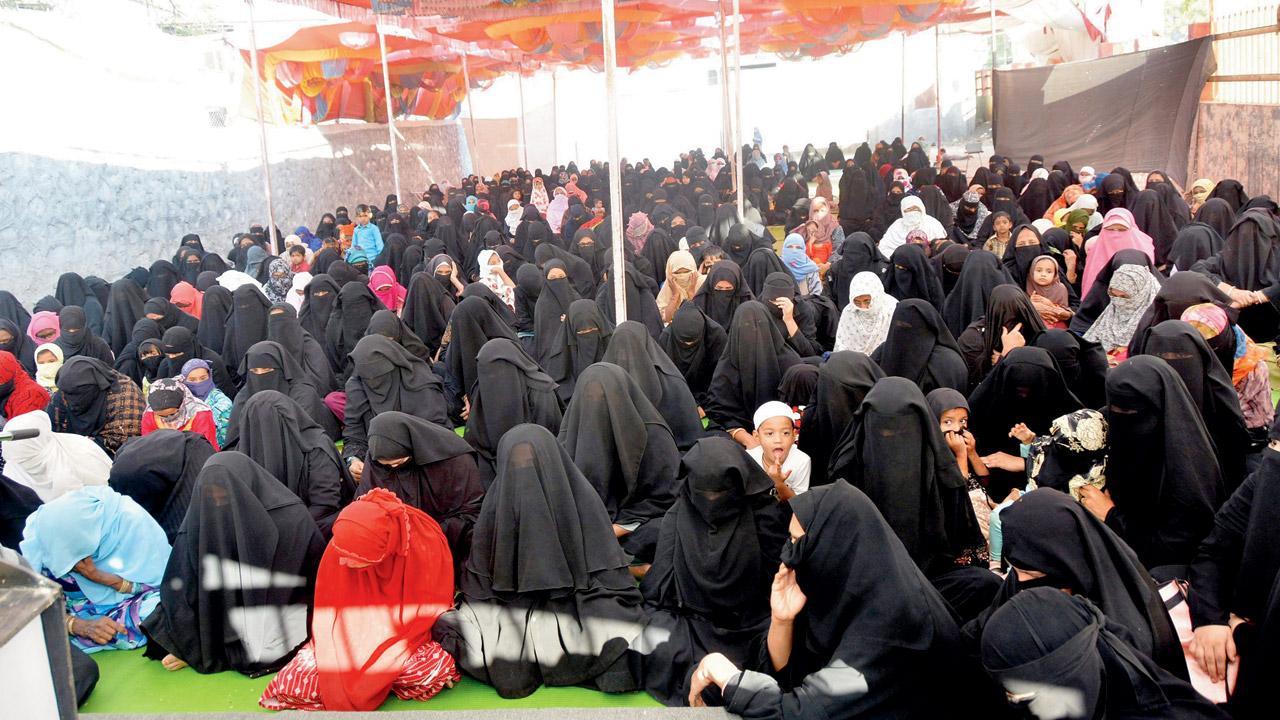 Women in hijab led a rally at the Kallu stadium in Malegaon on Friday. Pic/Sayyed Sameer Abedi
With the hijab becoming a raging debate across the country, Muslim women in Malegaon, who wear the head covering as part of their religious identity and cultural beliefs, said they felt targeted. On Friday evening, around 25,000 Muslim women gathered at the Kallu stadium in Malegaon to show their solidarity with the hijab-clad students, who were allegedly harassed in Karnataka for wearing the hijab.
The pro-Hijab rally in Malegaon was organised by Jamiat Ulama-i-Hind, a leading organisation of Islamic scholars. Speaking on condition of anonymity, a woman from Malegaon said, "This issue should not even be up for discussion, as wearing the hijab is our fundamental right. Denying it means that people are opposed to our religious values and ideals."
ADVERTISEMENT
Mohammed Haroon Mohammed Ismail, 50, who runs a general items store opposite the stadium said, "I have been in Malegaon for over four decades, but never witnessed such a huge movement led by women."
Meanwhile, the Malegaon police said that no permission was obtained for the rally. Additional SP of Malegaon Chandrakant Khandvi said, "An FIR has been filed under Sections 188, 269, 270 of the IPC and relevant sections of the Epidemic Diseases Act will also be added. No one has been arrested, but they have been served a notice and given a warning."
Bibi Khan becomes face of Urdu Ghar
Bibi Muskan Khan, the student who had raised the 'Allahu-Akbar' slogan in response to the 'Jai Shree Ram' slogan by a few other students, is being hailed in Malegaon. To honour her brave act, the Urdu Ghar, a study centre, in Malegaon will be renamed after her.  The Jamiat Ulama-i-Hind had earlier announced a reward of Rs 5 lakh for her.