Former media honcho Peter Mukerjea, husband of accused Indrani, says he wasn't aware Sheena Bora was her daughter and that the victim had an affair with his son Rahul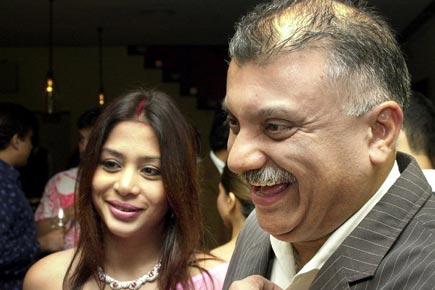 Sheena Bora murder case takes new turn with former media honcho Peter Mukerjea, husband of accused Indrani, saying he wasn't aware the deceased was her daughter and revealing that the victim had an affair with his son Rahul.
Indrani was arrested by Khar Police last night over her alleged role in the murder of Sheena Bora in 2012.
Peter said that though he was in shock, he would cooperate with investigators in the probe.
"I have never experienced anything like this before. The news I am getting, the kind of crime that has been committed, I would have never expected.
"Whatever help, information, police need, I am happy to help them with that. I would be absolutely clear and straight with them and cooperate," he said.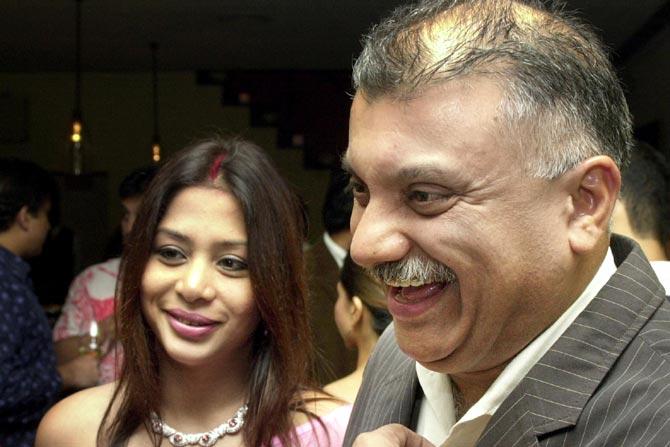 Indrani and Peter Mukerjea
"I don't understand at all with regard to my wife... Sheena Bora is her sister, I believed all these years, and now I am being told that she was her daughter. Whom I thought was her brother, is now her son from an earlier marriage, which I was not aware of. I was aware of one marriage and not so many others. So, now there are number of things that are appearing to me which are completely new to me," he said.
Peter said that his wife always told her that Sheena was her sister.
Also Read: Driver's arrest nails media bigwig Indrani Mukerjea in murder case
"I was always told by Indrani that she (Sheena) was her sister. And Sheena always maintained that. My son at one time was in relationship with Sheena. He told me Sheena is not her sister, she is Indrani's daughter. I told him that look, it is not true. Indrani has told me that she is her sister.
"I believed my wife, so much so that it created a rift between me and my son. I have not spoken to him for last three years."
Sheena Bora and Rahul Mukerjea
The former CEO of INX Media, Peter Mukerjea said he chose to overlook the relationship as both Sheena and Rahul were adults and could take their own decisions. Rahul is Peter Mukerjea's son from an earlier marriage.
"Sheena was in a relationship with my son, which Indrani disapproved of," Peter Mukerjea said. He also said that he was told by Indrani that Sheena was her sister. He said he had no clue that Sheena was actually Indrani's daughter from her earlier marriage, he told NDTV and TimesNow TV.
He also said that he was unaware of Sheena having gone missing.
"(Sheena's disappearance) is something I am finding out now. I was told that Sheena has gone to the United States. I am not on Facebook, but I was shown these pictures of Los Angeles or wherever she was. I didn't have her contact number. My son had told me 'see, something is not right', but I said her parents may not be happy with it, so she might have moved to the US... that I told him... He (Peter's son) didn't talk to me then."
Peter said, "I am in shock, really hard to process this information."
Admitting that he was completely stumped by the police action of nabbing Indrani Mukerjea, he said: "I am dumbstruck by this level of criminality..."
He assured that he was ready to fully cooperate with the police in the matter.
Meanwhile, Indrani was produced before Bandra Metropolitan Magistrate court, which remanded her in police custody till August 31, DCP (Detection) Dhananjay Kulkarni said today.
Maharashtra's Raigad police had found remains of Bora in a forest following which a murder case was registered against unidentified persons.
Indrani's driver, a co-accused who was picked by police few days back in connection with the murder, too, was arrested yesterday.
During interrogation, the driver claimed that Indrani had killed Bora and that he had helped her in disposing of the body by dumping it in the forests of Raigad district, an officer at Khar police station, who is part of the investigation team, said on condition of anonymity.
"The case being more than two years old, where there isn't any DNA sample of the deceased or appropriate remains of the body, police are only relying on co-accused's statement," the officer said.
Raigad police had come across an unidentified body, which they had disposed of without collecting DNA samples, he said.
Taking the investigation beyond the state, Mumbai police arrested former husband of Indrani, Sanjeev Khanna, in connection with the case in Kolkata. Sheena is stated to be Indrani's daughter from an earlier marriage with one Siddharth Das.
Khanna, a resident of Hastings Road area in Kolkata, was arrested from his friend's flat in Alipore for his alleged involvement in the murder, Kolkata Police Joint CP (Crime) Pallab Kanti Ghosh said.
'Sheena was strangulated, body was burned' 
Mumbai Police Commissioner Rakesh Maria told reporters in Mumbai that the murder was by strangulation followed by burning of the body by petrol. The murder took place on 24 April, 2012, and the body was found by Raigad police on May 23, he said. Maria also said that Khanna is an accused in the case.
A police officer, who is privy to the probe, told PTI on condition of anonymity that "The driver of Indrani has told police that it was Indrani who killed Sheena and was present at the murder spot."
He, however, said it was still not clear whether the plan was to kill Sheena, 24, in Raigad or any other place.
According to Maria, on August 21, Khar police had arrested Indrani's driver in connection with an Arms Act case, adding he confessed to the murder and was taken to the murder spot.
Mumbai police also summoned Peter's brother Gautam Mukerjea.
After her arrest yesterday, Indrani was produced before Bandra Metropolitan Magistrate court, which remanded her in
police custody till August 31. 
Sheena was kidnapped from outside the National College in western suburbs. She came here from Assam in 1990s along with Indrani and completed BA Economics from St Xavier's College. In 2011, she got a job with Reliance Mumbai Metro but suddenly stopped coming to duty, police said. In the same year, her Facebook account was deactivated.
Police had unearthed remains of a decomposed body three years ago after villagers at Gagode in Pen tehsil complained of foul odour emanating from the area.