BMC's tenders to dismantle boring machine stuck since 2019, remove it and build rest of 4.4-km tunnel gets eight responses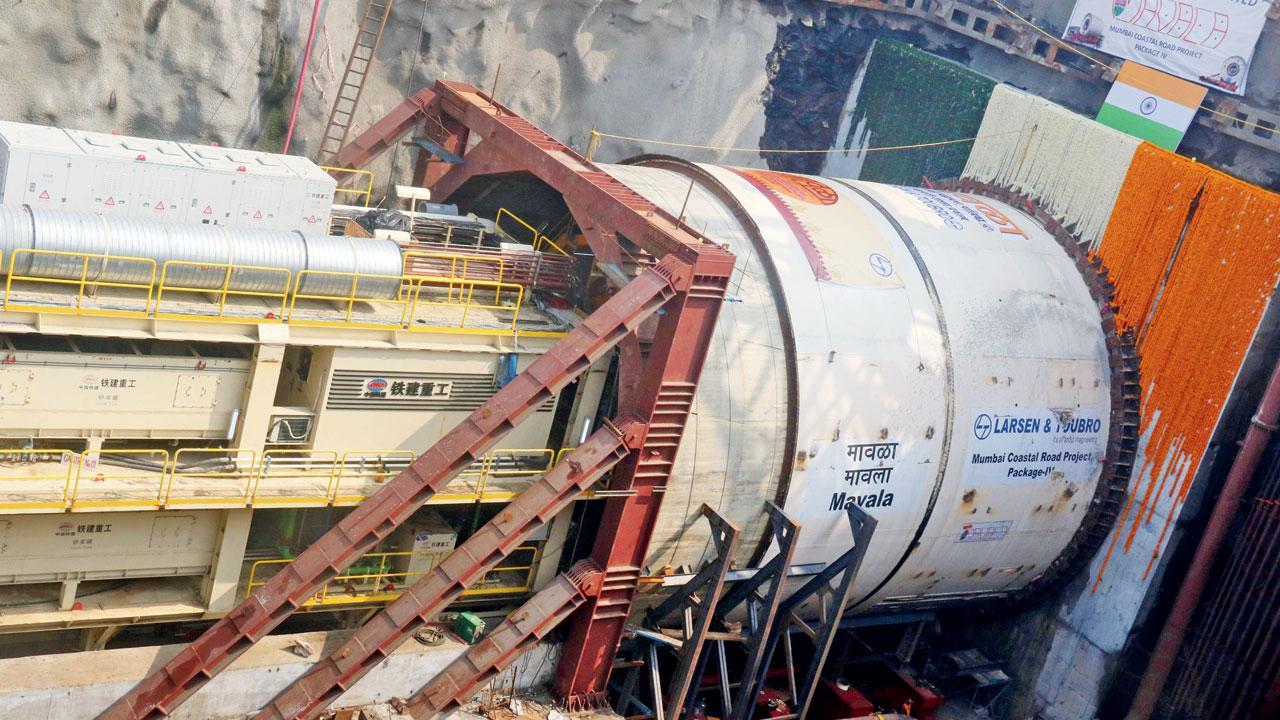 A new machine will be brought to finish the project. Representation pic
The civic body will finally retrieve the tunnel boring machine (TBM) that has been stuck underground near Powai since 2019. The TBM was used for laying a water tunnel from Powai to Veravali, but the work was halted abruptly as it got stuck after boring about 2.2 km. The BMC recently issued tenders for completing the unfinished project of Ghatkopar-Powai-Veravali tunnel, which includes dismantling the stuck boring machine. Sources said around eight people showed interest in the project during the pre-bid meeting held last week.
The project for the 6.6-km tunnel was first awarded in 2012 for Rs 183 crore, and following extension it was pegged at Rs 263. Now, the BMC will have to pay about Rs 350 crore for completing the remaining 4.4 km. According to civic officials, the TBM is about 2.8 meters in diameter and less than 50 meters in length and is of German make, from Herrenknecht. It will have to be dismantled manually underground and brought to the surface in pieces, and a new TBM will have to be launched to complete the tunnel.
In the past one and a half years, the BMC approached several experts in the field of TBM in India as well as across the world, including Germany, seeking help to remove it, but in vain. It is now left with only one option, to dismantle it. Explaining about the past incident, an official said, "There are two arms of this project and Powai is the centre. While one arm of 2.2 km from Powai to Veravali has been completed and commissioned, the other arm from Powai to Ghatkopar is 4.4 km. During the tunnelling from Powai towards Ghatkopar, the TBM got stuck after excavating about 1.2 km about 90 meters deep. The portion where TBM was drilling soil strata is Pyroclastic Ash, which is very loose in nature. There are cavities near the TBM. In 2019, during the rains, the tunnel was flooded and the machine is now surrounded by slush."
As the civic officials made the designs and planning for the project in 2011-2012, the responsibility could not be fixed on the contractor, as the planning did not mention the Pyroclastic Ash soil strata. Now, the civic body has decided that the contractor must design and construct the remaining tunnel. The officials said the cost is higher because we are transferring the risk onto the contractors. The construction of the remaining tunnel and removal of the stuck machine is expected to be completed in the next three years.
Additional Municipal Commissioner P Velrasu said, "We have already issued tenders for this project and the contractor will be responsible for designs and planning along with the construction. A pre-bid meeting for the same was held last week. The stuck TBM will have to be dismantled and a new one will be launched to complete the tunnelling work."
Rs 350 crore
Amount the BMC will spend to finish remaining tunnel