Following this paper's report, minister Aaditya Thackeray assures that the rare Baobab tree in Santacruz will not be cut for Metro work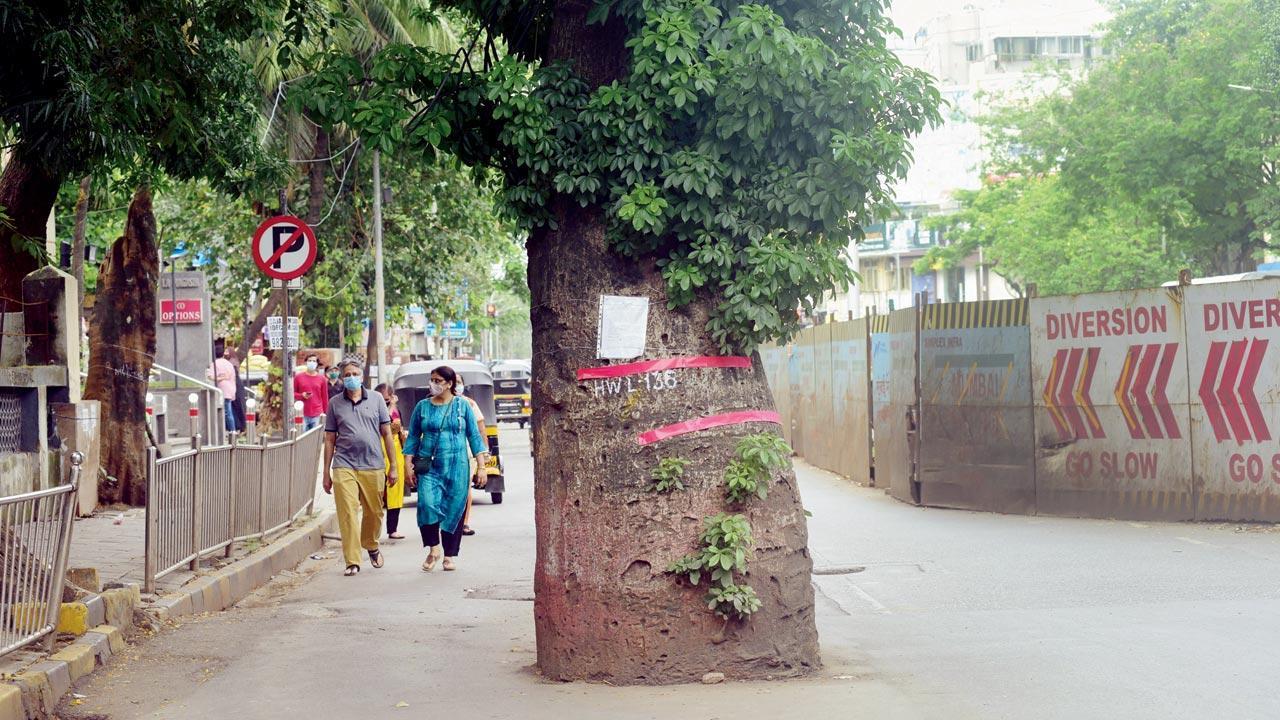 The African Baobab tree at Santacruz station cannot be transplanted due to its size
Environment minister Aaditya Thackeray, has instructed MMRDA to save the centuries-old African Baobab tree at Santacruz West after mid-day reported on plans to fell it to make way for the Metro line. Thackeray said efforts will be made to save trees at other spots and accommodate some at Metro stations' concourse level. 
Thackeray told mid-day that apart from this tree, efforts will be made to save those at other locations and accommodate some at the Metro station's concourse level. 
Thackeray was at the MMRDA headquarters in BKC on Wednesday to review the status of ongoing infrastructure projects. During a meeting, he discussed the issue of the African Baobab tree and instructed officials to make sure that the centuries-old tree is protected.
ADVERTISEMENT
Aaditya Thackeray. Pic/Atul Kamble
"This afternoon, I met with @MMRDAOfficial MC Srinivas ji and met with the team of Metro. The tree will not be cut and is being saved. I have asked the Metro teams to ensure that maximum trees are saved while constructing the remaining sections of the metros," Thackeray tweeted.
Don't cut, accommodate
The engineer concerned from the MMRDA's Metro department was also present during the meeting. Thackeray also enquired about other trees that will have to be cut or transplanted along the Metro line 2B (DN Nagar to Mandale).
The African Baobab tree at Santacruz is supposedly coming in the way of Metro work. Pic/Atul Kamble
Thackeray said, "The African Baobab tree will not be cut and will stay where it is. Apart from this, I was told that some trees will have to be cut for the construction of the Metro station on SV Road near Khar and I have asked the officials concerned to see to it that rather than cutting those trees, a shaft or opening is made for the trees on the concourse level of the Metro station. If the same is successfully done, we can pitch this model on a global level showing how Metro work can be done without cutting trees."
MMRDA officials have assured the minister that they will consider this option.
After mid-day's August 9 report, Thackeray had instructed the MMRDA commissioner to look into the issue and on August 10 officials had visited the site for an inspection. They realised that the tree was not coming in the way of pillars but was along the carriageway. The ward officer had proposed to transplant the tree to Rajesh Khanna garden but given its size, transplantation would not have been successful.
Tweet talk
Aaditya Thackeray @AUThackeray: This afternoon, I met with @MMRDAOfficial MC Srinivas ji and met with the team of Metro. The tree will not be cut and is being saved. I have asked the Metro teams to ensure that maximum trees are saved while constructing the remaining sections of the metros