Roy Wadia, family and friends watch 'Rangoon' and say the proof of the pudding is in the eating, or in this case the viewing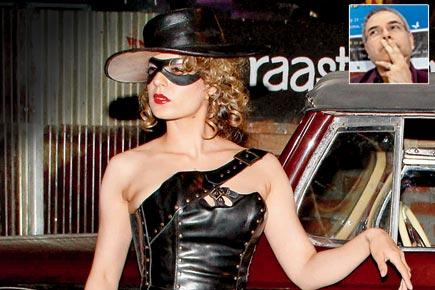 Kangana promoting Rangoon
Roy Wadia, Principal Director, Wadia Movietone Pvt. Ltd., emerged from Le Reve cinema house in Bandra (W) late Sunday evening, with his mother and longtime family friends in tow. The smile on his face did not mean the three hours watching the movie 'Rangoon' were well spent. "It is a real hodgepodge of a movie," said Wadia.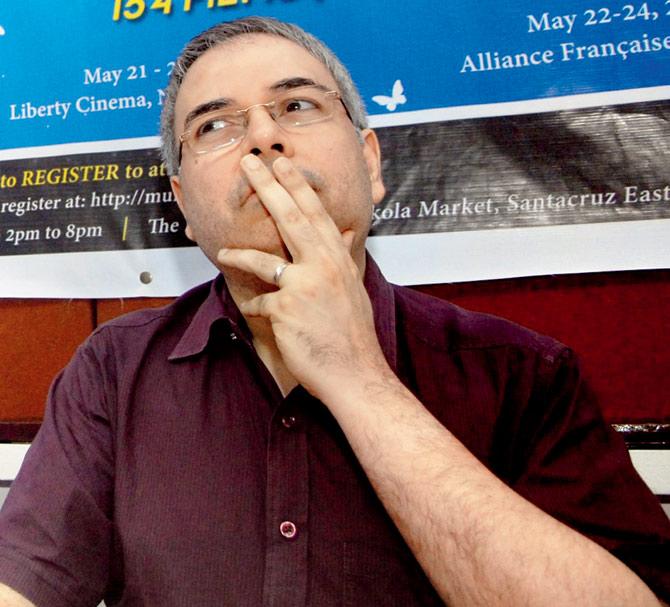 Roy Wadia
"Beautifully shot but artistically it is all over the place and too complex with too many plots and sub-plots."
Aesthetic dissection though comes second to Wadia's problem with Rangoon, which is well documented now. With the matter in the Bombay High Court, the film technically is "injuncted" which means it was released on the condition that the filmmakers deposit R2 crore at 10 percent interest as a bank guarantee.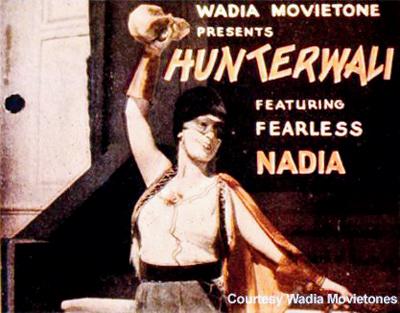 Fearless Nadia
Vindicated by both the High Court's ad interim ruling, though the matter is still sub judice, as well as by scenes in the movie, Roy Wadia, who resides at Worli Sea Face in Mumbai, spoke to Mid-Day just before flying off to Bangkok. Roy is based there as Regional Communications Advisor for the United Nations Population Fund, (UNFPA) Asia-Pacific Regional Office.
An interview:
Q: Your family, friends and you have just seen Rangoon…. what were your reactions while watching the film, why did you take so long to watch it?
Roy: I had to watch it (on Sunday) as the filmmakers would have earlier not given us a copy before the release. I went with my mother and family friends to Le Reve cinema in Bandra.We were in no doubt that this character was based on Fearless Nadia, from the whip, the mask and the thigh-length and tight skirts she wore during her stunt and fighting scenes, including her having a Parsi studio boss as her partner, there are no two ways about it.
I agree that there were quite a few other stunt actors and actresses but there was only one Fearless Nadia, with her distinctive and memorable style. Throughout the film, my mom was like, "Oh my gosh"… and our family friends who also knew Fearless Nadia well were turning to me and saying, did you see that? Oh my God, that's Fearless Nadia!"
Q: You decided to file a case having seen a trailer of the film…
Roy: The story actually began long before the trailer, stretching back to 2006 in fact. Yes, I saw the trailer online and then, I also saw a song, called Bloody Hell! As I have said before, the Bloody Hell phrase, was one of Nadia's trademark utterances, and she used it often to make a strong point, it was quite endearing. I was away from Mumbai on work the past couple of years, but kept reading reports while the film was being made about how the actors were told to see Fearless Nadia films…
Q: Though there is a court case on, you are at one milestone in this journey… do you think you may have been a bit naïve perhaps, to part with script, papers, books on Fearless Nadia to a production house…
Roy: Yes, now that I think about it, and you say it, perhaps we have been naïve. In 2006, when we had first approached UTV for a possible film we had left my late brother Riyad's Nadia documentary on DVD, Riyad's screen treatments, and German writer Dorothee Wenner's book on Fearless Nadia. At that time, I was told the subject was too 'hybrid', neither truly Indian nor truly international, and would not work.
In 2007, we had meetings with Vishal Bhardwaj once I heard he was collaborating with UTV on a Nadia film. He told me he would be happy to say this film would be a humble tribute to Nadia. He added he would be happy for my father Vinci (who was alive then) to break the coconut together with Vishal at the muhurat of this film. In late 2007, as Vishal and I were having lunch at JW Marriott in Juhu, he said that he does not like to start anything with bad energy; if it starts that way it will not end well…I am sure even Vishal with his stature as a National Award winning filmmaker will not want this matter hanging over his head.
Q: Have you asked for Rs 20 crore? There are accusations that you are being greedy…
Roy: I am not a greedy person, nor am I money minded. This is about the principle of the issue and way it has been dealt with. This is about my family's legacy and the fact that there has been a breach of confidentiality. I felt betrayed, and felt my family had been betrayed. I needed to let the world know about this.
Q: Do you regret that the time has slipped away, so has the opportunity and you should have made a film on Nadia?
Roy: It's my dream to see a proper film made on Fearless Nadia with my inputs and memories … one that captures her true persona and contribution to cinema. After all she was my great-aunt Mary as well – married to my great-uncle Homi who had made so many films under the watch of my grandfather Jamshed, who founded Wadia Movietone. It should tell the story of the times and environment that existed then with genuine authenticity.