Constable reveals that senior officials had done bandobast, placed barricades after receiving intelligence about ST employees barging into Pawar's residence on April 8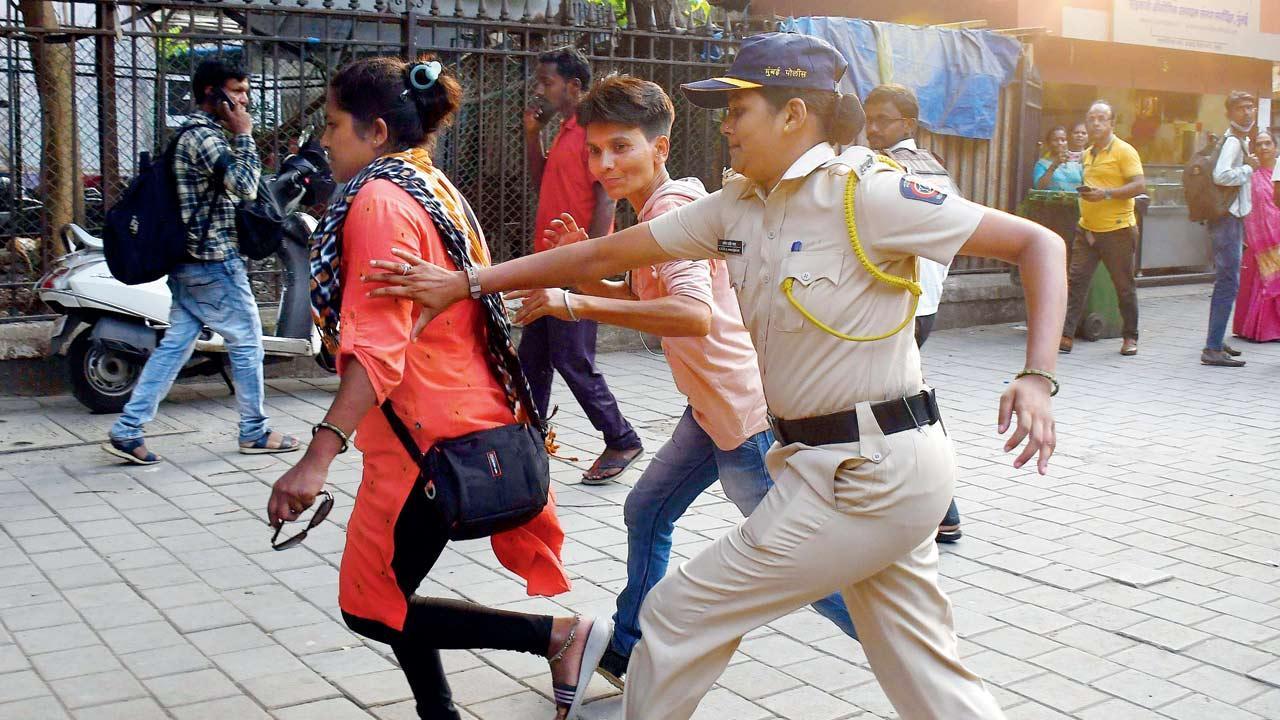 A female constable seen trying to catch hold of an arrested protester at the Esplanade Court on Saturday. Pics/Ashish Raje
The attack on Silver Oak, the residence of NCP supremo Sharad Pawar, by striking Maharashtra State Road Transport Corporation (MSRTC) workers on Friday, was pre-planned and the police were in the know about this almost a day earlier, a statement of a police constable has revealed. The Gamdevi police had registered an offence in the Pawar residence attack case late on Friday night. The FIR had the statement of Constable Santosh Pandav, a mill special attached with the Gamdevi police station.
The statement reveals that advocate Gunratna Sadavarte had instigated the protesters and conspired with striking workers to carry out the attack. Pandav's statement further revealed that the Gamdevi police had intelligence about the attack and had set up bandobast and barricades 30 minutes before the incident. The protesters, however, outnumbered the police.
According to the statement, Pandav and another constable Devram Awhad, another mill special, received intelligence that ST employees would barge into the residence of NCP supremo Sharad Pawar on April 8. The information was relayed to senior officials. The bandobast was set at BD Road leading to Silver Oak at 3 pm. Apart from officials being deployed there, barricades were also put up to stop the protesters. "Around 3.30 pm, approximately 90 to 100 protesters gathered at BD Road. We told the protesters not to march towards Silver Oak and continue their protest at Azad Maidan. But they didn't listen and started hurling chappals and stones at us; they broke the barricading and barged into the premises of Silver Oak." Pandav said that many of the protesters were drunk. "Constable Awhad who tried to divert them was attacked and has been admitted to Breach Candy Hospital. I sustained a minor injury on my ring finger."
Intelligence failure?
Meanwhile, Deputy CM Ajit Pawar said the intelligence failure in assessing the threat to Sharad Pawar's residence was being probed. "It is absolutely true that the police lacked intelligence," he said. Pawar said a senior police officer has been asked to investigate this. "There was someone behind the attack and the police will find out who provoked the employees," he added.
Revenue minister Balasaheb Thorat and Opposition leader Devendra Fadnavis also blamed the intelligence failure. "The mediapersons knew about the protest one hour before it happened. It was a scary incident, which should not have happened," said Fadnavis. On Saturday, CM Uddhav Thackeray had a meeting with Home Minister Dilip Walse-Patil to know about further developments in the probe. 
'BJP supports Sadavarte'
Shiv Sena MP Sanjay Raut continued attacking the BJP over the incident. "BJP supports Gunaratna Sadavarte. The BJP has been funding the agitation in order to have them [employees and leaders] spew venom against Uddhav Thackeray and Pawar," he said, adding that the reactions from some BJP leaders proved his claim. Raut also said that the government needed to deal with such situations with an iron fist. "We have seen the result of weak handling on Friday."
109
No. of protesters arrested in case
With inputs by Dharmendra Jore