Six wall art panels hark back to the 1950s and earlier along a South Mumbai road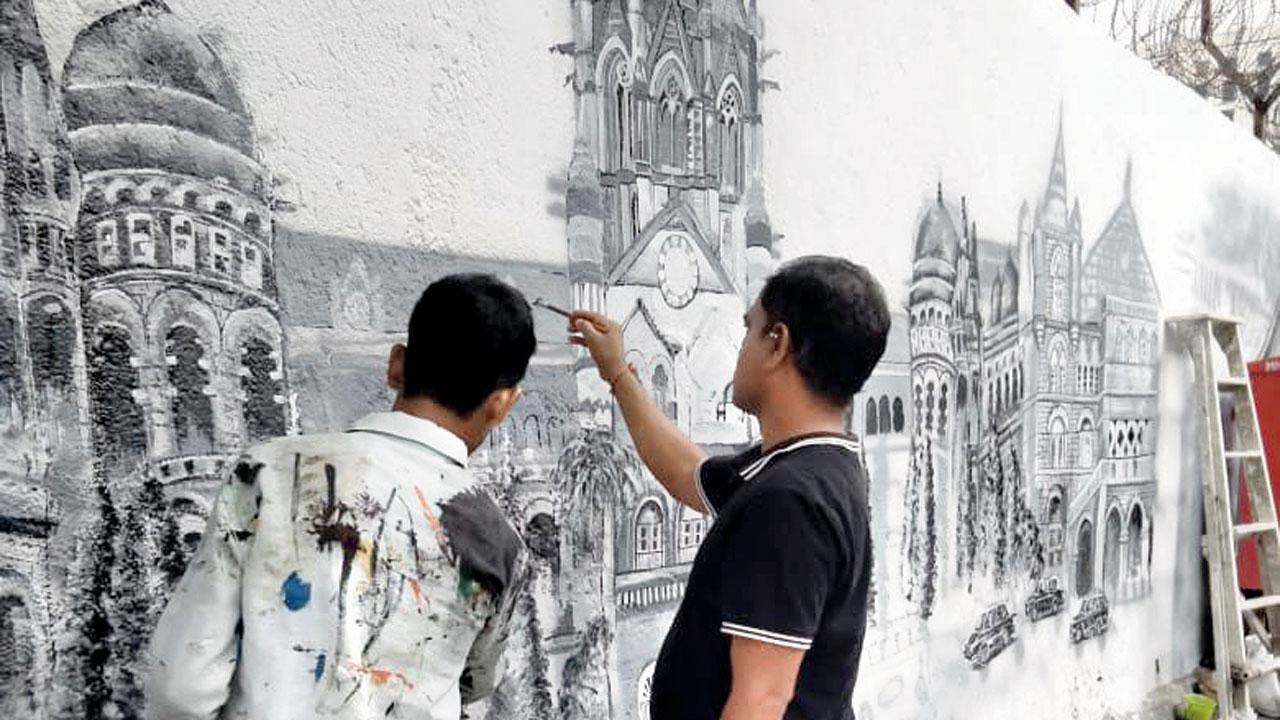 The artists at work at Kittridge Road in Colaba
Old Mumbai has come alive in at least six panels of wall art at South Mumbai's Kittridge Road in Colaba. A stretch of wall here has been painted by a team of artists working on instructions to create a historical, heritage feel. There were seven creators— Sachin Halde, artist and team leader, leading his art squad of project in-charge Jeevan Wankhede, Anuja Dudhawadkar, Avinash Ghanekar, Akash Ingle, Shitaram Naik and helper Antul Bhingare. Colaba local Bella Shah, mover and shaker behind the project said, "This wall had been painted three years ago. It was washed out and in dire need of a facelift."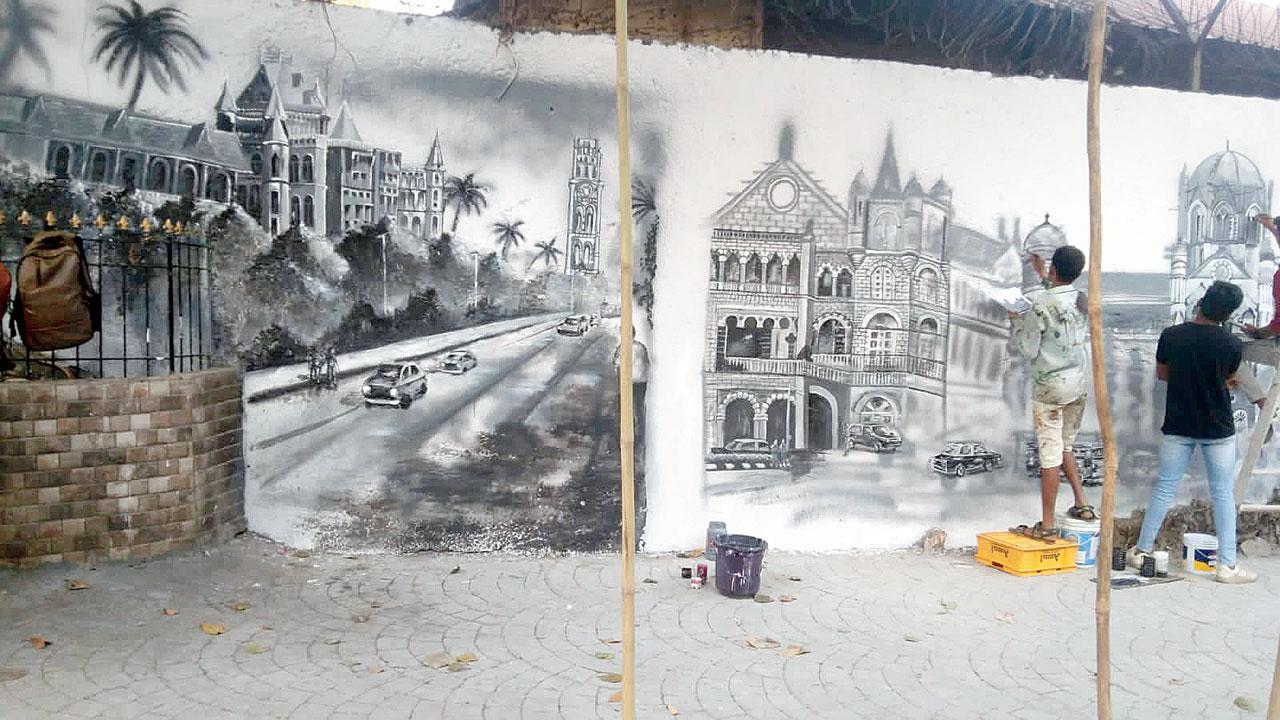 Shah added, "Jeevan and Sachin, who have worked on street art projects in Colaba, were leading the team.  We also had BMC support and that of former corporator Makarand Narvekar. I wanted to give this an old-world feel, both through the pictures itself and the medium used which is black 'n' white." Shah said she had dug out several photos of 1950 Mumbai, and work on the panels began. Shah said, "It is crucial for the theme givers and artists to be on the same wavelength and happily enough, we were. The accent was on landmark Mumbai structures that define the city. These identifiable markers are the CSMT, which was then VT, Mumbai University, the clock tower within the university and more."
Also Read: Maharashtra: Paver blocks to blame for Matheran death, say locals
Shah said that even glancing at the wall art "is a quick history lesson. Though people of a certain generation may recall what these places looked like, the attempt is not just nostalgia; it is also learning. If it were just a picture in the past, then people can even do a google search and look at what certain structures looked like. This art, like all art, is designed not just to make people stand and stare even within the frenzied rush of this megapolis. While aesthetics is one thing, we hope the art will make the younger generation curious about the past and compare it with the present, wonder about the future," Shah added.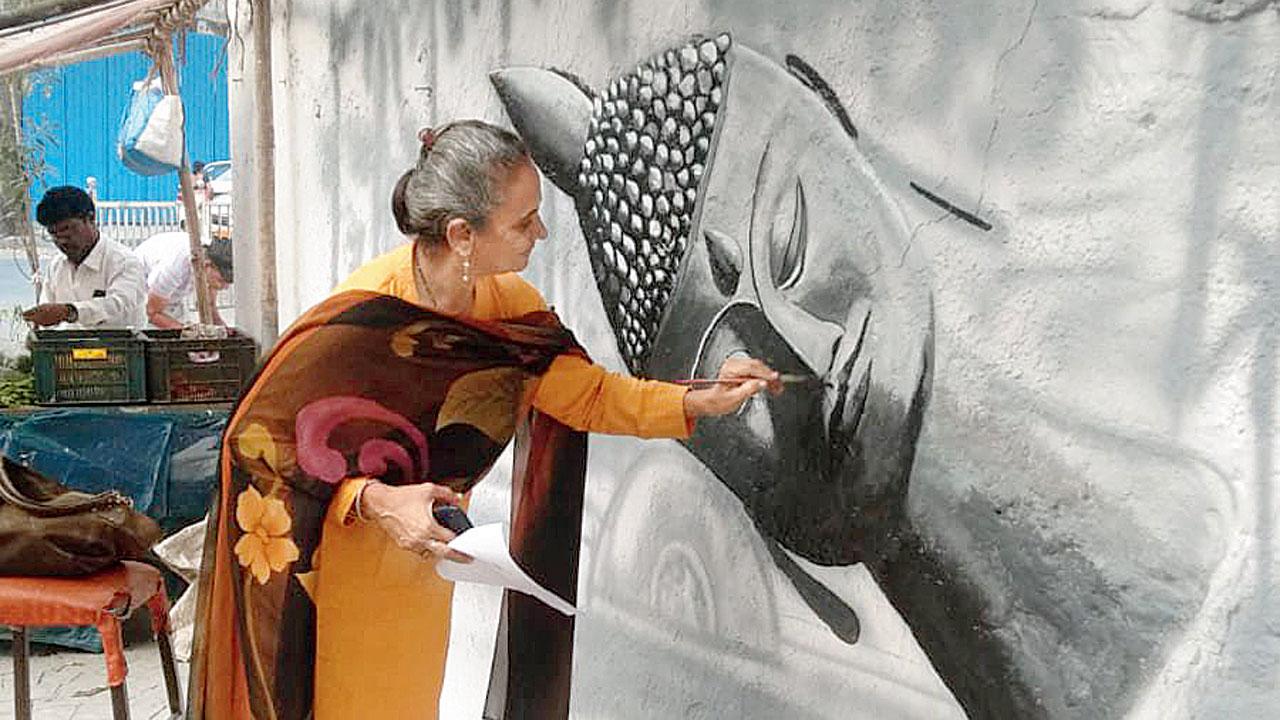 Wankhede, artist, said, "We completed the panels on Thursday. Black 'n' white paint is a shout out to the past. Yet, we were trying our best to make it evocative, bring back the '50s flavour." Halde called the assignment, "tough, but fun". "We had to look at how trams looked like in those days and get it spot on. Buses were there, too, but they certainly looked different then. We have done heritage panels before and every time it is a challenge. The aim is to relive the past and yet not be predictable or humdrum. It should capture the imagination, so details like the architectural facets, even angles of the trees, there were trees on the roads then, have to be captured well," he said.
Both artists have also spoken about their canvas, the city's walls that is always a tougher surface to paint on as it is not smooth. "Our appeal to people is to take a moment from the buzzing schedules, enjoy the art and see that it remains clean. Take pride in and respect our roadie galleries," said the creators.