From cutting down on electricity use to saving up nearly Rs 50 lakh from its gram panchayat fund for a purifying plant, how a Bhiwandi village, fought back to receive clean, drinkable water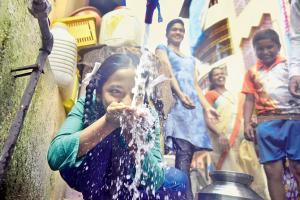 A young girl drinks water treated at the newly-installed purifying plant. Pics/Sameer Markande
Until recently, the 40,000-odd residents of Shelar, a village in Bhiwandi, were a harried lot. For most of their life, they had been denied the most basic human right - access to clean, drinking water. Leaks in their pipeline network meant that villagers received contaminated water, and that too, with poor force.
If that wasn't bad enough, cases of residents suffering from water-borne diseases had become commonplace. After decades of neglect at the hands of the authorities, the Shelar Gram Panchayat and villagers finally decided to take matters in their own hands, a few years ago. The result is a water-purifying plant that was installed recently, and which has brought a fresh lease of life to its people.
ADVERTISEMENT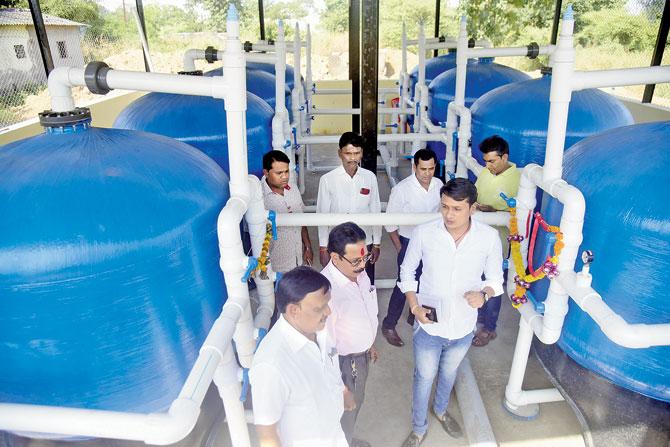 The Shelar Gram Panchayat invested over two years into making the dream project of setting up the water purifying plant, a reality
A fight for clean water
Situated 40 km from Mumbai, Shelar has been facing the brunt of polluted and poor water supply for several years now. Vaishali Thackrey, a 37-year-old teacher and social worker, from the village said, "In our building, we would receive water only thrice a week, and this was not only undrinkable, it also couldn't be used to wash utensils or clothes." Another resident, Manjula Chauhan, 58, said, "The water we received was so bad that we had to make arrangements for a separate tanker, which charged each family anywhere between Rs 700 and Rs 1,000 per month." "We also ended up spending at least Rs 2,000 on LPG cylinders or procuring coal, as we had to constantly boil the water that we got from the pipeline," said another resident.
Sandeep Patil, 27, the present sarpanch, said that around three years ago, the gram panchayat tried to get a separate water pipeline from the corporation. "The panchayat officials must have spent Rs 60,000 from their own pockets to travel to the Bhiwandi-Nizampur Municipal Corporation and Mantralaya, so that the authorities would hear their case," he said.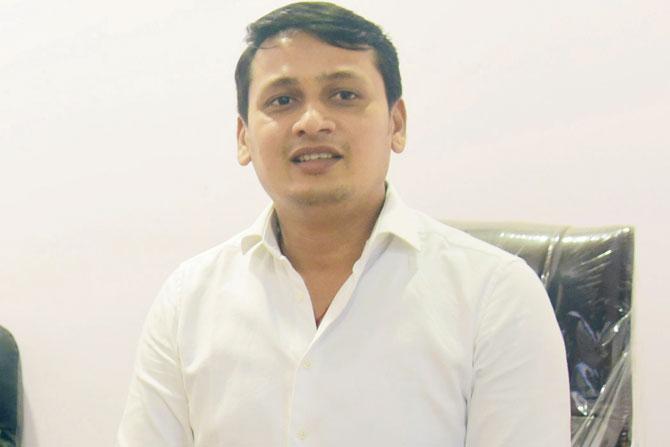 Sandeep Patil, Sarpanch
After their complaints were ignored, Ghanashyam Bhoir, 52, the former sarpanch of the gram panchayat reached out to engineers from the corporation, who suggested setting-up a water purifier to help circumvent the problem. "We started getting quotations from everyone in Mumbai, but all of them had given us a budget of more than Rs 3 crore," said Patil. "We almost gave up the idea, until we heard that a village at Vapi in Gujarat had set up a purifying plant with a lesser budget. Around six of us took a trip to that village and learned how they went about it," he added.
As a starting point, the gram panchayat decided to save the Rs 27 lakh that it received annually from the Central government, for at least two years. "We also took the villagers into confidence, and asked them to cut down on their electricity use, so that we could use the additional money for the plant," he added.
However, despite building on the existing funds, the gram panchayat was still unable to meet the expenses. "We then convinced the company that set-up the plant in Gujarat to come on board. We also got the villagers to assist them, in order to reduce the labour cost," said Bhoir, adding that the company finally agreed to install the plant with a budget of Rs 57 lakh.
Fresh and clean
Work on installation of the plant began over four months ago, and the purifier was finally opened two weeks back. Today, the plant purifies three lakh litres of water per hour. "This plant doesn't need servicing for five years," said 47-year-old resident Ravindra Gundolkar. "We have a storage facility, which ensures that we receive 24/7 water supply. But, we have been conserving the water, and only using it for six hours daily. We are planning to share this water with our other neighbouring villages," he said.
The villagers of Shelar for once, can drink freely. Pramila Borale, 60, said, "My family was plagued by gastro and stomach-related diseases. Since we started using water from the purifier, there have been no such issues."
Also Read: Sunshine Story: Kids Empty Pockets, Fill Up 62 Potholes For Ganesha
Catch up on all the latest Mumbai news, crime news, current affairs, and also a complete guide on Mumbai from food to things to do and events across the city here. Also download the new mid-day Android and iOS apps to get latest updates
"Exciting news! Mid-day is now on WhatsApp Channels

Subscribe today by clicking the link and stay updated with the latest news!"
Click here!