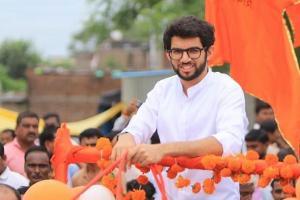 Maharashtra Tourism Minister Aaditya Thackeray
With the Opposition Bharatiya Janata Party (BJP) pointing a needle of suspicion at him, Maharashtra Tourism Minister Aaditya Thackeray on Tuesday broke his silence on late Bollywood actor Sushant Singh Rajputs case, 50 days after his death.
Terming the allegations and ongoing whisper-campaign against him as 'low-level dirty politics', Thackeray Jr. said that so far he has maintained restraint in the matter though he was "not connected to the case in any manner".
"Maharashtra government is making all-out efforts to combat the Coronavirus pandemic. Given the government's success and popularity, those who cannot digest it have started to play politics with Sushant Singh Rajput's case," Aaditya Thackeray said in a statement.