The Symphony Orchestra of India is getting out of the hallowed halls of the NCPA and going to cancer hospitals, children's shelters and old-age homes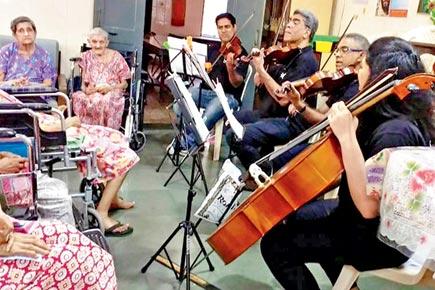 Musicians with the Symphony Orchestra of India play in an old-age home
'Medicine heals the body, music heals the soul' - whoever uttered these wise words, to see them play out live is what matters. And that's exactly what seems to be happening, thanks to a new initiative launched this month by the National Institute of Performing Arts, titled #summerwithSOI. As part of the initiative, Symphony Orchestra Of India (SOI) musicians, for the first time, are going to hospitals, day-care centres for disadvantaged children and old-age homes to give the ill and the old a taste of live western classical music.
Anurakti Rawat, from Raebareli in Uttar Pradesh, loves playing the harmonium and listening to Arijit Singh numbers. But for the last one year, the 10-year-old's musical inclinations have had to take a backseat due to chemotherapy sessions at Dr Mhaskar Hospital in Lower Parel, where she is undergoing treatment for bone cancer. "I've lost touch with the harmonium because I haven't played it a very long time," she tells us over the phone.
However, last week, all her memories of playing the hand-pumped organ came flooding back when SOI musicians, Prabhat Kishore (violin), Marion Fernandes (violin), Bianca Mendonca (cello) and Aditya Sagar (percussion) entered the Bal Mandir ward (children's day care) on the ground floor with their instruments in tow.
"I had never heard this kind of music before, but I thoroughly enjoyed it. The best part was when they taught me to play a few notes on the tambourine," she gushes.
Rawat wasn't alone. For all the 40 people present in the room, right from patients suffering from cancer to their relatives who have been living at the centre, the intimate, sit-down musical concert was their first brush with western classical music.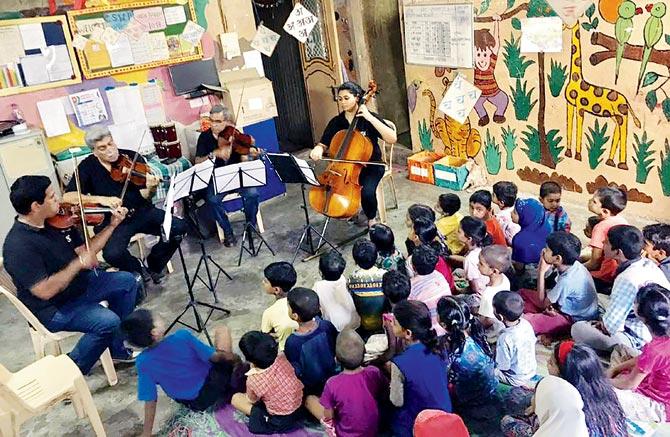 Symphony Orchestra of India musicians enthral children at Mumbai Central daycare centre of Mumbai Mobile Creches
Reaching out
Talking about the initiative, NCPA chairman and SOI founder Khushroo N Suntook says, "I've always felt that we need to go to places wherein people don't have access to music. This is our way of bringing temporary respite to their humdrum lives."
Till now, it was a norm for Suntook and the resident conductors to collaborate with NGOs, which would hold workshops with the institute and bring children over for rehearsals to the Nariman Point venue. But now, he says, the idea is to take music to them through their outreach programme.
"It's an international phenomenon that people are involved in, especially in South America. For instance, in Venezuela, there's the El Sistema that was set up by musician José Antonio Abreu as a social programme to bring disadvantaged youths off the streets and provide them with musical training in order to uplift their lives," says Suntook, whose next step is to take the initiative to villages across the country.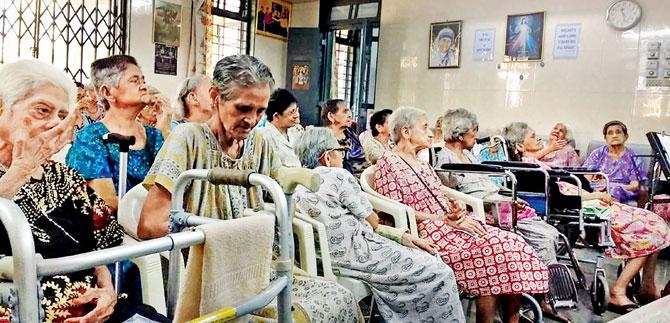 Elderly at St Anthonys Home For The Aged listen to the musicians in rapt attention
To the grass roots
The first programme was held at the Mumbai Mobile Creches (MMC) in Mumbai Central, with an aim to provide safe and happy childhoods to the young ones of migrant construction workers. While the crèches are for those aged below five, the pre-school and primary programmes are for those aged between six and 14. The classes usually take place on construction sites in finished or unoccupied rooms that the builder assigns them.
"While in the past, we had tied up with a band called Song Bound, which would teach singing to the kids, this was the first time that the children were exposed to a full-blown orchestra," says Vrushali Naik, a TISS alumni and programme coordinator responsible for strengthening MMC's relationship with existing and potential builders.
The hour-long session had over 40 kids in attendance, all aged above three. For the musicians, it was about keeping the children enthralled with a genre that they were unfamiliar with. "It was important for us to choose the songs with care, so that they didn't get bored. I admit I was terribly nervous," says Mendonca, who has been with SOI for a year.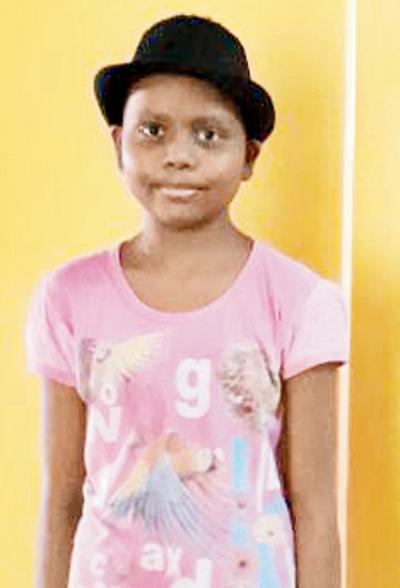 Anurakti Rawat, a 10-year-old cancer patient at Dr Mhaskar Hospital in Lower Parel
Striking a chord
They got rolling with a piece called Eine kleine Nachtmusik by Mozart, which is one of his best-known ones. "It's not heavy classical, but serves as a befitting introduction to western classical music, so that they don't get overwhelmed," says Mendonca.
The team also incorporated tango and exhorted the kids to tap and clap along. The 26-year-old says they weaved in educational elements of music as a career and handed them the instruments, guiding them about their correct usage. "It was edu-tainment, because we wanted children to know that music can be made into a career," she says.
And, since no music in Mumbai is complete without a dose of Bollywood, the band played some filmy numbers too. "A lot of it was impromptu because we had to go according to the mood of the children."
Naik says the most astonishing part was that the children were able to identify retro Hindi songs of Kishore Kumar and Mohammed Rafi, much to the surprise of the teachers and the musicians.
At St Anthonys Home For The Aged in Bandra's Chapel Road, it was more music and less interaction at the session. "Every orchestra had to be altered keeping the audience in mind. Here, they wanted more of music and less of chatter. So, we played classics - Fiddler on the Roof, and the Entertainer, a 1902 classic piano rag written by Scott Joplin," she says.
After the session, Mendoca says, many misty-eyed inmates came up to her to thank the team for bringing back memories. "They told me that their children and grandchildren would play the violin, so it was an emotional moment for them," she adds.
Demand and supply
Arti Wakil, founder of Wishing Well Foundation, which helps to connect resources and donors with needs of NGOs, was instrumental in launching the initiative with organisations. "The idea was to reach out to smaller NGOs that may not have the resources to arrange such events. Here, the NCPA took care of all the logistics," says Wakil, who started Wishing Well in 2005.
The organisation has been associated with the NCPA for several years, right from organising NCPA-sponsored Christmas parties for underprivileged kids, to taking the children for play screenings at the venue.
Wakil admits about being nervous on how the orchestra would pan out at the organisations. "I was particularly jittery about the cancer hospital, because the patients are from smaller towns and have no idea about western classical music. Moreover, they are already exhausted from chemotherapy," she says, but adds that the response was heart-warming. "We didn't realise how 60 minutes flew by," she smiles.