The journey of a curlew sandpiper from the bustling city of Mumbai to laidback Mongolia has excited ornithologists; IUCN lists the bird as near-threatened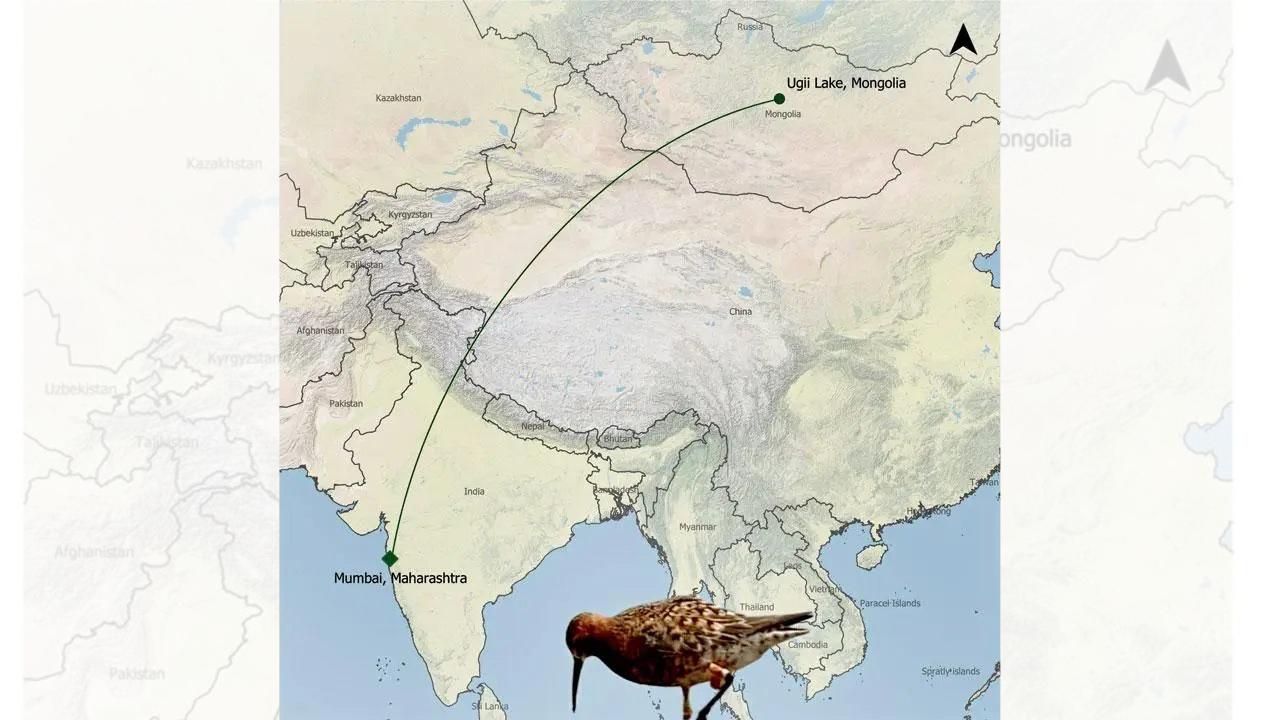 A map shows the migration of the curlew sandpiper, which is a wading bird
A curlew sandpiper, a wading bird, ringed by the Bombay Natural History Society (BNHS) at Mankhurd saltpans in January has reached Central Mongolia, covering over 4,500 km. The bird's journey has excited ornithologists who hope to get crucial insights into the secret lives of the species.
"From Mumbai to Mongolia—this Curlew Sandpiper, ringed by the BNHS team at Mankhurd saltpans in early January 2022, has been recently recorded at Ugii lake in Central Mongolia," BNHS tweeted.
Ringing since 1926
BNHS has been ringing birds at many places in the country since 1926. Ringing is the practice of catching birds, marking them with an identifying band around the leg, and then releasing them.
Ringing helps researchers and scientists understand several details like the flying routes the birds' take, resting sites and also migration patterns. 
In June 2021, BNHS tagged a curlew sandpiper in Mumbai. It was later spotted in Tianjin province of China. It had covered an aerial distance of 4,000 km. 
Experts said the species is known for migrating from the arctic tundra near Siberia, where they breed, to India to escape the biting cold during winters.
Due to its declining population, curlew sandpiper is now listed as near-threatened by the IUCN. It was included in the list of priority species of Conservation of Arctic Flora and Fauna (CAFF) in their 2019-2023 Work Plan.
According to BNHS's website, it is the only organisation to carry out long-term and intensive bird banding and associated studies in the Indian subcontinent.
4,000 ringed in a year
"BNHS contributions have won it a long-term regional centre at Chilika, granted by Chilika Development Authority, and one at Bharatpur. The Point Calimere Bird Migration Study Centre continued its training programmes in bird banding and other capacity-building efforts for students and forest department staff. Ringing over the last one year was carried out in Manjeera Wildlife Sanctuary (Telangana); Marine National Park, Nalsarover, Khijadia and Thol (Gujarat); Point Calimere and Chilika. During 2017-18, about 4,000 individuals belonging to about 112 species were ringed in various wetlands of India," says the website of BNHS.
Jan
Month the bird was tagged at Mankhurd saltpans