The duo, one of whom is a blind athlete, participated and rode to create awareness about inclusion in the outdoors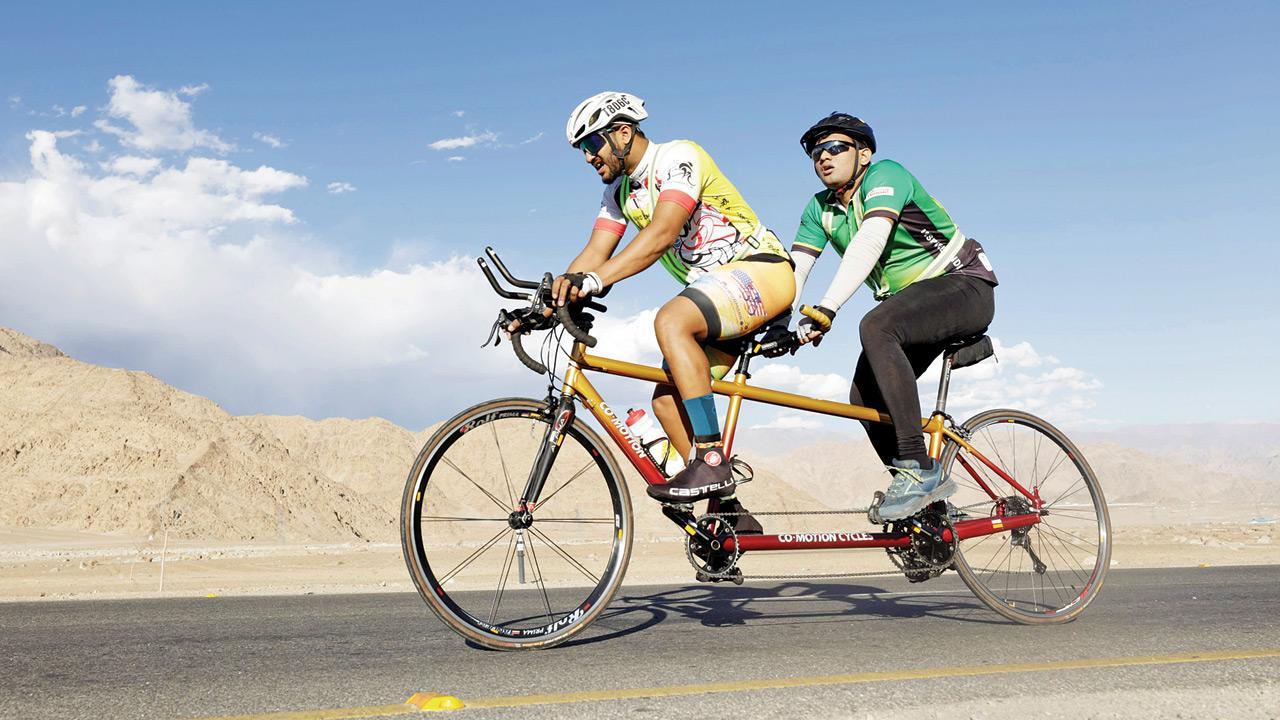 Arham Shaikh (front) and Sanket Bhirud completed The Great Himalayan Ultra in 26.01 hrs on September 12. Pics/Sahil Shikalgar
Most of us would baulk at the thought of competing in a challenging race in the rarefied air of Ladakh. But, not Arham Shaikh and fellow rider Sanket Bhirud, a blind athlete. The duo successfully completed The Great Himalayan Ultra in 26.01 hours on September 12, becoming the first ever tandem pair to participate in what is known to be one of India's toughest cycling race, with such good timing. The pair participated and rode to create awareness about inclusion in the outdoors.
Shaikh and Bhirud were not alone in this 600 km-long relay road race starting and finishing in Leh, Ladakh. They were supported by two solo enduro cyclists Sandeep Kumar and Dr Himanshu Thuse and eight crew members. The team, aptly named Sahas, was supported by Bohemian Adventures, an adventure sport company based in Dehradun, which helped raise funds for the high-altitude race through crowdsourcing platform Fueladream.
ADVERTISEMENT
"My vision is to support people with disabilities to be able to participate in all sports. I am working with Sanket and Niket [Dalal], both of whom are blind athletes with a common mission to fly India's flag at the international stage in the paralympic category. The agenda is to qualify for the Ironman World Championships and spread awareness about inclusive sports in the outdoors and educate people about the same," said Shaikh.
For Bhirud, it has been another opportunity to participate in such a race and show the world that nothing is impossible. "I have been disabled since birth, and have struggled to participate in sporting activities. I have had to literally fight my way to grab opportunities to be able to participate in outdoor activities," he shares.
For both Thuse and Kumar, it was their first experience riding with a blind athlete. "I am lucky to have got this opportunity," says Kumar. He feels that there's a need to participate in many such activities to build awareness about disabled athletes. "This is not a one-off mission, but a long-term one."

Team Sahas included two solo enduro cyclists Sandeep Kumar and Dr Himanshu Thuse and eight crew members
The race was not easy, as it included managing high-altitude sickness and associated problems. Riding tandem in such a terrain is a task as the tandem cycles are not made for this terrain. "The overall rolling resistance [energy loss between wheels and surface] and the air resistance require much more effort. To add to this, the weather at that altitude was not very good. It was raining all the way, and there were strong headwinds throughout. We had to put in four times more effort to climb up, but, then what's the fun of achieving something without putting in the effort? We were determined to finish the race," says Shaikh.
The Great Himalayan Ultra race organised by Pune-based Inspire India has most of the terrain above 3,000 metres. The lowest point of the race is 2,600 m in Kargil, while Fotu La at 4,100 m is the highest point. It is considered to be one of the toughest ultra-cycling races in India and the highest in the world.
On supporting the inclusive ride, Guneet Puri, founding partner of Bohemian Adventures LLP, says, "We're trying to challenge the barriers to cycling, which include infrastructure, cost, attitudinal barriers and access to tandem cycles. By supporting such activities, we're trying to get everyone from local authorities to sporting associations and other organisations to understand that disabled people can and do cycle in tough terrains if there is support." Puri was also part of the eight-member crew.
Bhirud concludes, "I wish that kids like me in the future have a more inclusive space and get more opportunities to participate in sports with able-bodied athletes, so that they don't have to suffer the lack of opportunities that I have faced as a child."
"Exciting news! Mid-day is now on WhatsApp Channels

Subscribe today by clicking the link and stay updated with the latest news!"
Click here!