Thane cyclist wraps up 11 country tour minus fuel to raise his voice against global warming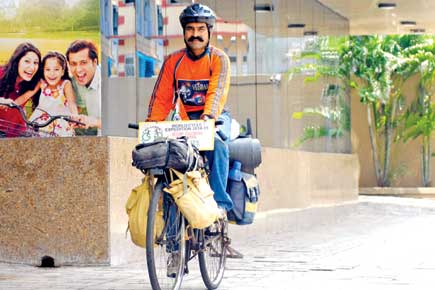 On Saturday, cyclist Rajesh Khandekar from Thane returned after a nine-month journey across 11 countries on a cycle to spread awareness about global warming
"The world can also be seen using modest means of transport," says 42-year-old cycling enthusiast Rajesh Khandekar, who is back home in Thane after completing his second world expedition, this time covering a distance of 17,600 kms across 11 countries in eight months. On Friday, he returned to Mumbai from his last destination, New Zealand.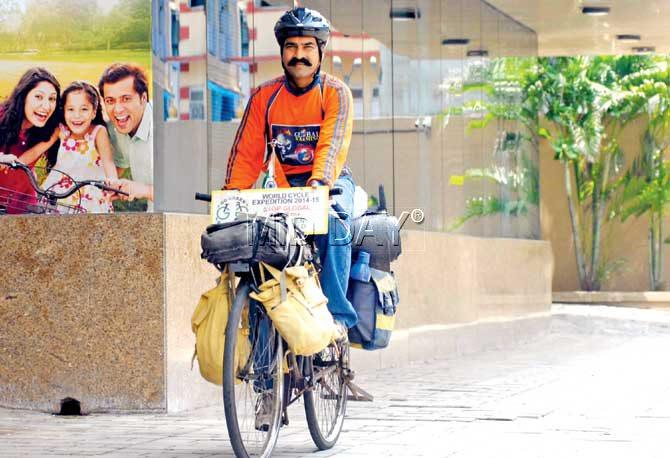 On Saturday, cyclist Rajesh Khandekar from Thane returned after a nine-month journey across 11 countries on a cycle to spread awareness about global warming. Pic/Shadab Khan 
Khandekar, who runs a grocery store in Thane, left home on December 21, took a train to Kolkata and then kicked off his journey. He pedalled his way to Bangladesh before travelling across Myanmar, Thailand, Laos, Vietnam, Cambodia, Malaysia, Singapore, Indonesia, and finally entering Australia and New Zealand. His first tour was in 2009, when he covered 16 countries across Asia and Europe.
This time, Khandekar who has been cycling since 1990, averaged a distance of 110 kms every day while touring Asia, and 60 to 80 kms daily in Australia and New Zealand. "I avoided peddling at nights. The sun sets early Down Under, which meant that I could not cover as much distance as I would in Asia," he said.
His first ever tour was from Thane to the temple town of Vajreshwari and back, covering a distance of around 100 kms. Later in 1997, he participated in all-India cycling tour covering 13,800 kms. Until now, Khandekar has covered 35,000 kms within India. "When someone once asked why I hadn't considered foreign lands, I decided I'd plan a global tour," he said.
On this recent expedition, Khandekar faced his first hurdle in Kolkata when he discovered that the handle of his cycle was bent while transporting it in the train's luggage compartment. In Vietnam, the challenging terrain ruptured his tyre. "The roads in some Asian countries are rough. Although I got the tyre replaced, I could not find the exact size required.
I continued the expedition, and it was only after reaching Indonesia that I managed to find tyres that fit," he recalled. Through the eight times that he was on road, Khandekar had to repair the tyres four times. His journey, however, was eased with help from officials of the Indian Embassy and Indian immigrants who offered him accommodation.
"The Maharashtrians scattered across the globe were especially helpful," said Khandekar. "On several occasions, Indians offered me shelter and food. At other times, I'd rest in open rest-rooms along highways."
Khandekar feels it was all worth it to spread awareness about global warming. "The cleanest way to see the world without harming the environment is by cycling. I had planned the entire route in advance, and hence, didn't need to use GPS either." His gearless Hero cycle kept him going. "I prefer it because it is heavy and robust. I will continue to tour on this bike," said Khandekar, letting out the hint that he wasn't done yet.