Filmmaker, 30, loses home to fire caused by AC compressor blast that occurred minutes after mechanics from online professional services company left; plans to move consumer court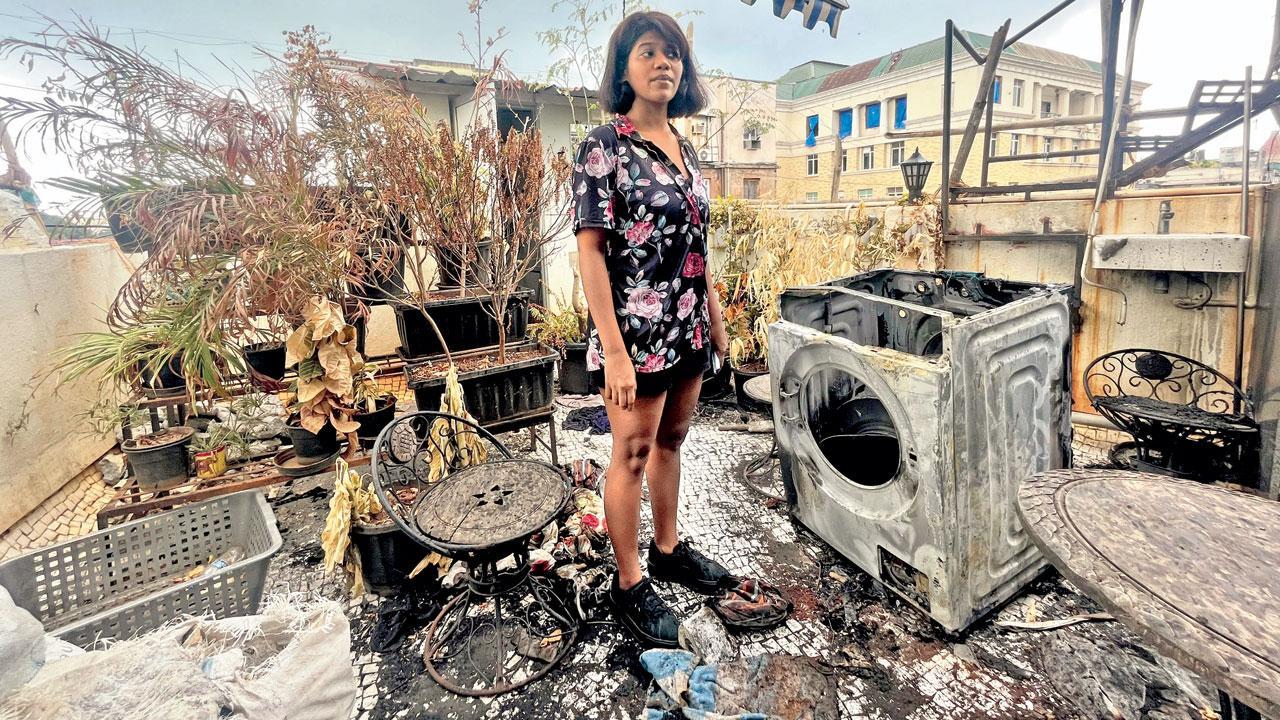 Vinusha Sundaresan amid the gutted remains of Engineer House, following a fire caused by an explosion in the air conditioners, on May 26. Pics/Atul Kamble
A 30-year-old filmmaker, Vinusha Sundaresan, has been left homeless and forced to live in an expensive pet-friendly hotel in Mumbai despite once living next to the Bombay Stock Exchange (BSE). Her residence was turned into a pile of ashes following an explosion in her air conditioner (AC) compressor that led to a fire on May 15. Vinusha, claims two mechanics from Urban Company had been called to repair her AC compressor as it had stopped cooling, but the "explosion took place minutes after they left her house".
The massive fire engulfed two water tanks, washing machines, expensive clothes, a CCTV camera, plants and doors, among other things. The woman had a narrow escape in the incident. "Today, the situation would have been different had I been on that floor. But I was doing my laundry on the fifth floor where the washing machine was kept," said Vinusha, who owns the fourth and fifth floors of Engineer House.
ADVERTISEMENT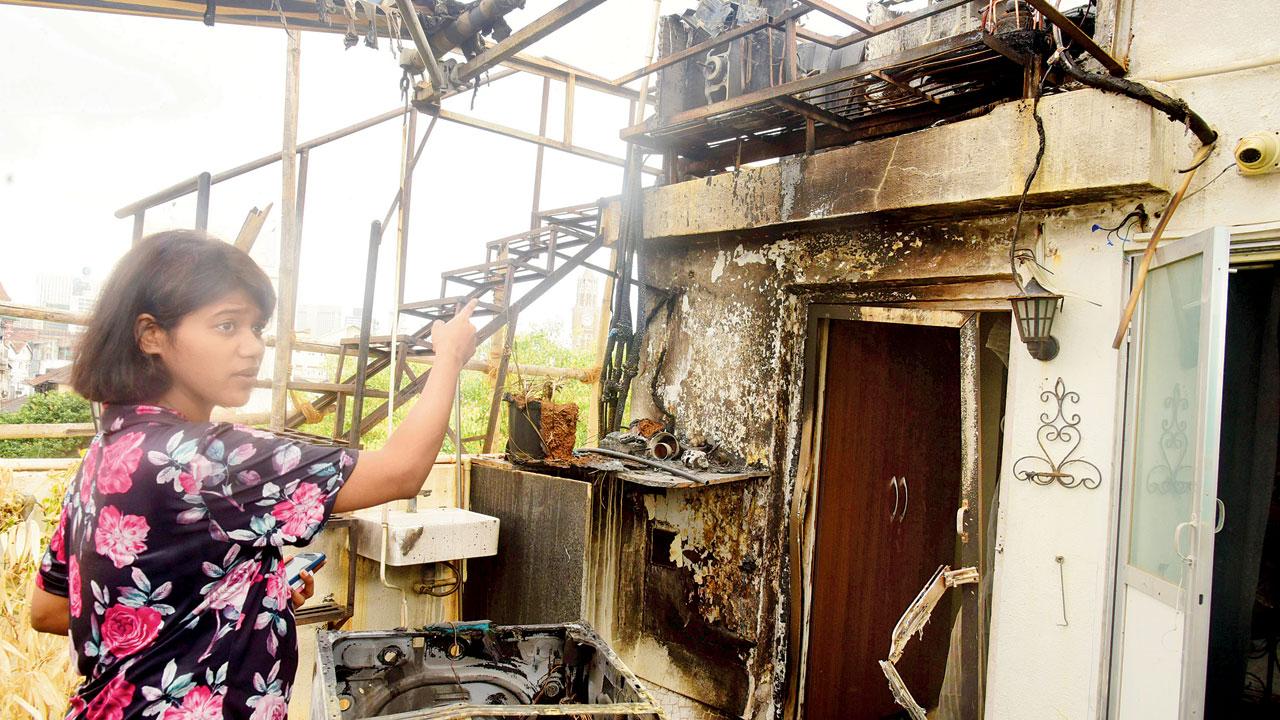 The filmmaker said various items, including an imported blanket she had had since childhood, which had sentimental value, got damaged in the blaze. She said, "Urban Company has rendered me homeless in my own city. I have been running from my hotel room in Powai to south Mumbai to knock on the doors of government officials to restore life in my building in Fort."
The water supply to the entire building has not been restored as its plastic tanks were fully damaged, said Vinusha, adding, "Also, the electricity is yet to be restored in my flats because Urban Company is not cooperating with me and now, they have stopped responding to my calls and messages. I am really surprised that a premium company can be so unfriendly to customers."
She further stated, "My house is in a complete mess and I have been running from pillar to post but nothing has been done so far. Though the officials from the fire department, police and PWD [public works department] visited my place and conducted a survey, Urban Company is not bothered at all about compensating me for the huge loss I have incurred in this accident."
She added that the explosion took place minutes after the mechanics left her house around 2 pm on May 15. "I have an office space on the fourth floor where I was working when I heard a loud explosion around 2.15 pm. Since the electricity tripped and AC stopped, I rushed to the terrace," she recalled. The AC compressors were on the terrace next to two water tanks—one solely for Vinusha and the other to store water for the building.
"I could not believe it when I saw the compressor, which the mechanics from Urban Company had just repaired, burning while fire engulfed another compressor adjacent to it on the terrace. When the second one exploded, I screamed for help while rushing downstairs. The flames were pretty high and I was terrified. I was all alone at home at the time," she said. She added, "I saw the pieces of burning compressor falling down on the washing machine on the fifth floor where I had kept a heap of clothes and blanket for laundry. Now, everything has been burnt to ashes."
Soon after the incident, one of Vinusha's friends, Ruchi Gandhi, rushed to help her. "The entire situation was very chaotic as everyone had come upstairs to see what had happened. My friend was trembling in fear as the onlookers had been busy filming the incident instead of consoling Vinusha, who was not even properly dressed," Gandhi told mid-day. She added that the cops had taken her to MRA Marg police station immediately after the incident, but no FIR was registered in connection with the incident.
"I contacted Urban Company and an executive, Meenakshi, first offered to bear the cost of her stay in a hotel but when she learnt Vinusha has a cat, for which a pet-friendly hotel room is required, where the per-night stay could be huge, she started to convince her to keep her feline somewhere and stay in a low-budget hotel. This was really unbelievable, as we can't keep a pet anywhere separately at a time of crisis," Gandhi said. "After much persuasion, Meenakshi agreed to bear the cost of Vinusha's stay at a pet-friendly hotel but after two days she backtracked," Gandhi added.
The visibly upset Vinusha said, "Urban Company has breached my trust. I spoke to its AVP, Mehnaz Perveen, who initially talked to me using sugar-coated words. I requested her to help me in this crisis because of the mistakes of Urban Company's mechanics who visited my house to repair my AC. But she refused to extend any help. I also told Mehnaz that I could have gone to the police and press to seek help. But she requested me not to go anywhere as the image of the premium brand would be tarnished."
"It's been 15 days, and my house is still a mess and the repair cost could go up to Rs 10 lakh, excluding my hotel stay. I am paying Rs 13,000 per night to stay at a pet-friendly hotel in Powai. Above all, my work is getting hampered as I am busy visiting the PWD and electricity offices all day to restore utilities," she added.
'Homeless in my own town'
"Urban Company has made me homeless in my own town. I am mentally harassed and fully traumatised by them. I don't know what's their game plan. I am running from here to there and opting to seek the help of the police and lawyers  at a time when my project needs my special attention.
Why am I supposed to do all this when things could have been amicably resolved? Urban Company claims to be a premium brand and it is the reason I contacted them to repair my AC. But they have breached my trust and its AVP Perveen is not even bothered to respond to me. They have not given a single penny as compensation.
I am not going to spare them. I am planning to file a case in consumer court," she stated. mid-day tried to contact Urban Company, made multiple calls and sent email as well as  text messages over the past four days, but received no reply.
Rs 13,000
Price/night she is forced to spend on pet-friendly hotel
"Exciting news! Mid-day is now on WhatsApp Channels

Subscribe today by clicking the link and stay updated with the latest news!"
Click here!