Satellite-tagging project is helping researchers understand the migration patterns and behaviour of olive ridley sea turtles on the western coast of India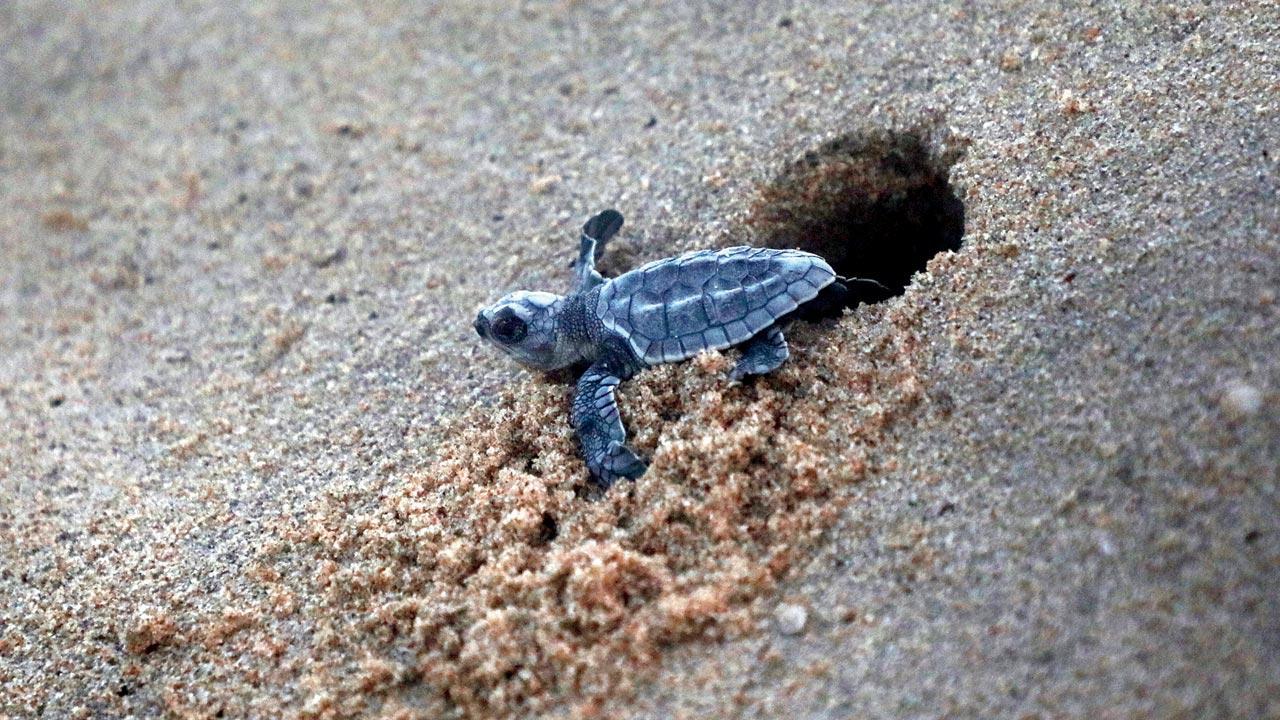 This marks the first satellite tagging project of Olive Ridley sea turtles on the western coast of India. Representation pic
Bageshri, a female turtle tagged in Ratnagiri, has reached Kerala, while another one named Guha has reached Karnataka. This significant update reveals the movement of satellite-tagged olive ridley turtles.
On Friday, the Mangrove Cell tweeted, "This week, Bageshri turned towards the Kerala coast and entered the continental shelf waters there. It is approximately 75 km offshore from the renowned Kollam beach. On the other hand, Guha has ventured into the deep waters off the Karnataka coast and is gradually heading south."
ADVERTISEMENT
On May 26, the Mangrove Cell tweeted, "Bageshri has been steadily heading south for the past ten days and has gone the furthest south among all the turtles tagged in Maharashtra. She is now nearing southern Kerala. Guha, in the last few days, has also shown some movement towards the south, albeit at a slower pace 
compared to Bageshri."
On the night of February 21, a team comprising the Wildlife Institute of India (WII), the Mangrove Foundation, and the Maharashtra forest department's Ratnagiri division patrolled Guhagar beach. Two female olive ridley turtles that had come to nest on the beach were carefully restrained after nesting. On February 23, the turtles were released back into the sea after being fitted with satellite transmitters by the WII team. The turtles were given the names Bageshri and Guha.
The Maharashtra coast experiences sporadic nesting of olive ridley sea turtles. Until now, the species had only been tagged on the east coast of India. This marks the first satellite-tagging project of olive ridley sea turtles on the western coast of India. The Mangrove Foundation, in collaboration with the Maharashtra forest department, has commissioned a research project titled "Tracking t he Migratory Movements of Olive Ridley Sea Turtles off the Coast of Maharashtra" to the Wildlife Institute of India.
This study aims to comprehend the movement patterns, foraging grounds, and behaviour of olive ridley sea turtles off the coast of western India. 
The findings of this project will aid in understanding the population of olive ridley sea turtles on the western coast of India, their migration patterns, and their behaviour. 
The Mangrove Foundation and the mangrove cell of the forest department are planning to undertake more research initiatives to strengthen conservation efforts with  regard to turtles in Maharashtra.
"Exciting news! Mid-day is now on WhatsApp Channels

Subscribe today by clicking the link and stay updated with the latest news!"
Click here!