Shiv Sena (UBT) chief Uddhav Thackeray said that he has joined hands with Vanchit Bahujan Aghadi (VBA) to keep the democracy of this country alive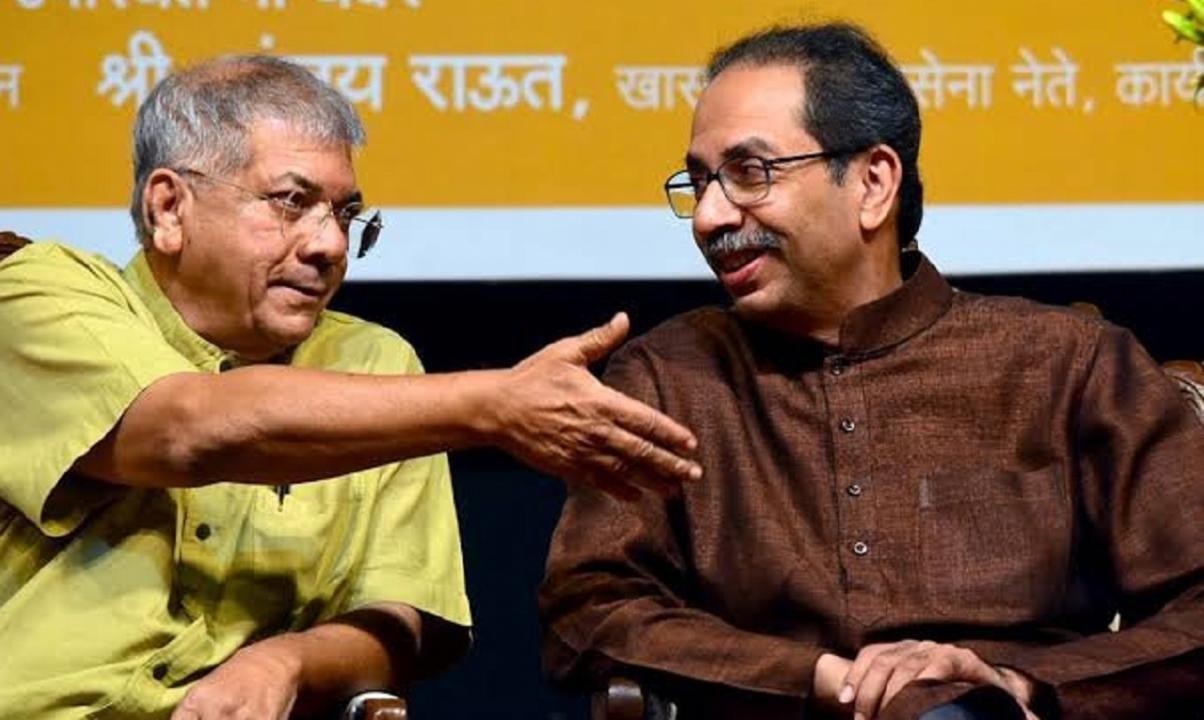 Uddhav Thackeray and Prakash Ambedkar. Pic/Official Twitter handle of Sanjay Raut
The Uddhav Thackeray-led Shiv Sena (UBT) announced its alliance with Prakash Ambedkar-led Vanchit Bahujan Aghadi (VBA) on Monday.
Sharing the stage with Prakash Ambedkar, Shiv Sena (UBT) chief Uddhav Thackeray said that we have joined hands with Vanchit Bahujan Aghadi (VBA) to keep the democracy of this country alive.
"We have come together with the idea of 'country first' and in a bid to keep democracy alive," Uddhav Thackeray said.
Thackeray said, "Today is January 23, the birth anniversary of Balasaheb Thackeray. I am satisfied and happy that several people of Maharashtra wanted us to come together. Prakash Ambedkar and I are here today to form an alliance."
"My grandfather and Prakash Ambedkar's grandfather were colleagues and they fought against the social issues at that time. Thackeray and Ambedkar have a history. Now their future generations are here to fight on the current issues of the country," he added.
Thackeray also said that he is confident that Shiv Sena (UBT)'s alliance with VBA will be accepted by Congress and NCP and all will be a part of Maha Vikas Aghadi (MVA).
Also Read: Bal Thackeray birth anniversary: PM Modi, Uddhav Thackeray other leaders pay tributes to Shiv Sena founder
Babasaheb Ambedkar's grandson Prakash Ambedkar said the alliance marks the "beginning of new politics" in the country.
"As of now, it's only the two of us. Congress hasn't accepted the alliance yet. I hope Sharad Pawar will also join the alliance," Ambedkar added.
"Today there will be a very revolutionary announcement in Maharashtra. There is a joint press conference of Prakash Ambedkar and Uddhav Thackeray. The alliance of both the parties will be announced today," Raut said while addressing the media.
The Election Commission of India (ECI) is currently hearing a dispute between the Uddhav Thackeray and Eknath Shinde factions of the Shiv Sena over the party's poll symbol bow and arrow. 
  
The two factions have been embroiled in a tussle over the poll symbol after a split in the party last year. 
  
Talking to reporters, Raut had on Saturday expressed confidence that pressure politics will have no impact on an independent institution like the ECI.