Melioidosis, which can spread through dust, water and contact, baffles doctors by masquerading as other diseases, goes undetected in 40 per cent tests; India is hotbed, warn researchers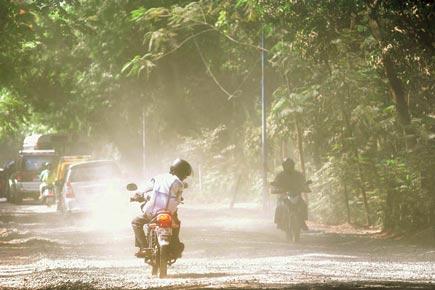 Some time during the end of 2015, Dr Om Shrivastav, a consultant on infectious diseases at Saifee Hospital, Charni Road, organised a seminar attended by nearly 75 doctors. What set this discussion apart was that it debated a disease that, although discovered one hundred years ago, still goes largely undetected, since it mimics symptoms of other diseases — tuberculosis, pneumonia and septicemia. Once the bacterium burkholderia pseudomallei, which causes it, enters the blood stream, it can cause death within 24 to 48 hours if untreated.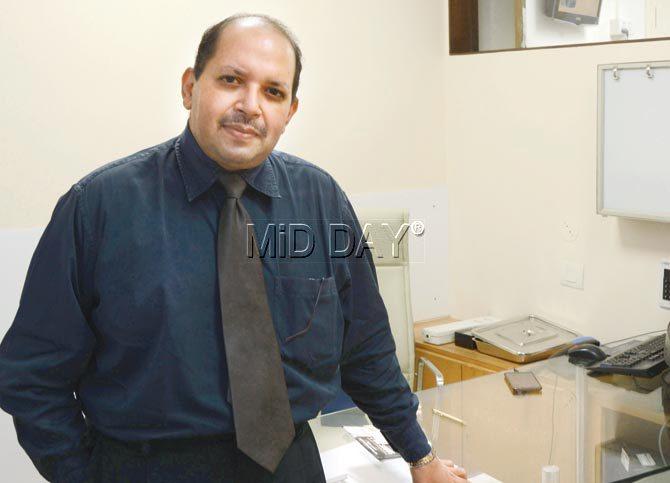 Late last year, Dr Om Shrivastav, a consultant on infectious diseases at Saifee Hospital helped organise a seminar on melioidosis, in association with researchers from Thailand's Mahidol University. this was to increase awareness about the disease among city doctors. PIC/Satej Shinde
Melioidosis would have, in fact, not come up in public discussion had it not been for a paper published last week in the journal, Nature Microbiology, by a team of 11 researchers. Titled, Predicted global distribution of Burkholderia pseudomallei and Burden of Melioidosis, it has suddenly put India on a list of highly endemic countries.
Dr Chiranjay Mukhopadhyay, professor at the department of microbiology at Manipal University's Kasturba Medical College, Karnataka, who also heads the Indian Melioidosis Research Forum, says that it has been revealed that South Asia — India, Bangladesh and Sri Lanka — contribute to about 44 per cent of the world's melioidosis cases. "Of this, India has the highest burden," he adds. While, until now, it was believed to be a largely rural malaise, doctors and researchers admit that urban Indians are at high risk, too. Soil, soot or contaminated water that you are exposed to during extreme conditions such as flooding or water-logging during the annual monsoon can expose you to b. pseudomallei.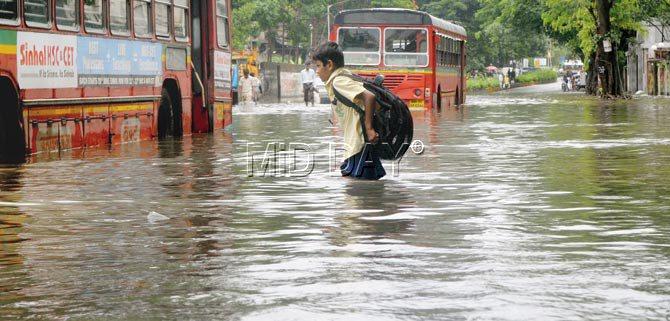 Water is a carrier of the burkholderia pseudomallei bacterium that causes melioidosis. Experts say, wading through water-logged areas like Mumbaikars often do in the monsoon, can put you at high risk. PIC/NIMESH DAVE
The mimicking bacteria
It's the stuff that makes great headlines. The bacterium burkholderia pseudomallei is known to be a shape-shifting one, and the symptoms of a melioidosis infection masquerade as those of other illnesses, making diagnosis baffling.
"A patient will come with high fever, cough, chills, abscess in internal organs — especially the liver and prostrate — bone and joint ache and rigors, which is a sudden feeling of cold with shivering accompanied by a rise in temperature, often with copious sweating," says Mukhopadhyay, who witnessed his first case in 2005 when he moved from Lucknow to Manipal.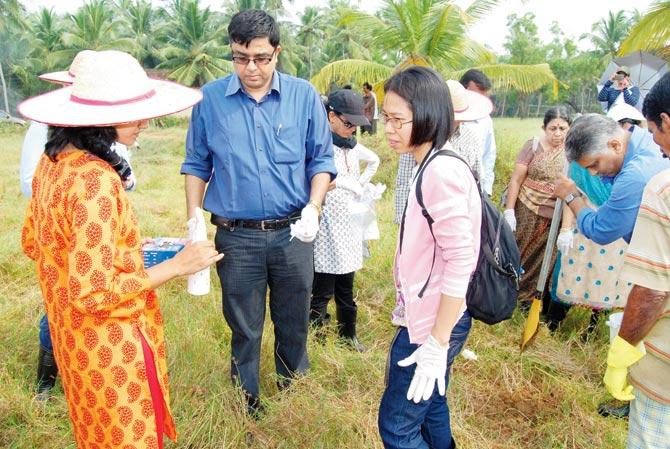 In 2012, Dr Chiranjay Mukhopadhyay, who also heads the Indian Melioidosis Research Forum, organised a soil workshop conducted in association with researchers from Cambridge and Mahidol universities. The first of its kind in India, it was conducted in Udipi, Karnataka, to identify the presence of the burkholderia pseudomallei in the soil and saw 50 participants. PIC/Courtesy to Indian Melioidosis Research Forum
What was once believed to be a disease restricted largely to Thailand, Vietnam and northern Australia, researchers say, is proliferating in India but going largely under-diagnosed as "no one is looking for it".
The bacterium sits one foot below surface level and it is believed that soil along the coastal regions of India (eastern and western), central India (Bihar, Uttar Pradesh, Madhya Pradesh), South India and North East carries the bacterium. Therefore, aside from portions of Kashmir, everywhere you go in India, you can be exposed to melioidosis.
Mukhopadhyay says that he diagnosed his first case within a month of moving to Manipal. Now, his team spots between 30 and 50 cases every year. At Vellore, head of microbiology at Christian Medical College & Hospital, Balaji Veeraraghavan, estimates that India reports about 60 cases each year. The two agree, and Shrivastav concurs, that the numbers barely constitute the tip of the iceberg.
"In fact, I myself tested positive for melioidosis a few years ago due to a chance test," says Veeraraghavan. Earlier that year, he had suffered severe chills, rigors and high grade fever. "I went to my hospital's clinic and was told that I probably had viral fever. I was told to go home and wait for a few days. As I was heading out, I crossed an intern in the hallway who asked if I had undergone a blood test. Chumma, we decided to do a sub-culture." Five milliliters of blood was taken from Veeraraghavan and cultured to check the presence of b. pseudomallei. The next morning, the test returned positive. He was in hospital for 10 days.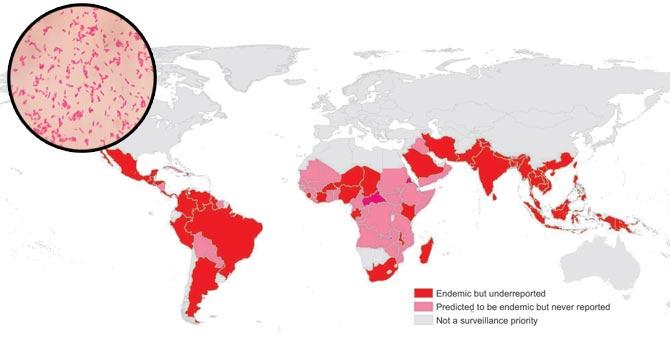 B. pseudomallei bacterium in gram stain. Graph courtesy: authors of Predicted Global Distribution Of Burkholderia Melioidosis
Veeraraghavan admits pointedly that he got lucky. "For every hour after b. pseudomallei enters the bloodstream and is not treated, mortality increases by 7 per cent," he says, adding that he probably got infected in the laboratory.
Construction is the enemy
With farmers spending hours around soil without protective footwear, their exposure to the bacteria from soil and water increases, making them more susceptible to the disease.
But that assumption, argues Mukhopadhyay, no longer holds true. "You can even catch it by inhaling the bacteria from the air carried through dust, or even when walking barefoot in a garden — something that many people in India do as a ritual in the mornings. I have seen a businessman, a homemaker and even students, all from urban areas, test positive."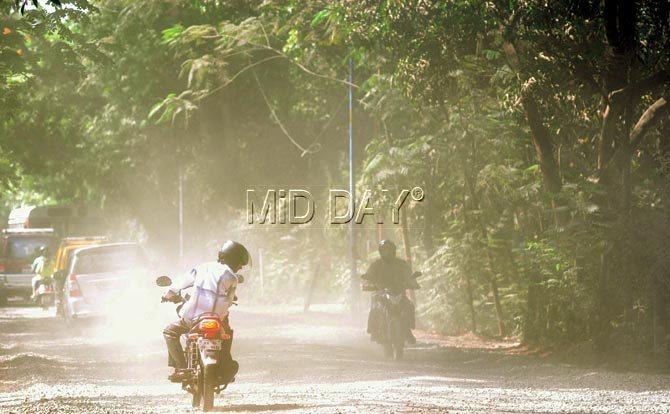 A photo of Aarey Milk Colony shows motorists battling dust from debris. Doctors say constant construction and digging of roads in Mumbai throws up the bacterium, burkholderia pseudomallei, in the atmosphere, leaving us susceptible to melioidosis. Pic/Sameer Markande
The economic boom, says Veeraraghavan is a contributing factor. "With constant digging and incessant construction in towns and metros, soil is being loosened and the bacteria being carried in the air."
What the bacteria needs to take over the body is a suppressed immune system, and this makes India a ticking time bomb given that we have an estimated 65.1 million diabetics (2015 figure). "A condition like diabetes predisposes you to melioidosis," he adds. Those with chronic kidney disease and used to excessive alcohol also fall in the high risk group.
In the above mentioned research paper, the authors — who predict that there will be 1,65,000 cases that will emerge in the 2015 figures from among the three billion people living in areas that support the bacterium, and that of these, 89,000 would have succumbed to it — have said that even a highly urbanized country like Singapore has reported 550 melioidosis cases in the last 10 years.
Problem of detection
According to the World Health Organisation's 2015 report, India, with 2.2 million cases, had the largest number of TB patients in the world in 2014. We reported 23 per cent of the global total.
Of this, estimates Mukhopadhyay, 10 to 15 per cent would be cases of melioidosis. In fact, 15 per cent of cases of pneumonia and septicemia would also be cases of melioidosis. There are several reasons for skewed numbers.
The first, as the city's microbiologists will tell you, is because the clinician has to consciously ask the laboratory to look for burkholderia pseudomallei — something that happens very rarely.
When SUNDAY mid-day spoke to Dr Jayanthi Shastri, head of the department of microbiology at Nair Hospital, she said, "Typically, a clinician has to suspect melioidosis. It's only then that our team will look for it."
The other reason is that even if there is suspicion of melioidosis, proving it may be difficult.
"When a patient comes with the identified symptoms, the first step is to prescribe generic antibiotics. Once a patient has taken these, tests for burkholderia pseudomallei will come negative," says Shrivastav. As is the case with most lab tests, not all patients will test positive all the time. The microbiologist at the lab has to be told what is suspected so that he knows what to look for. The melioidosis bug, Shrivastav calls, fastidious. "In up to 40 per cent of patients, a lab test will yield nothing. A machine is not 100 per cent correct all the time," he says, adding that the lack of a standardized test also goes against detection.
Currently, there are four kinds of tests that can be used to detect the presence of burkholderia pseudomallei - a polymerase chain reaction, the Enzyme-Linked Immunosorbent Assay (ELISA) technique, indirect fluorescent-antibody tests and the culture method. While X-rays and other scans are also routinely conducted, even when certain characteristics of melioidosis are present — such as a honeycomb abscess in the liver — they are not considered enough for a diagnosis.
The amount of blood extracted from the patient is also significant, says Shrivastav. "We need a substantial quantity of it to be able to give the microbiologist a fair chance at detecting the bacteria. Five to 20 ml of blood allows only a 40 to 60 per cent chance of detection. It climbs to 90 to 95 per cent with a 40 ml sample."
In the one-and-a-half months since the seminar at Saifee Hospital, Shrivastav has learnt to look out for melioidosis. He has detected four cases since then. While two were from cities outside Mumbai, one was from Dubai and a fourth from the city.
Finding a line of treatment
In the absence of a vaccine, it becomes even more important to ensure that medication reaches the patient on time. While the average line of antibiotics may help stave off TB or another ailments, the burkholderia pseudomallei is only suppressed by it. "Undiagnosed, a lot of people receive partial treatment and live with the virulent bacteria for long before succumbing to it. Often, you have patients in the ICU, who are not responding to treatment or whose situation is getting worse. In such cases, the doctors should suspect melioidosis and start treatment," says Shrivastav.
While medicines such as ceftazidime and meropenem are available in the market, Dr Direk Limmathurotsakul, co-author of the report, says on email from Mahidol University in Thailand, "It needs to be used as a first-line drug, and it can be used only if awareness of the doctor is high."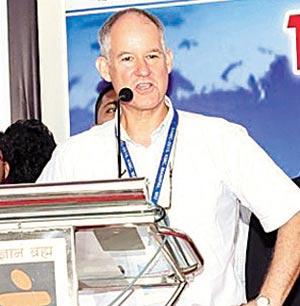 David Dance, co-author of research on melioidosis
David Dance, another author, says, "These drugs are relatively expensive and often not used as the first choice. They also need to be given for longer periods to patients with melioidosis than for some other infections, and must be followed by long courses of oral antibiotics to get rid of the infection once and for all."
Dance adds that the estimate that arose from their modelling was that there could be 52,500 cases a year in India (with a 'credible interval' from approximately 22,000 - 1,25,000). "This is way in excess of the number of cases currently reported. The modelling is based on a number of assumptions, which might be incorrect or could be oversimplifications, but even so, this gives some idea of how big the size of the problem might be and should be a wake-up call for doctors, laboratory staff and public health policy makers. As more evidence becomes available, the modelling can be refined to become more accurate. So this is the beginning of a process and not the end point," he says over email.
Need for awareness
With dust, soot or any particle that blocks the airways and inhibits the overall functioning of the immune system, contributing to a greater susceptibility to melioidosis, the responsibility of the government in funding research towards identifying prone areas and ensuring greater detection becomes crucial.
Interestingly, melioidosis was brought to the state health department's notice in the '90s when researchers confused the plague caused by the yersinia pestis bacteriumwith the burkholderia pseudomallei.
"In fact, even five years ago, we had warned the government that research needs to be funded to look at soil analysis across the country, but it was rejected since the state wanted to concentrate on TB, malaria and filarial," says Veeraraghavan.
Dr Deepak Sawant, Maharashtra's minister of public health and family welfare, told SUNDAY mid-day, that while a call on funding will be taken by the Union government, the state will look at creating more awareness about the existence of melioidosis in Maharashtra, especially training doctors to watch out for it.