But does it hold up?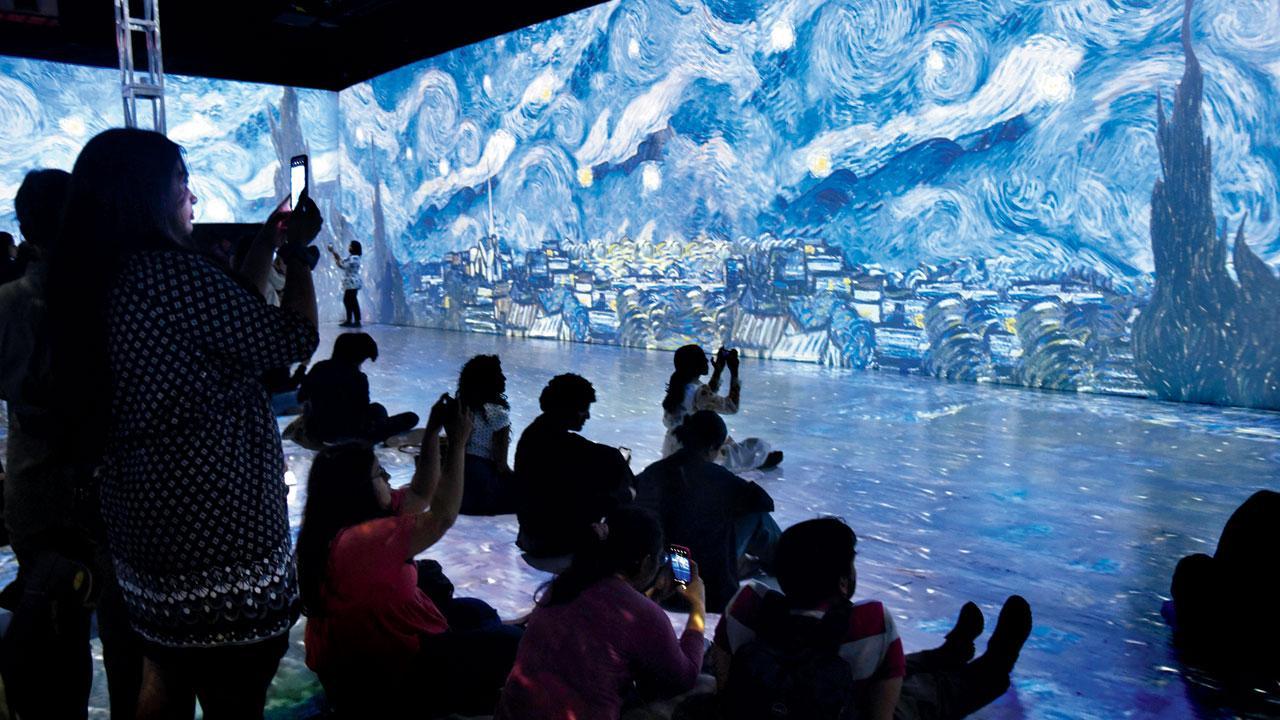 There are multiple immersive Van Gogh experiences around the world. These include Van Gogh Alive, Beyond Van Gogh, Immersive Van Gogh Exhibit, and our very own Van Gogh 360°. Pic/Sameer Markande
Perhaps the hottest art event in Mumbai today is Van Gogh 360°. The immersive art experience that invites you to "surround yourself in Van Gogh" opened on January 20 at the World Trade Centre, Cuffe Parade, and will stay on view till March 3. Immersive art has been on the rise for some time now. Some of the best experiences use projectors, sensors, even AR/VR glasses so you're able to, well, immerse yourselves in the artwork of a master.
Depending on who you ask, these experiences either qualify as art or an assault on it. But, thanks in part to Emily in Paris, that ode to bourgeois aspirations, immersive art experiences are seeing a great deal of interest in the West. It was only a matter of time before one such experience would arrive on our shores.
ADVERTISEMENT
Some of my more erudite peers would be quick to point out that immersive art experiences in general and Van Gogh 360° in particular, are not art. The projector images would never be able to capture Van Gogh's brushstrokes, for instance, they'd say. This is, of course, correct. But as a believer in democratisation of art, I remain a fan of immersive art experiences.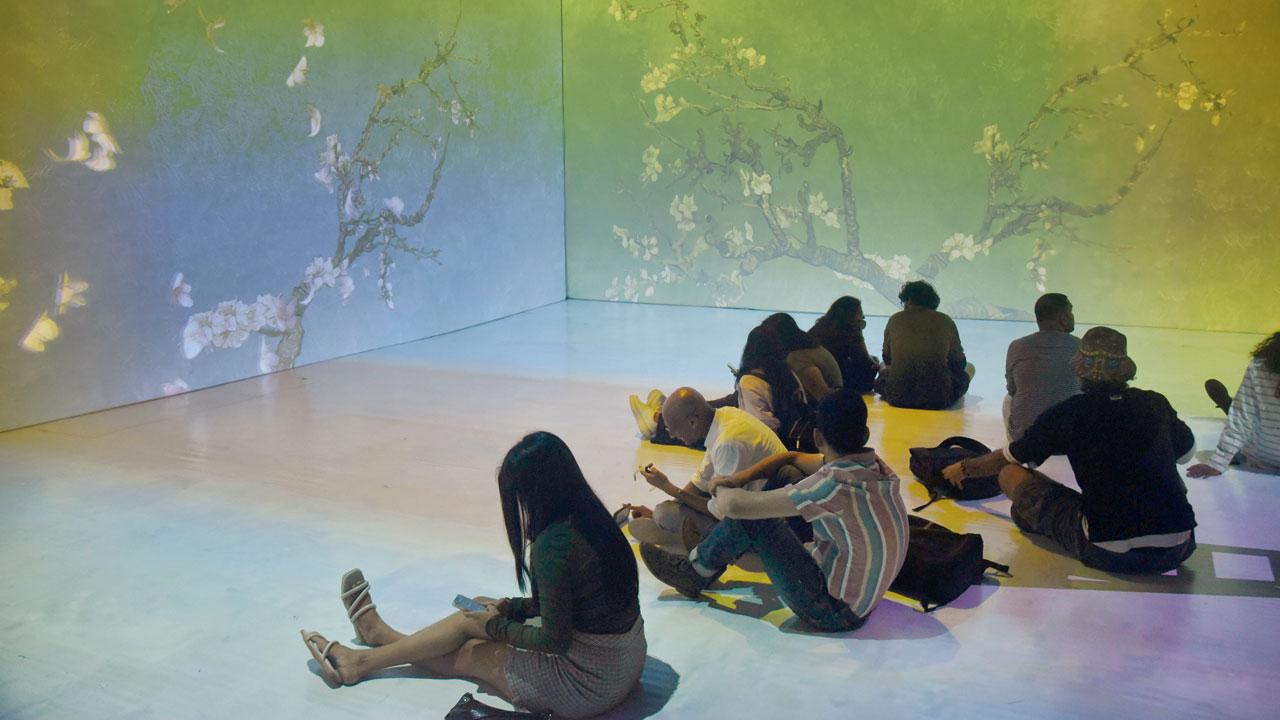 Which is more than what I can say about Van Gogh 360°'s Mumbai outing. To be sure, I haven't seen an immersive Van Gogh experience in other cities. By all estimates, it is far better than what you're likely to get here. As it turns out, this is because these are different shows altogether, produced by different companies. 
Also Read: Immersive Van Gogh 360 degrees: Hosts reveal how the experience was crafted
With the Intellectual Property Rights having run out—Van Gogh died in 1890—the artist's work is in the public domain which makes it possible to create and profit from interpretations and reproductions. As a result, you have multiple immersive Van Gogh experiences. These include Van Gogh Alive, Imagine Van Gogh: The Immersive Exhibition, Van Gogh: The Immersive Experience, Beyond Van Gogh, Immersive Van Gogh Exhibit, and our very own Van Gogh 360°. You can see how mistaking one for the other is easy. And so, walking into this show seems a bit like (bear with me) going to the cinema thinking you're about to watch Sholay and discovering that you'd actually bought tickets to, well, Ramgarh Ke Sholay.
As you can imagine, the experience is decidedly underwhelming. For starters, it doesn't deliver what its name suggests: a 360-degree experience. You essentially walk into a wedding tent-like enclosure where, instead of gaudy fabric, you're seeing Van Gogh's work projected on the walls. The roof doesn't have a screen or a mirror—an acceptable feature for a 360-degree experience—...leaving you staring at a dystopian dark space with projectors instead of a magical view of Starry Night.
The immersive experience gets even less immersive each time a BEST bus passes by or an attention-seeking youth decides that the street outside is the most ideal spot to show off his silencer-shorn motorbike in what could only be construed as a loud (and failed) mating call. Also routinely making their way through the paper-thin walls of our immersive experience venue are the sounds of fireworks on the weekend, celebrating a wedding at a nearby venue or the occasional ambulance siren, presumably to carry off an art critic frothing at the mouth.
Thankfully, I am no art critic. I don't hold it against the selfie takers and reel makers; it's a wonderful if somewhat controversial way to engage with art and indeed one of the objectives of such experiences. Such audiences are part of the generation that was born alongside the advent of high-speed internet in India and one that is coming of age. Like it or not, technology will play a huge role in the way art is created and consumed in the coming years. Therefore, the question, of whether these creations and experiences are art, is moot. What isn't, is the quality of experience they deliver. And, humbly, what Van Gogh 360° delivers isn't particularly high.
In his Pulitzer Prize-winning article, the journalist Gene Weingarten conducted an experiment involving the world-famous violinist Joshua Bell to busk at a Washington Metro station. Even as Bell played some of the most uplifting pieces known to the human race, almost everyone walked past, barely registering the presence of the maestro as an undercover busker. A classical masterpiece wasn't remotely on their minds as they rushed for meetings, job interviews, and presentations.
When we walk into an art gallery, a music concert, or an immersive experience, we are making a choice of removing ourselves from our dreary existence. We are, to paraphrase the Welsh poet WH Davies, making that conscious decision to care, to take the time to "stand and stare". Admittedly, it is a privilege afforded to very few of us.
In a city of more than a million people, only a few thousand of us, who can afford the ticket prices, will made it to Van Gogh 360°, in the hope of removing ourselves from the humdrum of the everyday. But it's not the money or the fact that one has been exposed to better experiences that's bothersome, rather the fact that despite having made that choice to extricate oneself from the dreariness of the everyday, it manages to seep in to the experience one is trying to have.
Van Gogh 360°'s popularity may be driven thanks to young influencers and pleasure seekers on social media, that infinity mirror of millennial narcissism. Certainly, it is a unique experience for most of us and if you're an immersive art virgin, it is worth a visit. But my submission is it won't be long before the novelty fades and they too see it for what it is worth: a forgettable experience trying to pass itself as cool.