Buses equipped with medical amenities and staff to handle emergencies; drive starts with vaccination of 20 people at Vasai's leper colony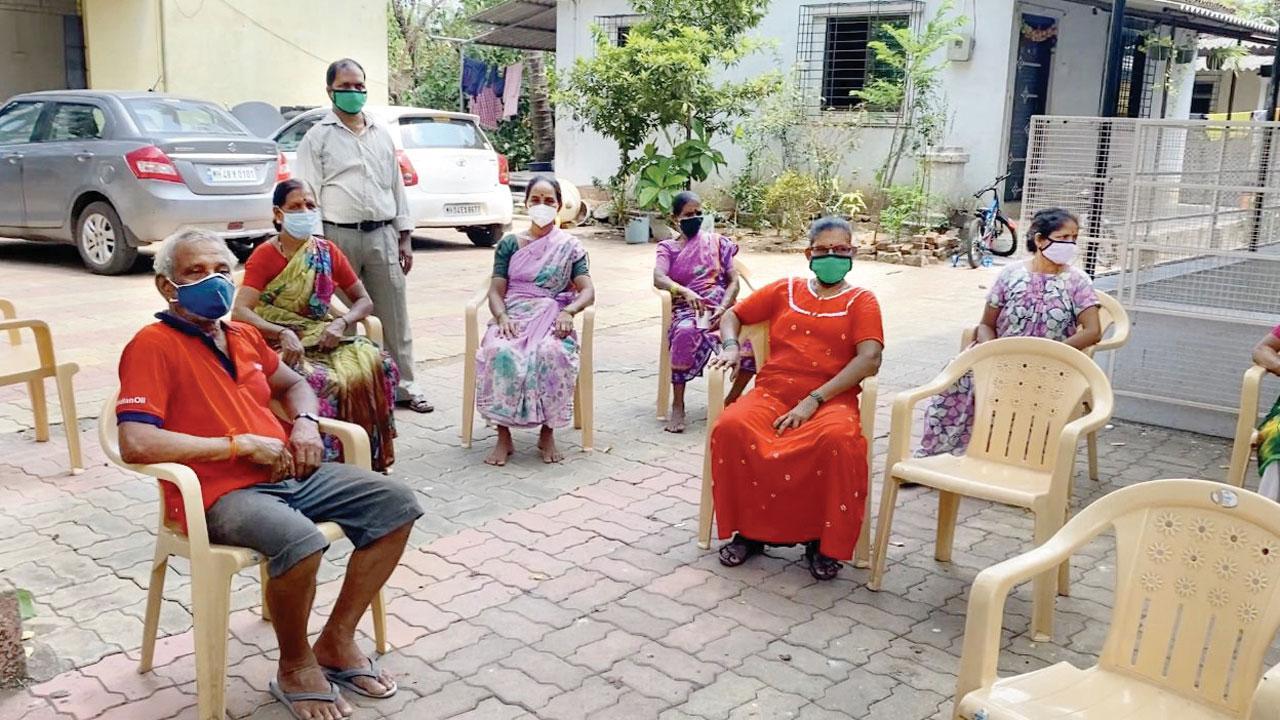 Residents of a leper colony, Dattadham Vasahat, wait after getting vaccinated. Pics/Hanif Patel
The Vasai Virar City Municipal Corporation (VVCMC) started the state's first door-to-door vaccination drive on Tuesday with the deployment of nine civic buses and medical staffers. Civic Medical Officer Dr. Vasant Patil told mid-day that the first drive took place at leper colony, Dattadham Vasahat near Vasai Fort, where 20 leprosy patients were vaccinated.

One of the civic buses arranged by the VVCMC
Dr Patil said, "We have given the first dose of Covid-19 vaccines to people above 45 years," Dr. Patil said.
VVCMC Transport Committee Chairperson Pritesh Patil said, "We have deployed nine civic buses for the drive." He added that not all residents of the leper colony have leprosy as the next generation members are doing well.
Former Vasai-Virar mayor Praveen Shetty said that his party had made a proposal for the drive before the civic commissioner early this month. "We have also started door-to-door Covid-19 testing," Shetty said.
Also Read: Low vaccine supply could open door for third wave: Navi Mumbai Municipal Corporation
Ready for emergencies
Patil said, "The civic bus is equipped with a hospital-like bed and a team of doctors and nurses can give immediate medical assistance to the needy in case of any emergency." Shetty explained that each of the nine buses has a target to vaccinate at least 100 people daily.
"The buses carrying medical staff members will randomly enter slum pockets with large populations. It takes at least seven to 10 minutes per person right from their online registration to vaccination but it is subject to the speed of the internet. Each beneficiary is kept under observation for 30 minutes after vaccination to check for adverse reactions," Shetty added.
Shetty added that the details of vaccinated people will reflect during registration as their mobile and Aadhaar number are entered. "So there is no room for repetition. After the first dose of vaccination, each beneficiary gets an SMS with the date of the second dose," Shetty said.
Data entry operator in team
"Besides this, the team also has a data entry operator to make the entry of the inoculated. We have also deployed ASHA workers to convince people to get vaccinated as they are in touch with locals who tend to listen to them," Patil said. He added that the mobile vaccination drive will also reach slums and tribal pockets. "There are many people who could not get slots or could not reach out to vaccination centres due to the fear of getting infected. So our civic buses will reach their doorsteps," Patil said.