This jet, once a sign of liquor baron Vijay Mallya's prosperity, is being taken apart to be sold as scrap; a Kurla-based firm has purchased the aircraft from MIAL for Rs 22 lakh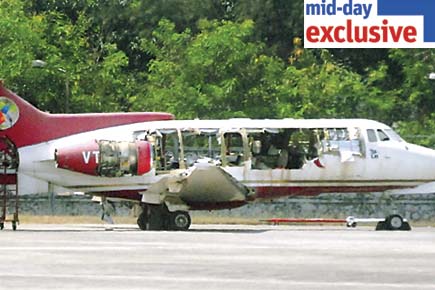 Years after his pet project, Kingfisher Airlines, had to be grounded, it seems to be continuing to give liquor baron Vijay Mallya sleepless nights. Earlier this year, Mumbai International Airport Private Limited (MIAL) auctioned one of Mallya's prized possessions, an 11-seater jet, which is now being taken apart for scrap.
Also Read: Troubled times for King of good times!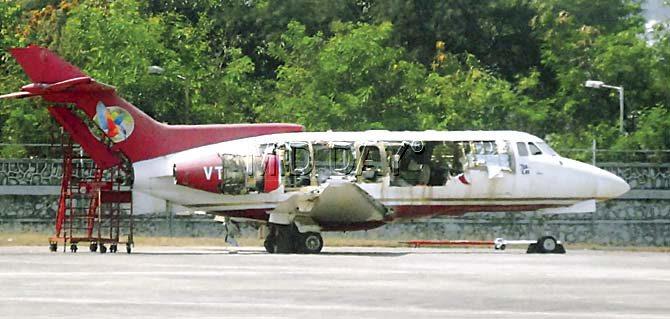 The jet, which was once a sign of Mallya's prosperity, was auctioned for Rs 22 lakh as part of MIAL's bid to recover airport dues accumulated by the now-defunct Kingfisher Airlines. The buyer, Silent Enterprises, hopes to recover the amount spent on it by taking apart the aircraft and selling its various parts as scrap.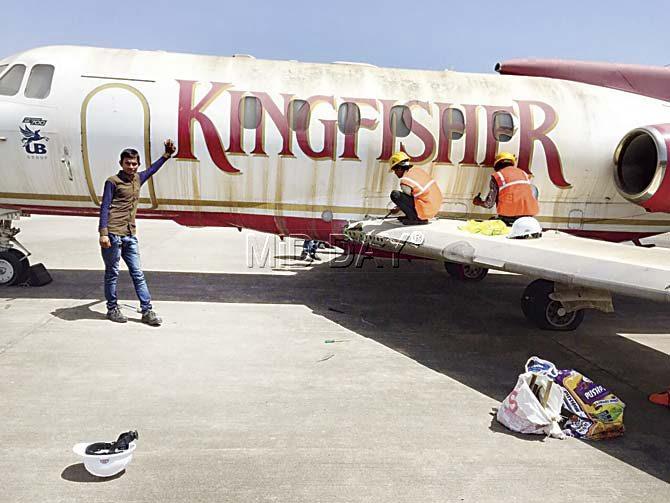 Workers have been putting in eight-hour days to take the aircraft apart at the old airport area since April 6. Pics/Sameer Markande
According to the work order dated April 1, Silent Enterprises, located in Kurla, is dismantling the jet. The process began only on April 6 and is expected to be completed in the next four days. Workers at the old airport area are putting in eight hours daily (10 am-6 pm) to complete the work.
Speaking to mid-day, one of the supervisors at the airport explained, "We are currently dismantling the engine of the mid-sized jet, which is the most difficult part to dismantle. Though we have been working on the aircraft for eight days now, we will need at least four more days to complete the work. We expect to get 6.5 tonnes of scrap metal from the jet."
Another shift supervisor told mid-day, "It gets difficult to work in the afternoon, but the workers maintain their shift timings. The parts of the aircraft, once dismantled, are taken to Khairani Road in Kurla, where the scrap yard is located, and dumped there."
Looking back
This 9+2 seater is a 30-year-old plane that was initially a part of the Oberoi group and became part of United Spirits in 2005. Kingfisher Airlines faced difficulties in paying suppliers and airports and finally grounded its aircraft.
MIAL had issued a public notice in December 2014 inviting bidders for the sale of the aircraft on an "as is, where is" basis. A senior airport official said, "MIAL had sold the aircraft for Rs 22 lakh to Silent Enterprises located on Khairani Road.
Grounded! Leading international airlines that are not operational anymore
The dismantling work began eight days ago and will be completed in a week." MIAL had served two notices to Kingfisher demanding clearance of dues of around Rs 53 crore. Following that, on December 11, 2012, it had seized the airline's seven aircraft due to non-payment of airport dues.