As Afghanistan slides back into chaos, refugees from the conflict-ridden country reflect on the crisis, while experts say it's time India introduced a policy for their rehabilitation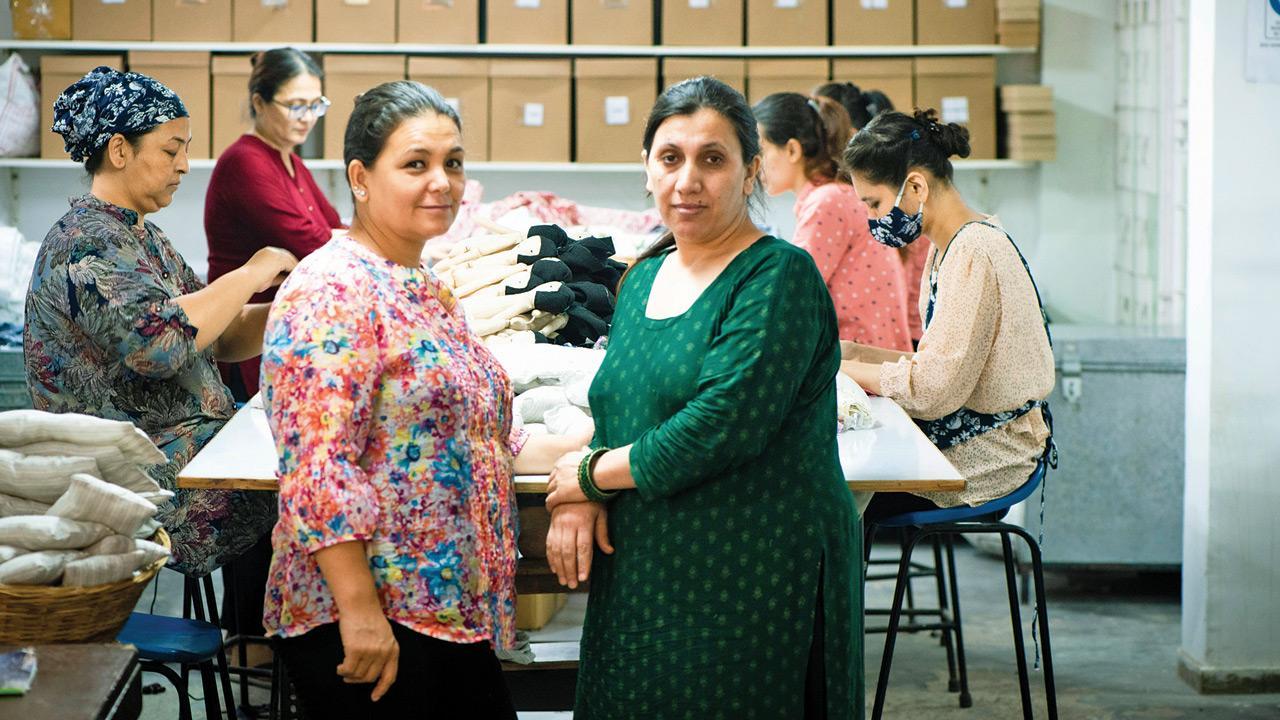 (Left) Masuda and Shakiba Hakib at the Silaiwali centre in New Delhi
In 2013, Shakiba Hakib fled Afghanistan with her husband and five children to escape persecution by the Taliban. "We had absolutely nothing when we reached India," she remembers. "They [Taliban] had taken away all our possessions." Hakib would sell Afghan cookies at the neighbourhood stores in Delhi, or cook at homes. It's after she got a job as an artisan at SilaiWali, a social enterprise, that she finally found stability. 
SilaiWali is a venture by Indo-French couple Iris Strill and Bishwadeep Moitra. Here, they upcycle waste fabric generated from apparel scraps to create handcrafted decorations by Afghan women refugees in India. Although Hakib is in a better place today, the recent developments in her home country have left her unsettled. 
A UNHCR report reveals a new wave of displacement across the provinces of Badakhshan, Kunduz, Balkh, Baghlan and Takhar with the Taliban rapidly capturing swathes of territory, weeks after the US-led foreign forces began their final withdrawal. India was quick to evacuate its staffers and diplomats from the consulate in Kandahar, Herat and Jalalabad last month. MEA spokesperson Arindam Bagchi said that the Consulate General of India in Kandahar has not been closed. "However, due to the intense fighting near Kandahar city, India-based personnel have been brought back for the time being," he said in a statement. More recently, it emerged that Indian photojournalist Danish Siddiqui did not die in a crossfire, but was "brutally murdered" by the Taliban. Siddiqui, who was working for Reuters, died on July 16, while covering clashes between Afghan security forces and the Taliban in the Spin Boldak district of Kandahar. 

Iris Strill and Bishwadeep Moitra, founders of SilaiWali
Hakib's anxiety is understandable. Her sisters and close relatives continue to live in Kabul. "I'm in constant touch with them and it's a dangerous situation. What's worse is I don't see it getting better." Being one of the most senior members at SilaiWali, Hakib has been helping other families settle in India. "The first thing is to find accommodation and a job. Many face language issues, too. I could speak a smattering of Hindi, thanks to Bollywood movies." 
Hakib says emotional support is crucial. "When we moved here, I was battling depression. It took me a while to come out of it." Fellow Afghan and colleague, Masuda, who wishes to be addressed by her first name, led a cloistered existence back home. "I hardly stepped out. But my sewing skills have now come handy." Most of her extended family members have moved out of Kabul, and she relies mostly on TV and her phone to keep abreast of news.
In India, Afghan families form 37 per cent of the refugees in the country, according to the United Nations High Commissioner for Refugees. India is not a signatory to the 1951 UN Refugee Convention. Despite this, India has always hosted refugees and asylum-seekers. Moitra, a former journalist, says the movement of Afghans into India has been happening for decades, but has increased since the excesses of the Taliban. "Most [Afghans] come here for  medical  reasons. Even in the 1980s, the South Extension area of Delhi was full of Afghans. India and Afghanistan have had a strong relationship based on historical and cultural links. However, there is no policy in place [for rehabilitation of Afghan refugees]. The 1949 UN Resolution, which India had signed, has many provisions making it mandatory for India to give refuge to people seeking asylum from neighbouring countries." He says the Afghans employed at SilaiWali are mostly from the Hazara community, a minority ethnic group. "They face persecution because they are seen as more liberal." According to Minority Rights Group International, Hazaras were once the largest Afghan ethnic group constituting nearly 67 per cent of the total population of the state before the 19th century. More than half were massacred in 1893, when their autonomy was lost as a result of political action.

Sanjay Nahar, founder of Sarhad, has been establishing avenues for cultural exchange and increasing awareness among policemen about the issues faced by Afghani students in the Pune
Sanjay Nahar is the founder of Sarhad, a social organisation dedicated to work in the border area. Nahar has been establishing avenues for cultural exchange and increasing awareness among policemen about the issues faced by Afghani students in Pune. Over the years, Nahar has sent several proposals to the government to help underprivileged Afghan students access educational institutes in India. "A large number of youth from Afghanistan want to come to India for jobs and education. The Indian Council for Cultural Relations also offers scholarships to students. But, the ones who manage to come here to study are from affluent families. The children who genuinely need help are left behind."