Despite completing their three-year course, MCT College of Law has not yet completed verification process of students, resulting in mark sheet delay for over a year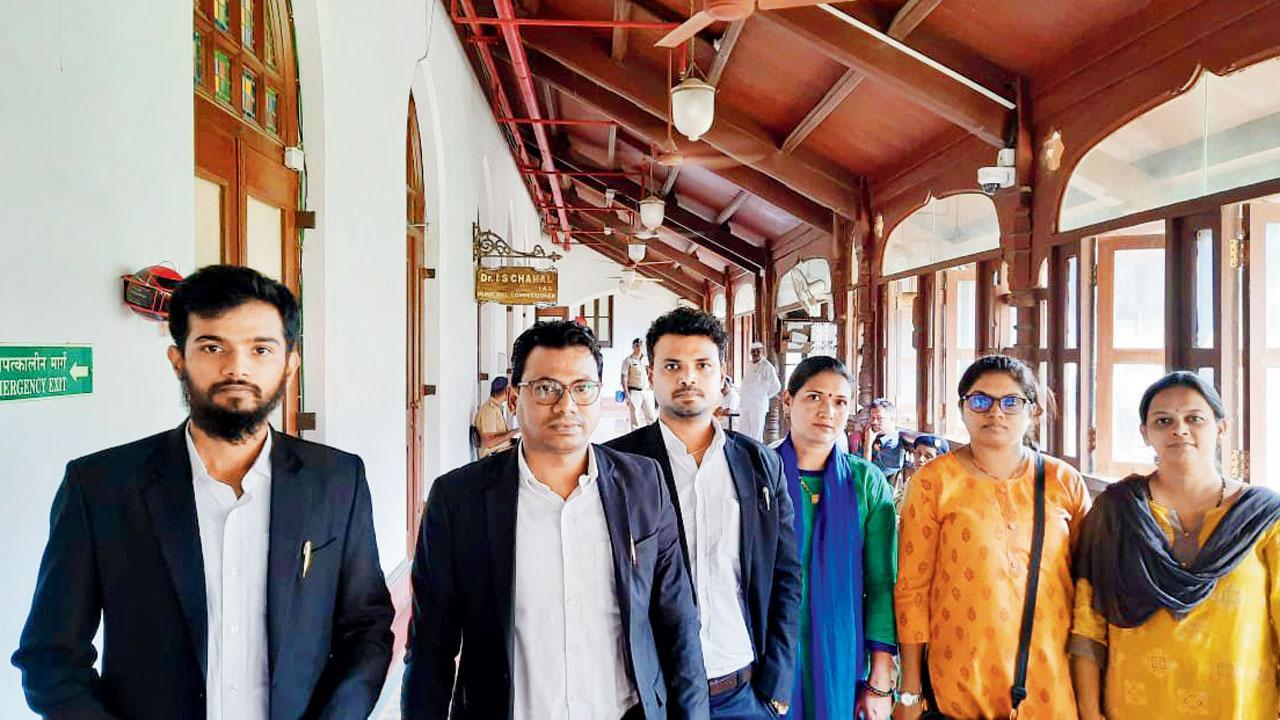 Advocate Siddharth Ingle (2nd from left) president of the MASU at BMC office along with other representatives
Even after a year has passed, over a hundred LLB students from MCT College of Law (3-year course), affiliated with Mumbai University (MU), are still awaiting their sixth-semester mark sheets. This delay in releasing the mark sheets is causing significant problems for the affected students.
According to the college principal, Dr UK Nambiar, the verification of eligibility for these students should have been completed within the first two semesters of their LLB programme. However, even after completing their three-year course, the verification process is still pending.
ADVERTISEMENT
Dr Nambiar expressed frustration with MU's approach, stating that the university has cleared around 75 students post-verification, but their results are also on hold. Additionally, the college has been asked to resend the students' mark sheets from the first semester onwards, which the college views as harassment.
This delay and lack of efficiency on the part of MU are negatively impacting the students who have enrolled in higher studies or taken up jobs based on provisional certificates. Furthermore, MU has not released the convocation of any students who cleared their LLB examinations during the last academic year.
Dr Nambiar confirmed that around 120 students from MCT College of Law took their LLB final semester exams last year, following COVID-19 protocols with multiple-choice questions. However, despite a year passing, the students have not received their mark sheets from Mumbai University. Dr. Nambiar expressed frustration as the university claimed the students' eligibility for enrollment was still pending, which he found absurd since eligibility verifications are typically done during the admission process.
Dr Nambiar expressed concern about the MU's failure to release the mark sheets of 75 out of 120 students, whose documents were verified at the time of admission, causing confusion and difficulties for those who enrolled in foreign universities for LLM programs and need to submit their original mark sheets. Additionally, some students who enrolled with the Maharashtra and Goa Bar Council are facing delays in submitting their mark sheets, which could affect their registration to practice law. "Failure to provide mark sheet could result in students' registration to practice law being put on hold, even though it's not their fault," explained Dr Nambiar. 
Nothing but harassment
The Mumbai University examination department shocked MCT College by demanding all LLB mark sheets from semesters 1 to 5 without any explanation. The principal called it harassment since the students have already graduated and the college faces difficulties in obtaining the mark sheets. The college is occupied with ongoing exams and requests a prompt solution from the university.
Law college professor speaks
Dr Sharmila Ghuge, an associate professor at Jitendra Chauhan College of Law, expressed sadness over the continuous issues arising from the inadequate functioning of Mumbai University. She highlighted that a significant number of students who appeared for the fifth and sixth semesters in the 2021-2022 academic year are still awaiting their mark sheets.
Students union speaks
Advocate Siddharth Ingle from Maharashtra Students Union (MASU) criticised MU for its handling of legal education. He emphasised that law students who completed their fifth and sixth semesters have the right to receive their mark sheets on time. Ingle stressed that the university should not harass law students due to internal politics, and the MASU will protest if permanent solution is not found.
MU official at Kalina campus, when contacted said, "We will check the facts of the issue, talking to the concerned department and MCT Law College officials and only then we will be able to ascertain the reason behind not releasing the mark sheets of these 120 students and try to resolve the same." Efforts to contact Acting Vice-Chancellor Dr D.T. Shirke were unsuccessful.
120
No of students who didn't recieve mark sheets
"Exciting news! Mid-day is now on WhatsApp Channels

Subscribe today by clicking the link and stay updated with the latest news!"
Click here!