Number of female students in universities in the state reduced by 23,927 between 2019-20 and 2020-21, education dept officials say this is COVID impact; tally of universities of national importance also down by one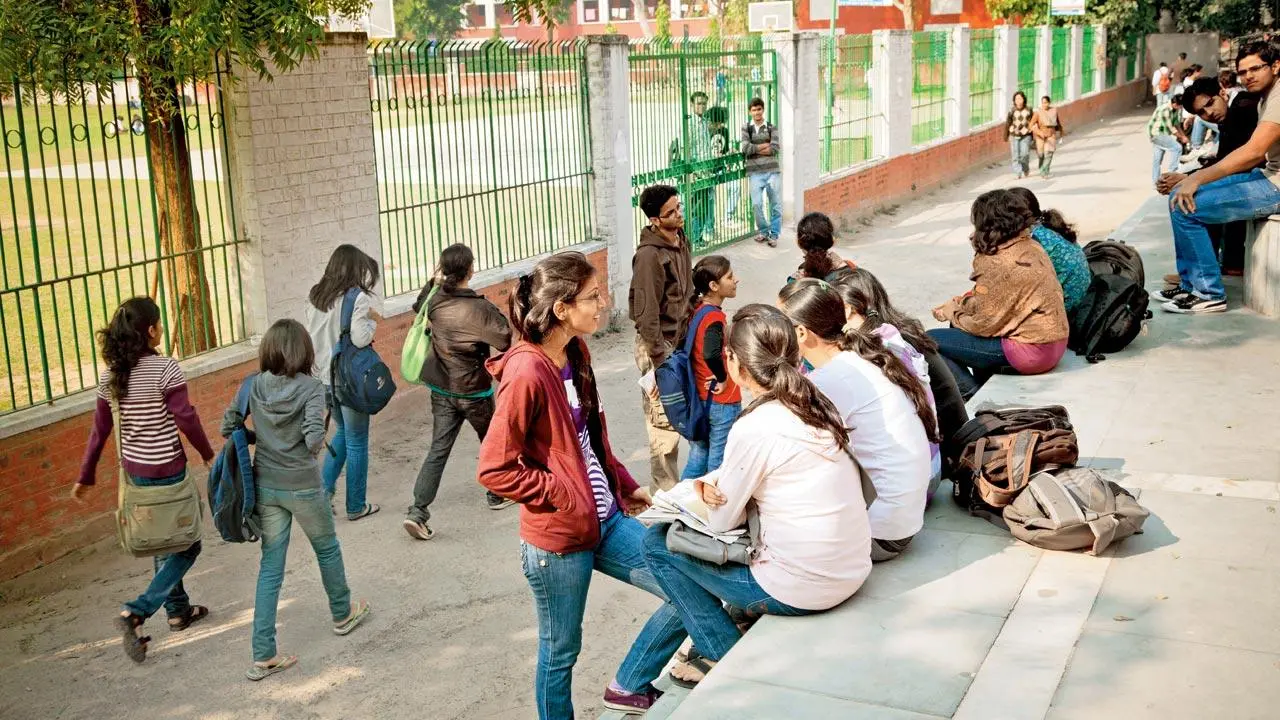 Total enrolment in higher education in the country has gone up from 3.85 crore in 2019-20 to 4.14 crore in 2020-21. Representation pic
Universities of national importance have doubled in the country, and female enrolment has reached the two-crore mark, revealed the government's All India Survey on Higher Education (AISHE) 2020-2021 on Sunday. The scenario in Maharashtra, however, is the opposite, with the number of universities of national importance reducing by one and female enrolment also dropping by 23,927 as compared to the preceding year.
The survey shows that total enrolment in higher education across the country increased to nearly 4.14 crore in 2020-21 from 3.85 crore in 2019-20. Since 2014-15, there has been an increase of around 72 lakh, or 21 per cent, in total enrolment.
ADVERTISEMENT
Maharashtra has 71 universities, including one central university, seven institutes of national importance and 23 state public universities. The total number went up from 65 in the preceding year. Meanwhile, state-private universities went up from 11 in 2019-20 to 18 in 2020-21, and universities of national importance reduced from eight to seven.
Also Read: Think tank to help raise education standard in schools
"Even in our survey of 2020, we have pointed out that female enrolment has dropped in the state. We had spoken about the drop in overall enrolment at Mumbai University and other universities in the state. I am yet to go through the entire AISHE report. However, the numbers should act as an eye-opener for the state's higher education ministry and education officials," said Madhu Paranjape, general secretary of Bombay University and College Teachers' Union (BUCTU). A senior official from the state's higher and technical education department said, "The report of 2020-21 reflects the effect of the pandemic on the system. Enrolments have increased overall. We, too, are looking at the reasons behind the drop in female enrolments."
Overall Enrolment
According to AISHE, Uttar Pradesh, Maharashtra, Tamil Nadu, Madhya Pradesh, Karnataka, and Rajasthan are the top six states for student enrolment. They constitute 53.17 per cent of the total student enrolment. Uttar Pradesh has the highest student enrolment (16.07 per cent), followed by Maharashtra (10.98 per cent) and Tamil Nadu (8.06 per cent). With regard to enrolment in state universities, Maharashtra tops at 10,87,805 students, Tamil Nadu follows this at 8,04,384 students and Delhi with 7,95,516 students.
Number of colleges
Uttar Pradesh, Maharashtra, Karnataka, Rajasthan, Tamil Nadu, Madhya Pradesh, Andhra Pradesh, Gujarat, Telangana, and Kerala are the top 10 states in terms of the number of colleges. In Uttar Pradesh, there are 8,114 colleges, and for every one lakh population, there are 32 colleges. Similarly, Maharashtra comes second with 4,532 colleges and 34 colleges per lakh population. Karnataka is in third position with 4,233 colleges and 62 colleges per lakh population. There are 3,780 polytechnics in India listed on the AISHE portal, of which the highest number of polytechnics are in Maharashtra (734).
Foreign student enrolment
Foreign students enrolled in India come from 163 countries across the globe. The highest share of foreign students comes from neighbouring countries like Nepal (28.25 per cent), followed by Afghanistan (8.4 per cent), Bangladesh (5.7 per cent), and the United States (5.1 per cent). The other top 10 countries from where students come to India include United Arab Emirates (4.8 per cent), Bhutan (3.8 per cent), Sudan (3.3 per cent), Nigeria (2.9 per cent), Tanzania (2.7 per cent), and Yemen (2.3 per cent). States like Karnataka (8,137), followed by Punjab (6,557), Maharashtra (4,912), Uttar Pradesh (4,654), Tamil Nadu (3,685), Delhi (2,809), Gujarat (2,646), Andhra Pradesh (2,385) and Odisha (2,180) have the highest foreign students.