It will pass through Mahalaxmi and Lower Parel car shed; target for completion is March 2024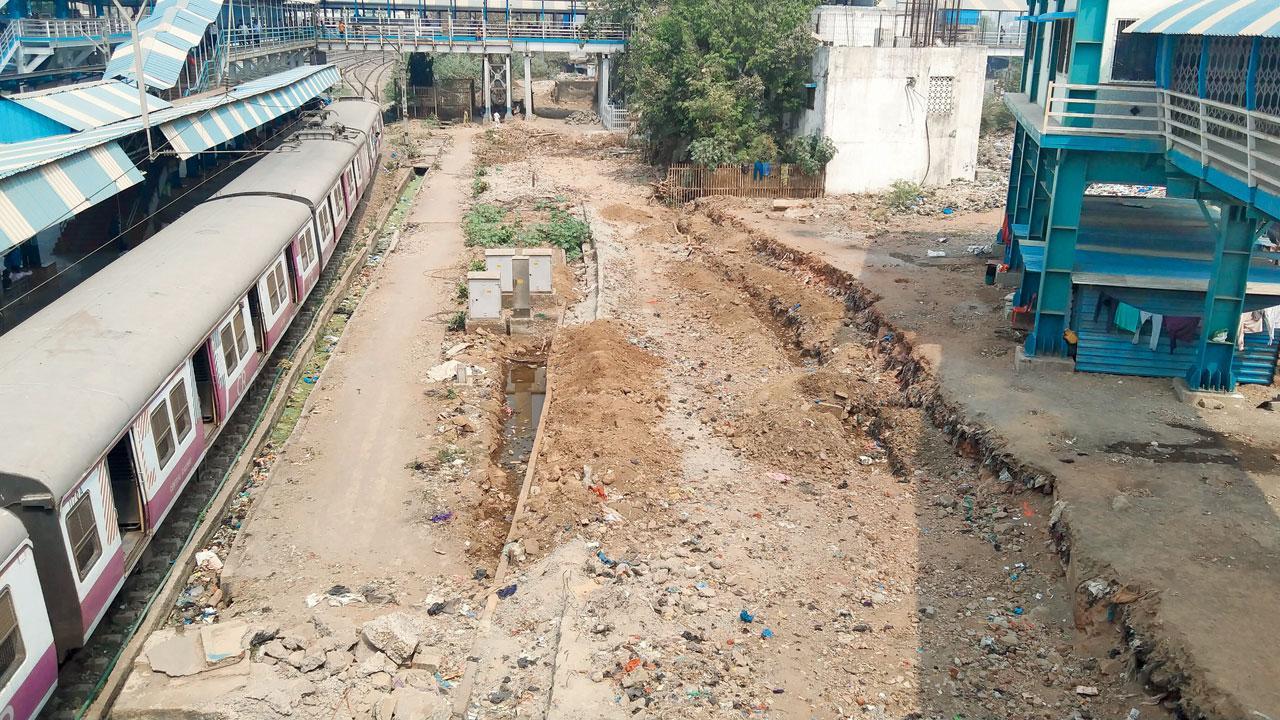 The work on Bandra to Borivli line is at an advanced stage and 50 per cent of work on rehab and land acquisition has been completed, an official said
The work on the new rail lines between Mumbai Central to Borivli on Western Railway has finally been given a two-year target with funding and a plan in place.
As per the project, a separate corridor (two lines) between Mumbai Central and Borivli has been planned in order to segregate the outstation and local train traffic. 
ADVERTISEMENT
Of this, the fifth line between Mumbai Central and Mahim, and Khar to Santacruz already exists. However, the missing link between Mahim to Khar is in the making, after which a complete line between Mumbai Central to Borivli will be ready.
Work divided in 2 phases
"Besides work on the missing link of the fifth line, the key work will be of 30-km sixth line, starting from Mumbai Central to Borivli. It will pass through Mahalaxmi and Lower Parel car shed. The cost of the work is Rs 918.53 crore with a target date of completion of March 2024," a senior official said.
"The work has been divided into two phases—Mumbai Central to Khar and Khar and Borivli. The work on Bandra to Borivli line is at an advanced stage and 50 per cent of work on rehab and land acquisition has been completed," he added.
Work in progress
A total of 1,089.6 sqm is required for the sixth line project of which 558.73 has been acquired. Of the total, around 487.80 sqm is private land, 312 sqm is BMC land, 201.23 sqm is defence land and 88.57 sqm is government land. 
From the 487.80 sqm private land required for the project, around 43.8 sqm of land is acquired and 444 sqm acquisition is pending. The 88.57 sqm government land is yet to be acquired.
Western Railway chief public relations officer Sumit Thakur said the work process is at several stages and will be completed as per availability of land.
Rs 918.53cr
The overall cost of the project
Acquisition status
Private land 
Required: 487.80 sqm
(Vile Parle - 64.3 sqm and Borivli -424.5 sqm)
Acquired: 43.8 sqm
Balance: 444 sqm
BMC land at Vile Parle
Required: 312 sqm
Acquired: 312 sqm (Handed over to the Railways on November 11, 2021)
Defence Land
Required: 201.23 sqm
Acquired: 201.23sqm
Government land
Required: 88.57 sqm
Acquired: Nil
Balance: 88.57 sqm