From Aryan Khan's bail to Shakti Mills gangrape case, we do a round-up of all the judgments that kept the Bombay High Court in news this year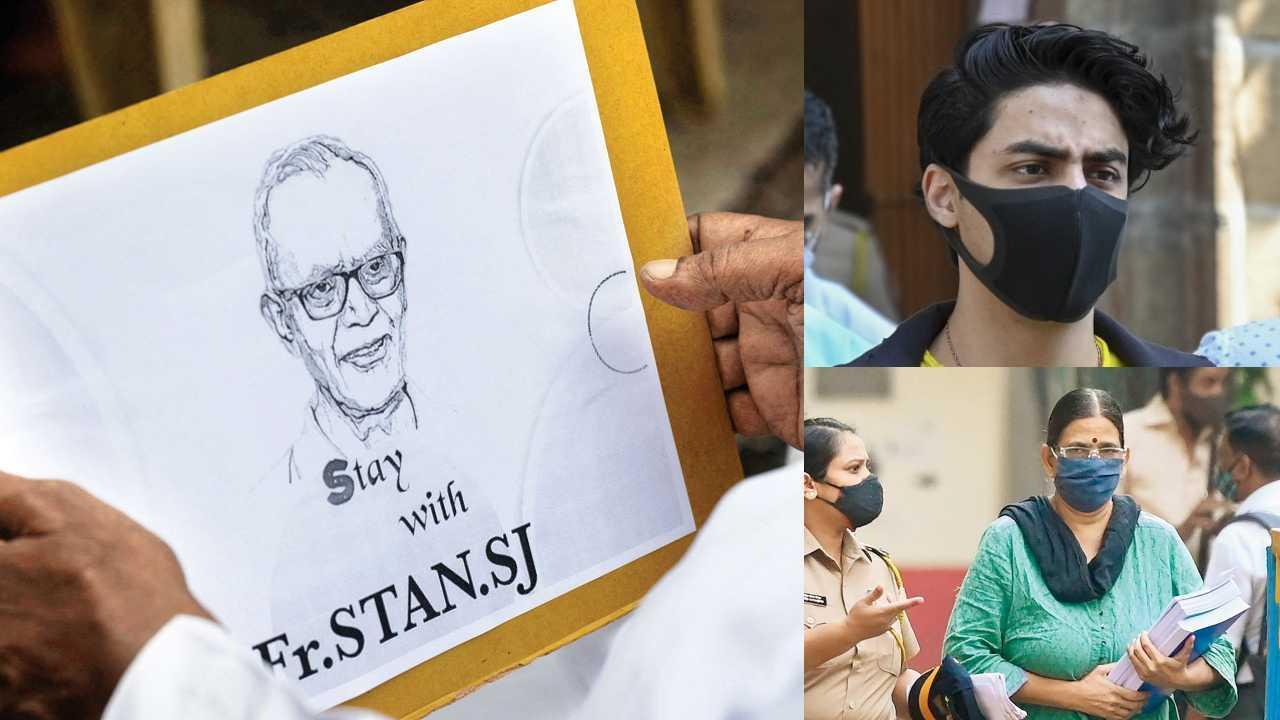 (Clockwise) A Catholic priest holds a placard with the image of Stan Swamy; Aryan Khan and Sudha Bharadwaj. Pics/ AFP
Default bail to activist Sudha Bharadwaj after 3 years
"There is hardly any positive evidence on record to convince this court that all the accused persons with common intention agreed to commit the unlawful act," said a single Bench of Justice N W Sambre on October 28, granting bail to Aryan Khan, his friend Arbaaz Merchant and fashion model Munmun Dhamecha in the drugs on cruise case on a personal bond of Rs 1 lakh each. In a detailed order, the court stated that no substance was found on Aryan, and that there wasn't any evidence of a conspiracy against him or co-accused to commit drug-related offences.
No blanket gag order on Nawab Malik's tweets against Sameer Wankhede
"Nawab Malik's tweets against Sameer Wankhede had actuated out of malice and personal animosity, however, the allegations made against the NCB Zonal Director pertains to his public duties and thus the minister couldn't be completely prohibited from making any statements against him."
The Bombay High Court on November 22 refused to put a blanket injunction against Maharashtra cabinet minister Malik to restrain him from making any public statement or post tweets targeting Wankhede. Justice Madhav Jamdar stated that the NCP minister should do a "reasonable verification of facts" before making any statements against Wankhede or his family.
The NCP leader had been targeting Wankhede since the Aryan Khan drugs case by raising questions against the latter's religion, caste and marriage.
Gag order issued in workplace sexual harassment cases
"All such matters shall be heard either "in camera" or in the judge's chambers, orders cannot be passed in open court, or uploaded on the high court's official website, and the media has been prohibited from reporting the proceedings or the verdicts without the court's permission."
On September 27, the Bombay High Court, hearing a sexual harassment case involving a major blue-chip company and its woman staffer, issued a 'gag order' or a series of stringent guidelines for hearing, dealing and reporting on cases relating to the Prevention of Sexual Harassment of Women at the Workplace Act, 2013. As per the order, given by Justice G S Patel, POSH cases will be virtually at par with the guidelines for rape cases, and violation of the same would be treated as contempt of court.
Have great respect for Stan Swamy's work: Bombay HC
"Such a wonderful person. The kind of service he has rendered to society, we have great respect for his work. Legally, whatever is there against him is a different matter."
These observations were made by Justices SS Shinde and NJ Jamadar, who had also presided over Stan Swamy's medical bail plea on July 5, when the HC was informed about the 84-year-old priest's death at the Holy Family Hospital in Mumbai following a cardiac arrest. The high court was hearing posthumously the appeals filed by late Jesuit priest Stan Swamy, who was arrested in the Bhima Koregaon-Elgaar Parishad case for 'enticing' people to indulge in violence on January 1, 2018. The court also expressed regret over how, in many cases, undertrials languish in jails waiting for trials to begin.
Shakti Mills gang-rape case: Death penalty to accused commuted to life term
"They deserve imprisonment for life to repent the offence committed by them as death puts an end to the concept of repentance"
The High Court, on November 23, commuted the death penalty of three accused, in the gang-rape case of a 22-year-old photojournalist inside Shakti mills, to life sentence. The court also stated that the convicts do not deserve to "assimilate" with society and that they shall not be given any remissions, including parole and furlough. The Bench added, "The Shakti Mills gang-rape case has shocked the conscience of society. A rape victim suffers not just physically, but mentally as well. But only public outcry cannot be taken into account. A death sentence is only an exception."
'Skin-to-skin contact necessary to be considered sexual assault'
"Admittedly, it is not the case of the prosecution that the appellant removed her top and pressed her breast. As such, there is no direct physical contact i.e. skin to skin with sexual intent without penetration."
The Nagpur Bench of the Bombay High Court on January 19 acquitted a man found guilty under the POCSO Act for groping a 12-year-old girl four years ago. The court ruled that as there had been no skin-to-skin contact with sexual intent as the child was clothed, the man could not be tried under Section 8 of POCSO Act (punishment for sexual assault). Although, it maintained the man's conviction under Sections 354 (assault or criminal force) and 342 (wrongful confinement) of the IPC. The matter was later taken to the Supreme Court, which set aside the verdict and said the most important ingredient in convicting sexual offenders under POCSO Act is "sexual intent and not skin-to-skin".
Maharashtra's handling of the Covid-19 pandemic applauded
"We have no hesitation in saying that Maharashtra was one of the pioneers in tackling Covid-19."
On December 13, the High Court praised the Maharashtra government for ably handling the Covid-19 pandemic and expressed hope that the next year would bring a new beginning and that people will never see a repeat of April 2021 when the oxygen crisis hit the country. A bench of Chief Justices Dipankar Datta and M S Karnik made these comments while disposing of a bunch of PILs filed in 2020, which sought relief from the court on issues pertaining to the state government's efforts and resource allocation related to the Covid-19 pandemic.
Jail term upheld of man who entered neighbour's house, touched her feet
"Touching any part of the body of a woman without her consent, that too in the dead hour of the night by a stranger, amounts to violation of modesty of a woman."
On December 26, the Aurangabad bench of the Bombay High Court stated in a judgment that touching any part of a woman's body, without her consent by a stranger, is a violation of her modesty. The ruling by the bench of Justice MG Sewlikar was given on an appeal filed by a man against a trial court order, which had awarded a one-year jail sentence to him for inappropriately touching a woman.
The accused had entered the house of the victim, sat on her cot, and touched her feet. The victim and her husband later filed a police complaint.
Pregnancy termination granted to a woman suffering from domestic abuse
"If contraception failure leading to pregnancy can be presumed to constitute grave injury to the mental health of the pregnant woman, can it be said that a pregnant woman suffering from domestic violence would not face grave injury to her mental health if pregnancy is allowed to continue?"
On August 3, the High Court allowed a woman, who was a victim of domestic violence, to abort her 23-week-old healthy foetus, while observing that domestic violence impacts her mental health and is a valid ground for terminating a pregnancy. "Rape is an instance of extreme violence committee on a woman. Domestic violence is also a violence committee on a woman, though the degree might be lesser," it added.
Currently, the Medical Termination of Pregnancy Act does not permit termination of pregnancy beyond 20 weeks, unless it poses risks for the foetus and mother.