25-year-old, who slummed it out in the shanties of Powai's Filterpada, cracks tough exam to become first ever Mumbaikar to qualify as a scientist in the Indian Space Research Organisation (ISRO)
Pratamesh Hirve, 25, is boldly going where no Mumbaikar has gone before. After years of burning the midnight oil in his humble 10X10 ft home at the Filterpada slums in Powai, the youth has become the first ever from the city to qualify for the elite Indian Space Research Organisation (ISRO). Now, he has the entire universe ahead of him.
Pratamesh's journey to the dizzying heights of space research is all the more amazing because of his humble beginnings. Living in a 10x10 house in the heavily populated Filterpada slums, it took every ounce of Pratamesh's willpower to focus on his studies and never lose sight of his goal.
ADVERTISEMENT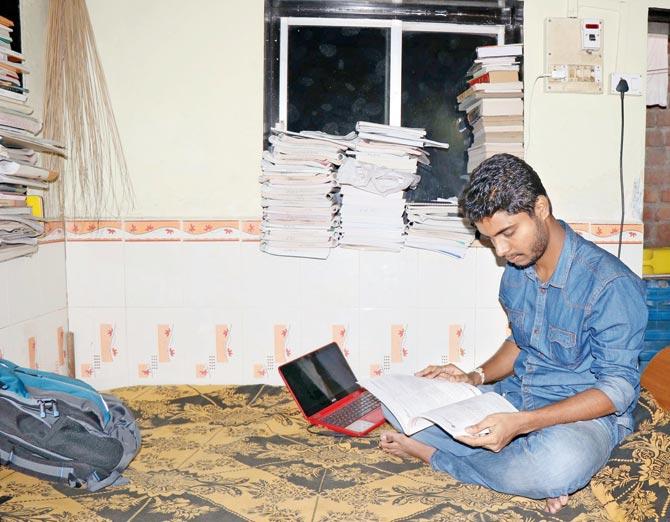 Pratamesh Hirve at his 10X10 ft home. Pics/Rajesh Gupta
Unshakeable belief
His friends and neighbours would see him study day and night, and often asked him what he hoped to achieve, but Pratamesh's belief in himself was never shaken - not even when a career counsellor told him he'd be better off studying Arts. "My aunt and parents had taken me for an aptitude test in south Mumbai. The specialist told my parents that my cousin brother had the aptitude for engineering, but that I should choose a career in Arts instead. I was upset, but refused to give up. I told my parents that no matter what, I would become an engineer, and they believed in me," he recalled. In 2007, he was granted admission in Bhagubhai Mafatlal Polytechnic College for a diploma course in electrical engineering. But this was just the beginning of his struggle, and Pratamesh had yet to overcome one of his biggest challenges – the language barrier.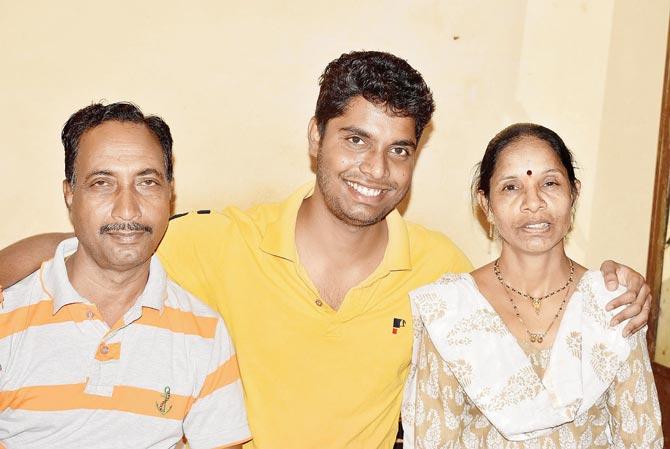 With his father Soma and mother Indu.
"I studied in a Marathi medium school till Std X. The first two years of the diploma course were very difficult for me because of the language barrier and the complex engineering terms. I used to sit at the backbench so the professor would not ask me questions I could not answer," Pratamesh said. "In the second year, I told my teacher about my language issue and he asked me to read and refer to the dictionary as much as possible. During my internships at L&T and Tata Power as well, my mentors encouraged me to study further, so I decided to pursue a degree from Smt Indira Gandhi College of Engineering in Navi Mumbai," he added.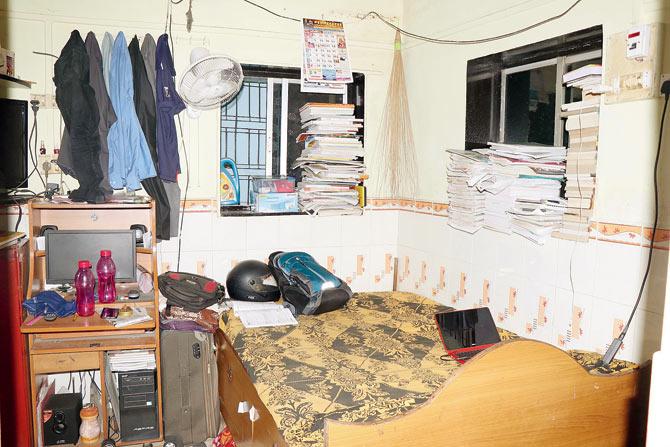 From the 10X10 ft room he once studied in, Pratamesh Hirve's life has suddenly expanded to the entire universe, thanks to his new job at ISRO. Pics/Rajesh Gupta
Not fazed by failure
After he got his degree in 2014, Pratamesh had big plans for his future, but not everything worked out the way he had envisioned. He applied for a coveted spot in the Union Public Service Commission (UPSC) recruitment but failed. He then decided to set his sights on the stars, and applied to ISRO last year, but made it no further than the waiting list. "By this time, I had started getting job offers, so I started working as an engineer. But my goal was to make it to ISRO, so, in May, I applied again," he recounted.
There were there were 16,000 applications, out of which only nine were selected - Pratamesh was one of them. "On November 14, when I found out that I was through, it was such a happy moment for me. I put in 10 long years of hard work before I could reach ISRO. I will be posted in Chandigarh. Now I want to give my parents a better home and life," said ISRO's newest electrical scientist.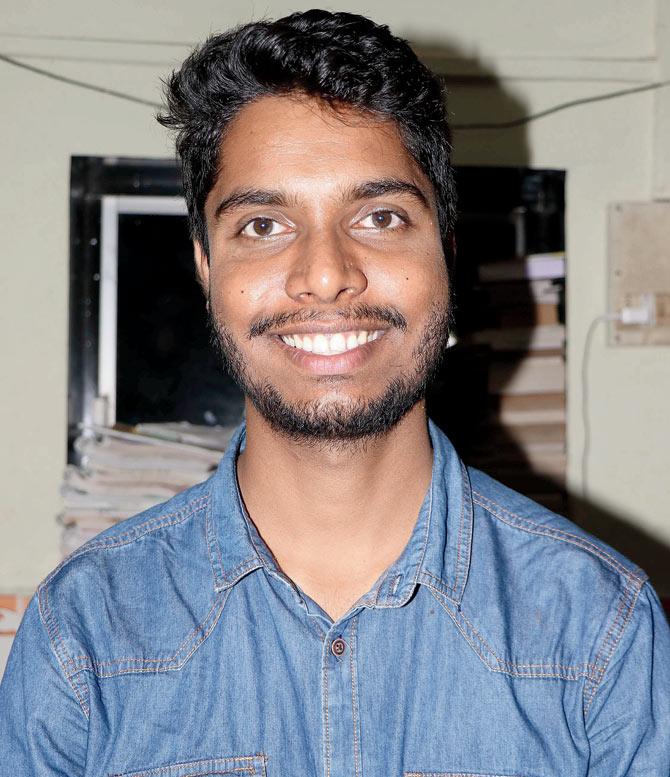 Pratamesh Hirve
Parents thrilled
Most of Pratamesh's loved ones had never heard of ISRO until he landed a job there, but his loved ones are thrilled by his success. Pratamesh's mother, Indu, 46, said, "I am a Std VIII-pass, at first, I did not understand what this job meant. When my husband explained that our son would be working with such an elite organisation, I was in tears. I remembered all the hard work he had put in since childhood - this is what he had wanted to achieve. I am very proud of my son, his hard work has paid off."
Pratamesh's achievement is even more thrilling for his father, Soma, 52, a primary school teacher. He said, "When Pratamesh refused to take up Arts and insisted on engineering, I just told him that he would have to study very hard, and he committed to it. When he told me he got a job at ISRO, I realised he had been right all along. He would study day and night, and our lights would never be switched off. Everyone at our native place in Dahiwadi, Satara, is as proud of him as we are."
Catch up on all the latest Mumbai news, current affairs from Mumbai, local news, crime news and breaking headlines here
"Exciting news! Mid-day is now on WhatsApp Channels

Subscribe today by clicking the link and stay updated with the latest news!"
Click here!